The United Nations of Vaccination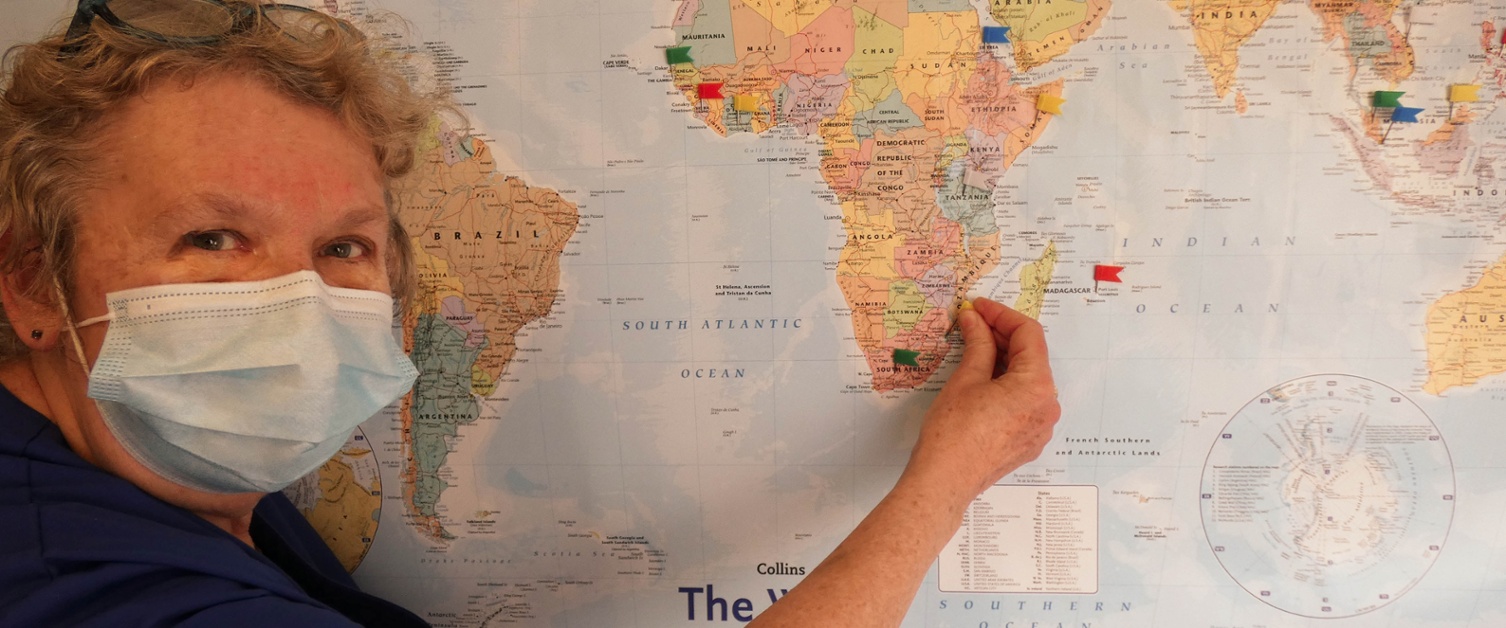 Main image: Clinical supervisor Andrea Howells puts a pin in the map at the Local Vaccination Centre at the Guildhall, Swansea.
It doesn't look like much from the outside, but a tiny vaccination clinic in the heart of Swansea has become a mini United Nations.
In just a few weeks, staff have given Covid vaccines to people from countries spanning a third of the globe, with 23 nationalities coming through the door in one day.
They have given students, teachers and expats who have come to live in Wales from as far afield as Mongolia, Vietnam, Brunei and Russia in the east, to Canada and the US in the west, vaccinations or a crucial booster dose.
They have put around 78 pins in their map already – very large countries like the US have pins in individual states - and want to be able to put at least one pin in all 195 countries.
"We've done a lot from China and India, a number of people from Hong Kong, quite a few from the likes of Eritrea, Somalia, some of the African countries with asylum seekers," said Andrea.
The Local Vaccination Centre's location outside the Guildhall is ideal for those at Swansea University's Singleton campus and those who access services from organisations in the area.
Andrea explained that their unique patient profile became apparent last month.
"We did 23 different nationalities on the same day. By the time we were up to five or six we started keeping a record of it, just as a bit of fun with the staff. And then we decided we would get a map and stick pins in it to brighten up the LVC here.
"We had one Chinese lad who came in and had his booster here with us and about an hour later he turned up with five friends. He had brought all of them to have their vaccines as well.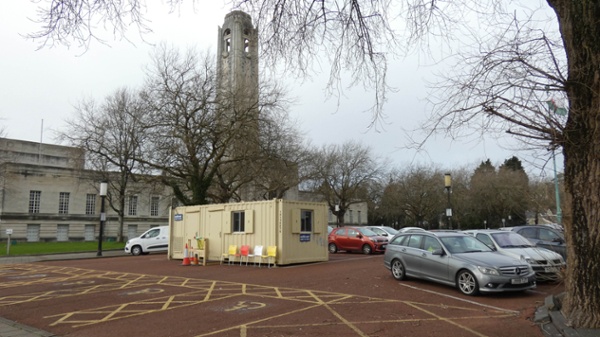 The Local Vaccination Centre outside the Guildhall in Swansea. SBUHB
"It's been interesting for us. We've had many geography lessons; places we didn't know existed like Eswatini in southern Africa, which is the new name for Swaziland.
"A lot of the patients come in, take a look at the map and want to know if you've had somebody from their country before or if they are the first."
They have greeted people from the majority of European countries, including those on the continent's eastern fringe such as Latvia, Belarus, Romania, Bulgaria and Turkey. They have had a few people from Middle Eastern countries like Iran, Iraq, Israel and Syria, south American countries including Mexico, Panama, Colombia and Peru and even tiny island nations like Mauritius.
In all, they have 78 pins in around 65 countries.
Andrea said: "It would be nice to get a flag in every nation. I'm quite happy to go and buy another box of flags."
Assistant head of operations for the Covid vaccination programme in Swansea Bay University Health Board, James Ruggiero, said he's thrilled the unassuming LVC in Guildhall and others like it are bringing vaccinations closer to those who need them.
"They may be small but, as we've seen at the Guildhall, the impact of the LVCs, or containers, can be huge.
"Anyone over 12 can get any dose they need simply by dropping in. There's no need to make an appointment, although you can if you wish, or travel a long way."
Anyone living temporarily in the UK, including those on their asylum and refugee journey, are eligible for free vaccination on the NHS.
The Guildhall LVC is open Monday to Friday between 9am and 3.30pm.
An LVC has opened in the car park of Morrisons supermarket, Baglan, and available for drop ins between 9am and 3.30pm on the following dates: Thursday, February 10th, Friday, February 11th, Saturday, February 12th, Monday, February 14th to Friday, February 18th, Monday February 21st to Friday, February 25th and Monday, February 28th to Friday, March 4th.
An LVC is also due to open in the car park of Croeserw Community Hub, Cymmer, and will be open for drop ins between 9am and 3.30pm on the following dates: Wednesday, February 16th, Thursday, February 17th, Friday, February 18th, Wednesday, February 23rd, Thursday, February 24th, Friday, February 25th, Wednesday, March 2nd, Thursday, March 3rd and Friday, March 4th.