Special clinic vaccinates those at risk of rare reaction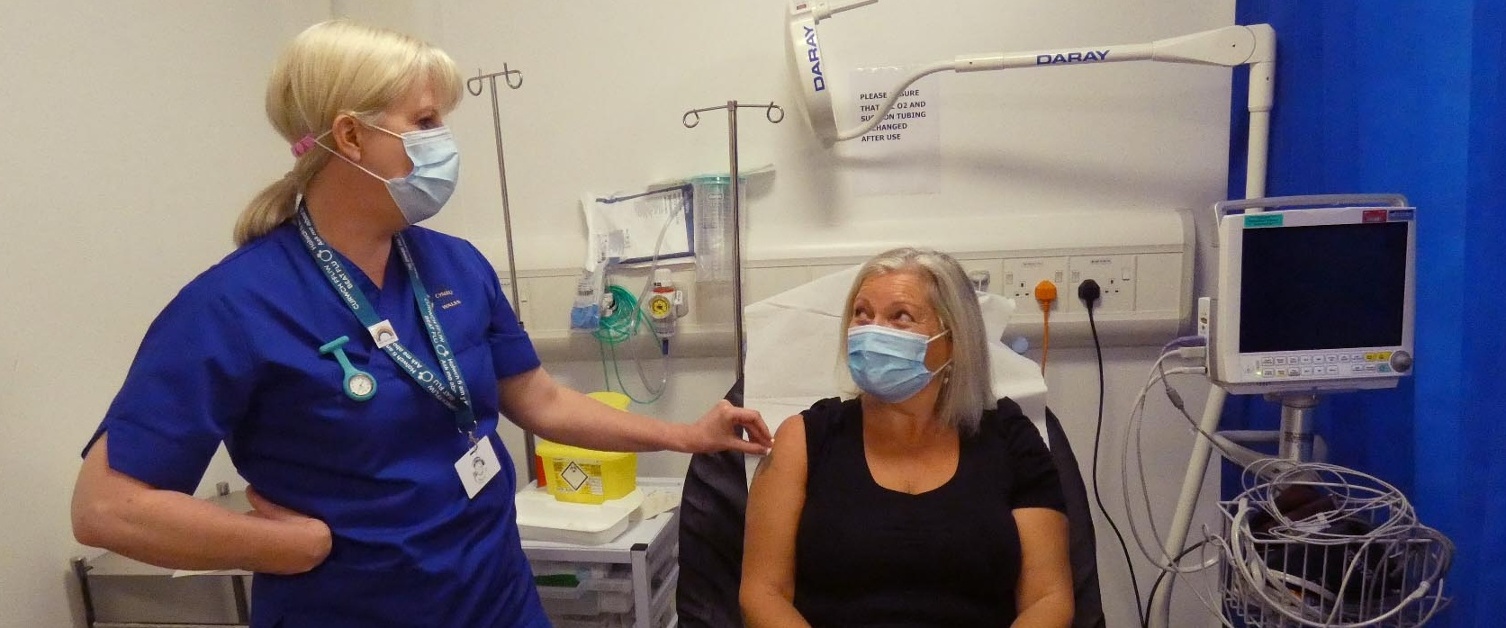 Main image: Immunisation Co-ordinator Catherine Courts, left, and Alison Holland in the Covid vaccination clinic for people at risk of rare allergic reactions.
A highly-specialised clinic has been opened so those at risk of rare and potentially life-threatening allergic reactions can have the Covid vaccine just like everyone else.
Staffed by clinicians with a total of 100 years NHS experience and with extra drugs and support on hand just in case, the once-a-week Morriston Hospital service has already given first and second doses to around 40 people.
They include mum-of-two Alison Holland, 53, from Swansea, who is a staff nurse at Singleton Hospital in the city.
Having almost lost her life to a severe allergic reaction, also known as anaphylaxis, triggered by a general anaesthetic, she was very nervous but knew the benefits of having the Covid vaccine still far outweighed the risks
"I went in for routine knee surgery 12 years ago and had anaphylaxis due to the anaesthetic, which sent me into the most serious form of cardiac arrest which you don't usually come back from," she said.
"That's what made me think about what I was really doing here and inspired me to go into nursing, qualifying two years ago."
All health board staff involved in patient care must wear PPE (personal protective equipment) in accordance with current guidance and adhere to strict handwashing to protect patients, regardless of vaccination status.
However most frontline staff will have received their first dose of the vaccine in December or January unlike Alison, who had to wait until now so she could have enhanced monitoring as a precaution.
In the Morriston clinic patients have a one-to-one assessment prior to vaccination with consultant anaesthetist Will McFadzean, who retired from the Welsh Centre for Burns and Plastic Surgery in 2018 and has returned to help with the Covid vaccination programme.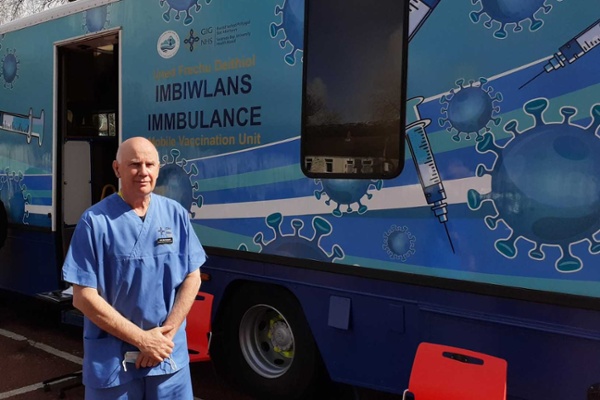 Consultant anaesthetist Will McFadzean, who has returned from retirement to help with the vaccination programme. He is also the clinical lead for the Immbulance mobile vaccination unit. Credit: SBUHB
They lie on trolleys to be vaccinated instead of sitting on chairs and are watched very closely for longer than usual afterwards.
Should the need arise, the experienced nurses have extra drugs on hand to combat reactions and also a direct line to the porters should a patient need transferring to the Emergency Department (ED).
ED staff can also come up to the clinic to check patients over.
And the service doesn't stop at the clinic doors. Immunisation and Vaccination Lead, Matron Catherine Watts, will even walk people back to the car once it is safe for them to go home.
Patients will also return to the clinic for their second doses.
Alison was given her first dose of the Oxford-AstraZeneca vaccine by Immunisation Co-ordinator Catherine Courts and had no ill effects.
She said: "I am so relieved.
"My boys are grown up and both live in London and I will be able to go and see them soon and it's so good knowing that I'll be going with such great protection."
All vaccines and medicines carry a very small risk of causing anaphylaxis, which is a medical emergency, in some people. The risk is higher in those with a history of anaphylaxis.
The potentially life-threatening allergic reaction can also be triggered by certain foods, insect stings and substances.
Symptoms include feeling faint, developing a rash, swelling of lips, tongue and throat, which can lead to breathing difficulties, a fast heartbeat, clammy skin, collapse and unconsciousness.
Some people have to carry automatic injectors containing adrenaline, also known as EpiPens, in case of an attack.
"The only way to avoid any complications from vaccines or anaesthetics is not to have them," said Doctor McFadzean.
"But you have to weigh up the risks and, as we know, Covid is not a pleasant illness.
"It's absolutely essential to have a service like this."
Matron Watts said Morriston Hospital was chosen as the venue for the clinic out of an abundance of caution because it has an Emergency Department and Intensive Care Unit on site.
"This is a highly specialised service for the very small number of people who require it," she said.
"The vast majority of people who come through this clinic won't need any intervention from us.
"Some do feel a bit light headed after the vaccination, but often that's because they've been so anxious they haven't slept or eaten and then feel this huge wave of relief.
"This clinic is about making sure no one is left behind in what is the biggest vaccination programme in NHS history, enabling them to feel part of and confident in the process."
She added: "I'd also like to thank our colleagues in head and neck outpatients, who have let us use their recovery room for this clinic, for their unwavering support in helping us to get this up and running."
The clinic vaccinates on an appointment-only basis. Patients with a history of severe allergic reactions can be referred via their GP.