A drive-through pilot project has seen 135 people get their second dose of a COVID-19 vaccination from the comfort of their own vehicles in Swansea Bay.
The scheme, which was held at Margam Park's east lodge car park on the 15th of July, is the next step in Swansea Bay UHB's work to make vaccines as convenient and easy to access as possible in Swansea and Neath Port Talbot.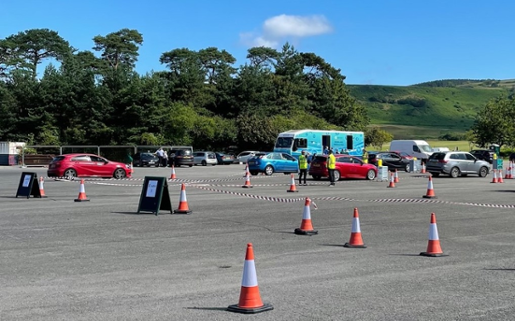 Caption: The drive-through set up at Margam Park's east lodge car park.
People who were due a second dose of the Oxford-AstraZeneca vaccine were booked in for appointments at the site.
On arrival, they were asked to pull into one of three lanes and switch their engine off.
The vaccine was prepared on the Immbulance before being taken out to drivers and passengers while they waited in their vehicles.
After the injection was administered, they were asked to wait 15 minutes before leaving the site.
Then, the next group of three vehicles pulled into the lanes and the process started again.
James Ruggiero, Project Manager and Assistant Head of Operations, said: "This pilot scheme is part of our work to make getting both doses of a COVID-19 vaccine as simple as possible for people in Swansea and Neath Port Talbot.
"We have put lots in place to make sure first doses are easy to access.
"In addition to booked appointments at our Mass Vaccination Centres, we regularly hold local clinics and drop-in sessions, for example, and the Immbulance takes vaccinations directly to different parts of the community.
"Now, we are looking at how to make second doses just as easy to access while maintaining our high safety standards.
"We were very pleased with how this trial went and will be looking at how we can implement drive-throughs into our vaccination strategy going forward."