Volunteers join vaccination army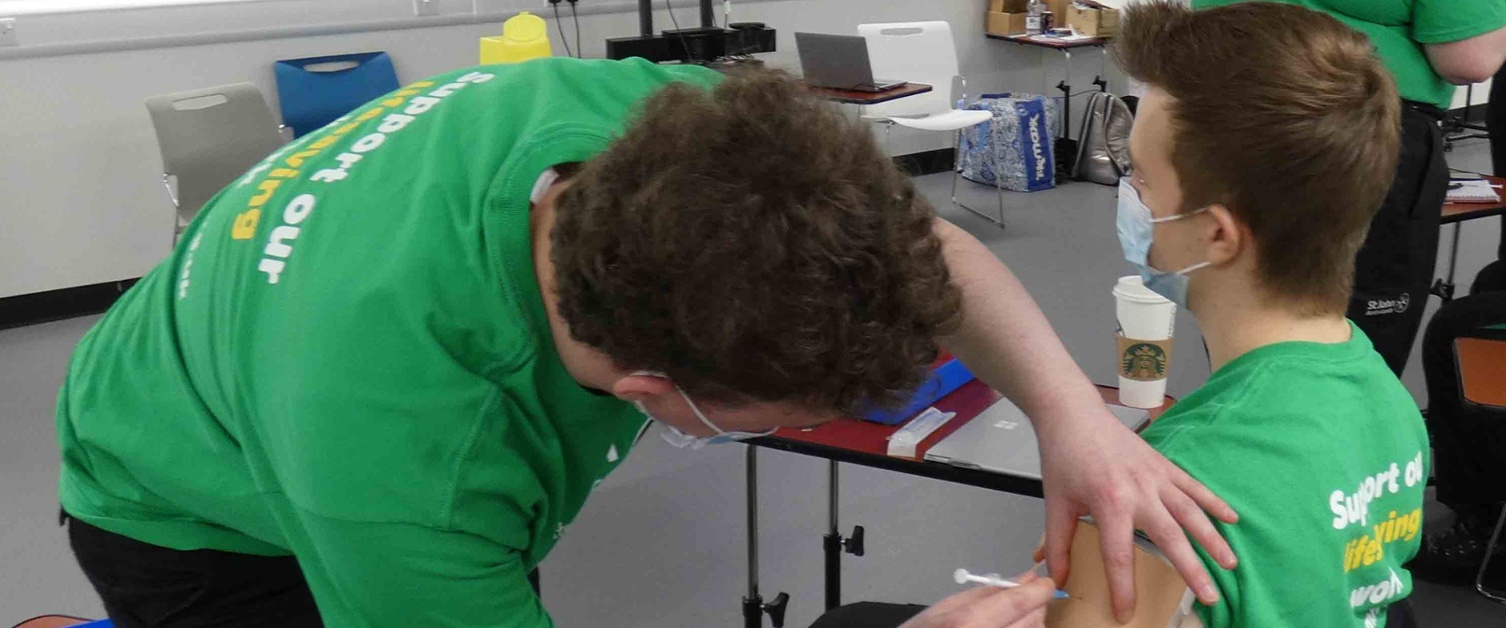 Main image: Christian McCue practises on Alex Moras
"Giving a vaccine is not just sticking a needle into someone's arm. The accountability that goes with it is great."
That's the mantra of experienced immuniser Dawn Williams as she trains volunteers from St John Ambulance Cymru to give Covid-19 vaccines.
While the initial rush for jabs has passed, the new recruits are needed to strengthen the ranks of the vaccination army as we move into a future where further boosters are a certainty for some and a possibility for more.
"They get to practise on silicone arms and this is a great opportunity for them to practise injection technique and have a feel of using the needles and syringes in the correct position," said Dawn, Immunisation Coordinator for Swansea Bay University Health Board.
Swansea Bay is the first health board in Wales to train St John Ambulance Cymru volunteers for this role, capitalising on a UK-wide change in the rules for vaccinators at the end of last year.
It paved the way for so-called non registrants, those who are not doctors, nurses or other clinical professionals, to be trained to give the vaccinations while working alongside registrants.
They are not permitted to draw up vaccine from vials or to consent the patients.
Nevertheless, the training takes the volunteers through this and all other aspects of the process, including dosage, storage and dealing with those who are afraid of needles, so they become competent and confident vaccinators.
Dawn said: "Initially we were very fortunate that the health board encouraged retired registrants to return and administer the vaccine.
"Unfortunately, some of those have left and gone back into retirement so it's really important to build our vaccinator numbers up."
She has trained around 20 St John Ambulance Cymru volunteers to give Covid vaccines to adults over the course of three, two-day sessions. They are among more than 1,000 vaccinators trained in this health board since Covid began.
Emphasising her point that vaccination is more than just putting a needle into an arm, Dawn explains that each vaccine brand is used with a different type of syringe and needle and that they must get used to working with each one.
They also learn how to identify the optimum spot in the muscle at the top of the arm, the deltoid, where the vaccine is given. This ensures it is as effective as possible, while minimising the risk of injury.
The volunteers have to be competency assessed while giving real vaccinations before they can take on shifts.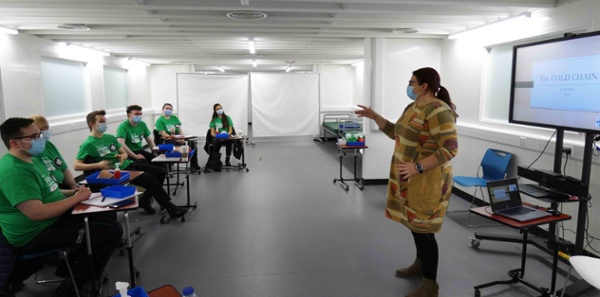 Pharmacist Lorna Pearce takes the volunteers through the cold chain storage process for vaccines. Credit: SBUHB
Swansea University medical pharmacology student Matthew Brooks, 18, from Caerphilly, is raring to go.
"I got involved with this course through other members of St John," he said.
"I really like the idea of giving people vaccines. I have already had all mine."
Christine Strong, 51, is a People Services Manager for St John Ambulance Cymru and a volunteer.
She said: "I enjoy volunteering and the vaccination programme is the way forward for us to be able to carry on with our lives successfully. And I believe I have got time to give back to the community."
Paul Wiggins, St John Ambulance Cymru Business Development Manager, has played a key role in coordinating the charity's vaccination efforts.
He said: "Our volunteers have already given over 10,000 hours in support of the vaccination programme across Wales, and we're delighted to be able to ramp up our efforts in and around Swansea as we continue to play a key role in protecting people against Covid-19."
Louise Platt, Head of Operations for the Swansea Bay University Health Board Covid-19 Vaccination Programme, said some people may be wondering why we are continuing to train vaccinators at this stage of the pandemic.
"It makes perfect sense," she said.
"It is due to the enormous success of the vaccination programme that we are where we are now. But that doesn't mean we can be complacent.
"Covid vaccinations are ongoing and seasonal boosters for the most vulnerable are expected to be introduced this winter. That, with the inherent uncertainty of this pandemic, means we need resilience in the vaccination programme.
"We are delighted that St John Ambulance Cymru volunteers have selflessly given up their time to help."