Surgeries thanked for injecting impetus into vaccination programme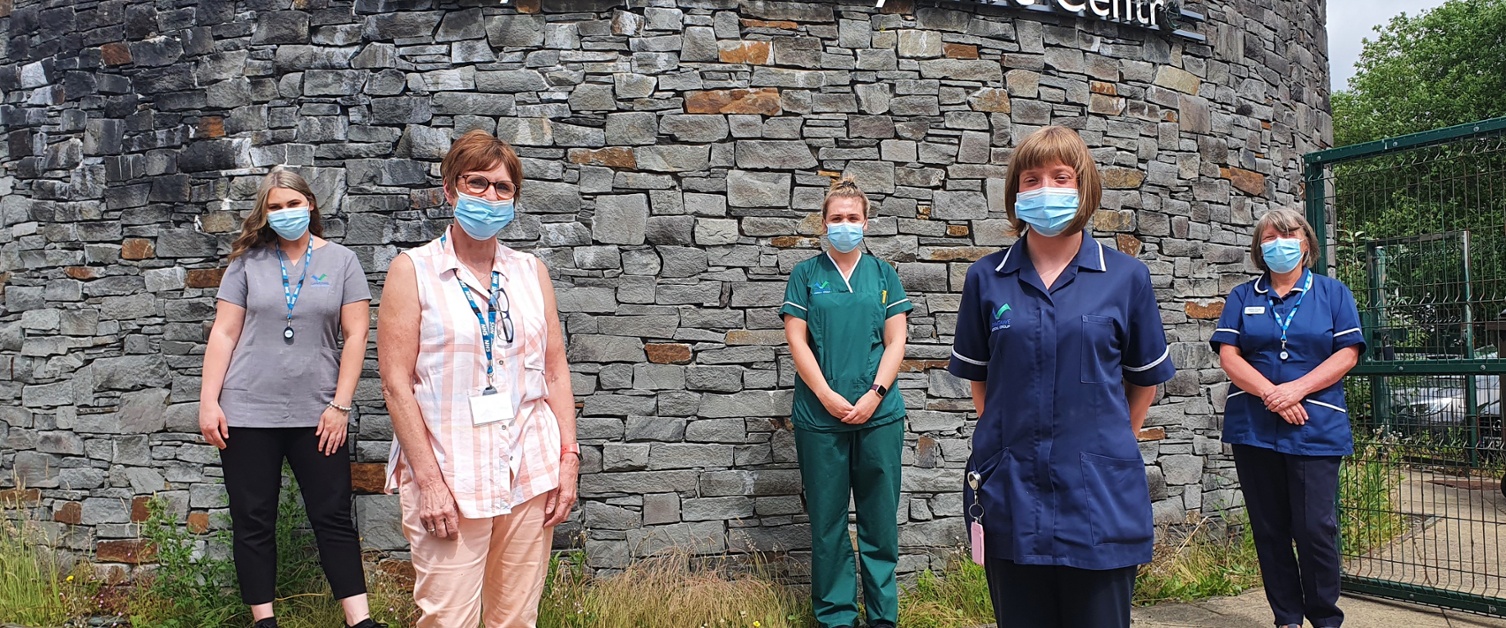 Our resilient and dedicated GP surgeries have been thanked for helping deliver Swansea Bay University Health Board's successful vaccination programme.
Above: members of Cwmtawe Medical Group's vaccination team
The vast majority of local surgeries rolled up their sleeves - along with those of tens of thousands of patients - and helped administer Covid vaccinations to the most vulnerable when they needed them most.
While the health board set up three mass vaccination centres – at Bay Field Hospital, Margam Orangery and Canolfan Gorseinon Centre – help was needed for those who may have found travel quite difficult.
Enter our surgeries. Targeting those in the most at-risk groups, along with care home residents and their carers, they have vaccinated more than 120,000 people since the programme began, over a quarter of all those vaccinated in Swansea Bay.
The surgeries' work is now coming to a close with anyone who may have missed out set to be directed to the mass vaccination centres.
Dr Anjula Mehta, SBUHB's Group Medical Director for Primary Care, Community Services and Therapies Group, paid tribute to the hard work undertaken.
She said: "It's important to recognise the significant additional workload general practice adopted during this Covid vaccination programme on top of their day job.
"Providing vaccines within care homes and patients' own homes is challenging and time consuming, but this is where general practice shines – going the extra mile to ensure quality, safe patient care in the community.
"That's what it's about for us and I remain in awe of the resilience and dedication of my general practice colleagues throughout this pandemic.
"I extend my heartfelt thanks to each and every one of the general practice teams which stepped up to deliver this vital vaccination programme whilst maintaining daily primary care services."
Eirlys Thomas, Senior Nurse for SBUHB's Covid-19 immunisation services, added her thanks.
"We would like to thank the surgeries for their continued support during the pandemic by working in partnership with the vaccination centres, vaccinating the most vulnerable groups of people within the community setting, either at their own home, the medical centre or local nursing homes," she said.
"This is a good example of how well the NHS works together to meet the needs of our population."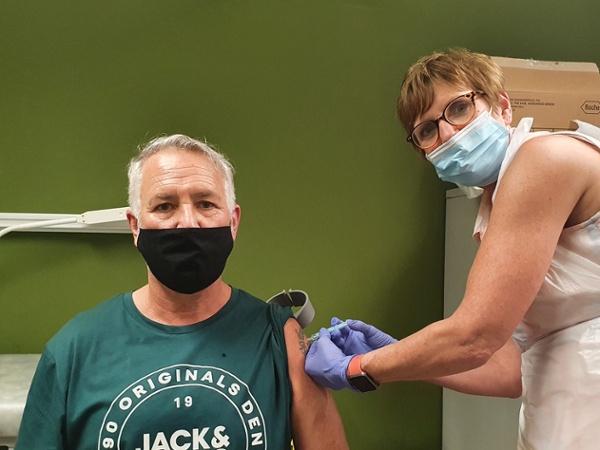 Petula Caven (pictured above vaccinating Clydach resident John Adams) is, an advanced nurse practitioner and nurse manager for Cwmtawe Medical Group, which held its last clinic last week.
She said: "I am very pleased at the response of Cwmtawe Medical Group Practice staff who were involved in the role out of the Covid vaccination programme for our patients.
"The administration and nursing teams took on the extra work even though the practice was very busy with its normal work at the time.
"They gave up numerous Saturdays, as well as running weekday clinics so that as many patients as possible received both first and second vaccinations on time.
"The team was efficient and organised, and patient feedback has been positive and complimentary.
"I think we can be proud of our effort to reduce the impact of this terrible virus."
Dr Deborah Burge-Jones, of Britton Ferry Medical Centre, part of the Neath Cluster, was also keen to praise her colleagues.
She said: "We are extremely grateful for the dedication and enthusiasm our staff showed in taking part in our surgery's vaccination programme. Despite everyone already being extremely busy in work and exhausted they came in on weekends without question and allowed for the quick and smooth provision of vaccines to our patient population.
"Staff also went out to patients' homes to ensure vaccines were given to the housebound and care home residents.
"As soon as the vaccines were hitting our fridges they were being given, all thanks to a massive team effort."
Thanking her wider cluster of GP surgeries she said: "Neath Cluster also pulled together at pace to organise the care home vaccine delivery at very short notice and I am very grateful as Neath Cluster lead to all practices for doing this."