Community pharmacists boost the Covid booster vaccine campaign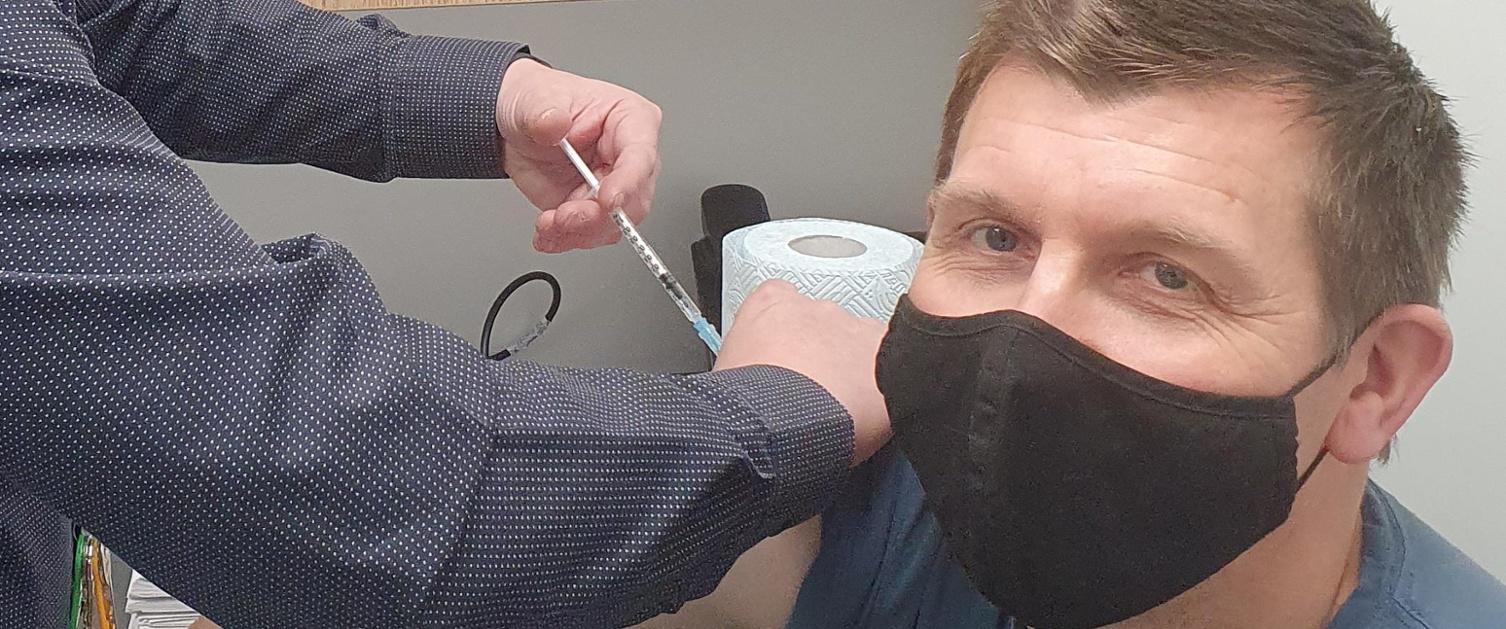 The drive to deliver Covid booster vaccines across Swansea Bay as rapidly as possible has itself been boosted by community pharmacies.
All 49 GP practices in Swansea and Neath Port Talbot joined the health board to deliver the first two doses of the vaccine.
But as they are now busy delivering flu vaccines on top of their usual services, community pharmacies have stepped up to help ensure the booster is available locally as well as in the main vaccination centres.
Their involvement follows a successful pilot earlier this year which saw four of them help deliver the first two doses.
Thirteen in the Swansea area, along with Vale of Neath Pharmacy in Glynneath, have now responded to the health board's call for expressions of interest to take part in the booster programme.
One of the first to receive their booster in a pharmacy was Nigel Godfrey (pictured above), who lives near the Vale of Neath Pharmacy.
"It was fantastic," said Mr Godfrey. "I was working from home so I could pop down to the pharmacy on my lunch break.
"It was local, five minutes away. A lot more convenient than having to go to one of the mass vaccination centres.
"There was no waiting.
"The pharmacist put me at ease and we went into a private room. There were no problems whatsoever."
Mr Godfrey, aged 44, is entitled to the booster because of an underlying medical condition.
"But it will also protect my friends, family and colleagues, whoever I come into contact with," he added.
"It's doing the right thing, not just for myself, but also those around me and the community."
People eligible for the booster will be contacted directly with an appointment either in one of the pharmacies or in a health board vaccination centre.
Appointments are being sent out in chronological order, at least six months after the date people received their second dose.
Six months is the threshold at which those in priority groups become eligible for the booster, not an absolute date it must be given by.
Although there are no drop-in sessions, the health board has started a reserve list for people who are aged 40 or over, who had their second dose at least six months ago.
They must also be available to attend one of the mass vaccination centres at short notice – within two hours.
As well as the MVCs, the health board employs local vaccination centres, converted shipping containers which can be taken into communities to save people who might otherwise struggle to get to an MVC.
With the pharmacies also on board, every effort is being made to ensure as many of those who are eligible for a booster can receive it as close to their home as possible.
"However, we appreciate that will not be the same for everyone," said Swansea Bay's Vaccine Equity Manager, Maxine Evans.
"We send invites to people living within a certain radius of the pharmacies to begin with and, if we have slots still available, we go further out.
"We are flexible and if people cannot get to the pharmacies because they live too far away and do not have transport, they can phone the booking office to change the appointment.
"But when we have been to the pharmacies and spoken to patients, they were really grateful and happy with the fact that it was local and easy for them to get the booster there."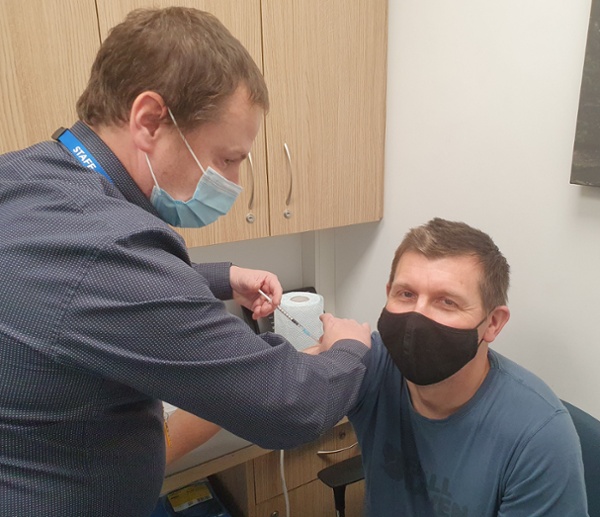 Pharmacists too say they are happy to be involved with the booster programme.
Niki Watts of Vale of Neath Pharmacy said: "We decided to take part because we believe it's important to help the health board get the population fully vaccinated as quickly as possible.
Right: Nigel Godfrey is given his booster by Niki Watts of Vale of Neath Pharmacy
"We are located at the heart of the community so the patients find it easy to access.
"We have good facilities, including a nice big car park right outside so the patients don't have to walk very far, and our own dedicated consultation rooms where the vaccinations can take place in private."
Eligibility for booster vaccines is determined nationally. It includes all adults aged 40 and over; frontline health and social care workers; people aged 16-49 with underlying health conditions putting them at higher risk of Covid-19; adult carers; and adult household contacts, aged 16 and over of anyone who is immunosuppressed.
Top of the eligibility list are people living in residential care homes for older adults. Swansea Bay has concluded its first sweep of 70 homes in the health board area – delivering more than 1,200 boosters to residents.
For various reasons, some were unable to receive the booster when the vaccinators were present, so return visits to each of the homes are now being arranged.
Georgina Assadi, health board Covid vaccine programme assistant service manager, said many of the vaccination team had not worked in the community before.
"It was all new to them and some were a little anxious to begin with. But they all really enjoyed it because they knew they were providing protection to the most vulnerable people," she added.
Follow this link to find out more about the Swansea Bay booster vaccine programme.