Swansea Bay's vaccination team has undergone an amicable parting of the ways with The Orangery at Margam.
After delivering more than 150,000 Covid vaccinations, over the course of the past year, at the picturesque wedding venue in the grounds of Margam Park, the team is set to move to a new venue in Aberafan Shopping Centre.
Above: SBUHB's Margam vaccination team say their found goodbyes.
The change of venue will allow The Orangery (pictured above) to revert to its former use as a sought-after location for happy couples to celebrate tying the knot.
Preparations for the new vaccination centre are still being finalised but until ready a temporary home has been found in The Princess Royal Theatre, also in the centre of town.
Thanking all parties for their cooperation, James Ruggiero, health board Assistant Head of Operational Planning for the Covid-19 vaccination programme, said: "Margam Orangery has been a fantastic venue to help deliver the vaccination programme in Swansea Bay.
"Neath Port Talbot Council and Margam Park have made the staff on-site feel at home and have done everything they can do to support us in delivering a smooth and efficient service at this site.
"The Orangery is now undergoing refurbishment so that they can return to business as usual to provide weddings and functions.
"We have moved on to our temporary centre at the Princess Royal whilst work on a new site within Aberafan Shopping Centre is complete.
"The council has been, and continues to be, extremely supportive of the vaccination programme and the health board is extremely grateful for the support."
Margam MVC clinical lead, Rebecca Maus, said: "I am very proud of the incredible team of staff that I was fortunate enough to work with at Margam.
"Their hard work and dedication is testament to the success of the vaccination programme."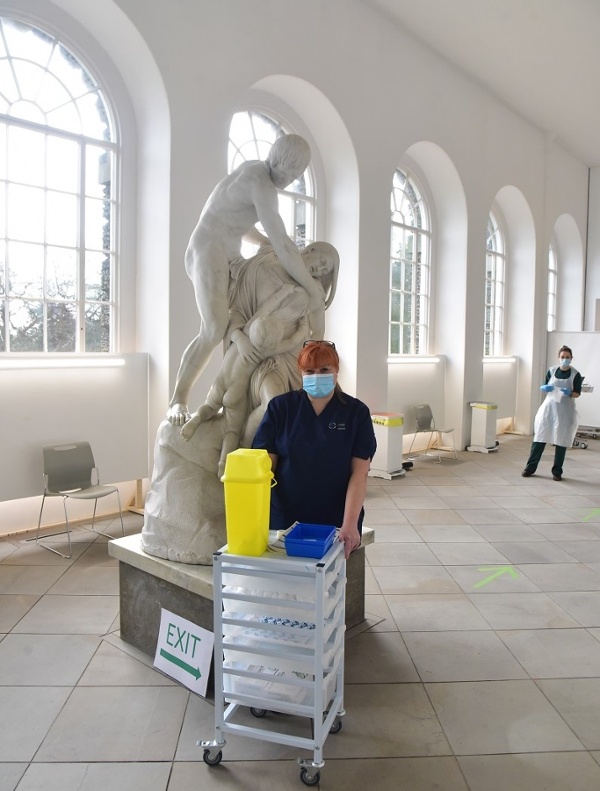 Margam was one of three mass vaccination centres in Swansea Bay, alongside Bay, off Fabian Way, and Canolfan Gorseinon Centre, which between them helped deliver more than 750,000 vaccinations.
It also hosted a successful pilot drive-through vaccination scheme to make vaccines as convenient and easy to access as possible for people living in Swansea and Neath Port Talbot.
Councillor Ted Latham, Leader of Neath Port Talbot Council, said: "Since the start of the pandemic the council has done everything it can to support the fight against the virus and to help keep people in Neath Port Talbot safe and well.
"We are proud of the pivotal role Margam Orangery has played in delivering more than 150,000 vaccines, and we continue to work closely with the health board and Swansea Council to help facilitate the vaccination programme across the Swansea Bay region.
"We look forward to welcoming visitors and events back to the beautiful and historic Orangery this year."