Novel idea will boost vaccine access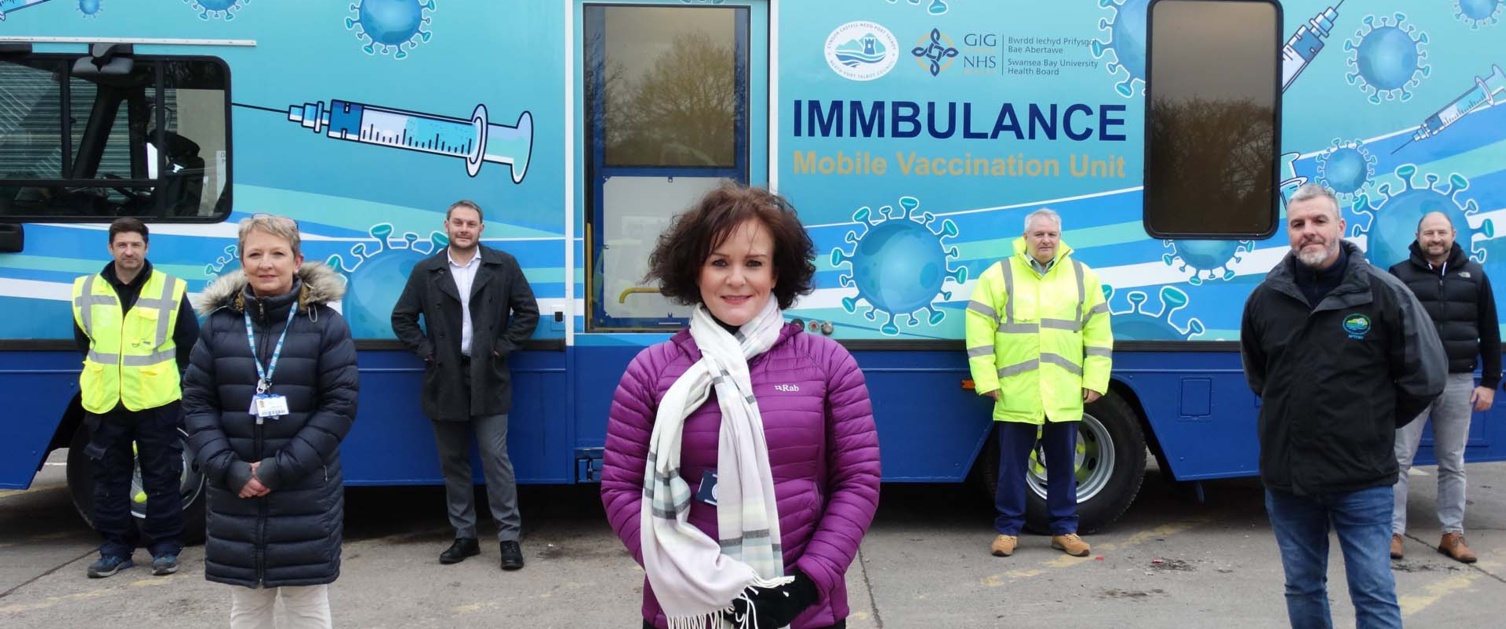 Main picture: Back left to right – Simon Thomas, Carpenter for Neath Port Talbot Council (NPTC), Richard Evans, NPTC Health and Safety Officer, Martin Duffy, NPTC Operations Manager and Kevin Lewis, NPTC Fleet Manager.
Middle: Judith and Shaun Burgess, Emergency Planning Manager for NPTC
Front: Matron Catherine Watts
A new chapter is being written in the story of the fight back against Covid with the conversion of a former mobile library into a vaccination clinic on wheels.
Believed to be the first of its kind in Wales, the Immbulance is designed to reach those who are unable to travel to vaccination centres or GP surgeries, either because of poor transport links or mobility issues.
However, it is not designed for house calls. It will be parked up in a convenient location offering the Oxford vaccination by appointment to around 100 people per day.
The Immbulance is the brainchild of Matron Catherine Watts, Lead for Immunisation and Vaccination at Swansea Bay University Health Board, but would not have been possible without the help of Neath Port Talbot Council.
Instead of selling the mobile library, which had come to the end of its use and been replaced by a newer vehicle, the authority donated it and dedicated weeks to transforming it into a clinical space which would not look out of place in any hospital.
"We're very excited about how this will help us to protect even more people as our vaccination roll out continues to expand," said Matron Watts.
"We know some people with mobility problems and those in more remote communities will find it hard to make it to one of our Mass Vaccination Centres (MVCs) or even their GP surgery or community venue for vaccination. But this doesn't necessarily mean they are housebound and need to be vaccinated at home. This is where the Immbulance comes in.
"And as we progress through the priority groups in the coming weeks and months, we'll be exploring even more ways the Immbulance can get the vaccine to those who need it when they need it in a convenient and safe way."
Rows of book shelves, a wooden reception desk and carpet in the six metres long by three metres wide mobile library were stripped out and replaced with clinical clean white walls, a sink, vastly improved lighting, a vaccination fridge, secure storage cupboards for on the move, easy clean flooring and curtains to divide it into cubicles.
A wheelchair lift was retained to maintain easy access and a wireless internet connection installed so patient details can be entered straight onto the immunisation database.
The Leader of Neath Port Talbot Council, Cllr Rob Jones, said: "I'm delighted with the way members of our Health and Safety Team managed the project to transform this vehicle, liaising with the health board to ensure required standards were met.
"Through hard work and skill from the council's Lighting and Building Services craftsmen and the expertise of the Fleet Mechanical teams, the Immbulance will now be an invaluable part of our vaccination programme."
Details on the first destination for the Immbulance will be released shortly.