Immbulance visits Swansea Mosque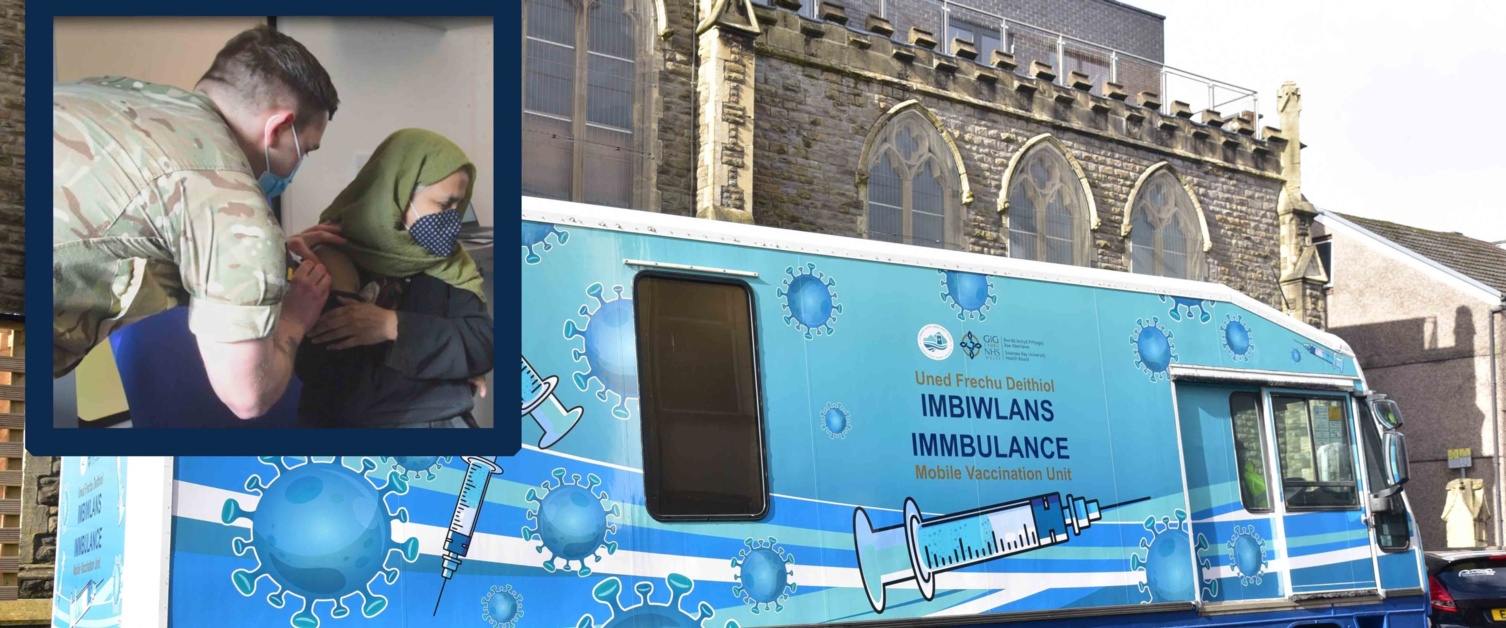 Main picture: The Immbulance outside Swansea Mosque. Inset: Banessa Khatun, 64, from Swansea, receives her first COVID vaccination on the Immbulance from Private Josh Morris of 4 Armoured Medical Regiment.
An innovative idea has been used to help address lower rates of COVID vaccination take up in black, Asian and minority ethnic (BAME) communities.
A vaccination clinic on wheels was parked outside a mosque so eligible members could be vaccinated.
As most live near their place of worship and often don't have access to their own transport, the Immbulance's visit to Swansea Mosque on Thursday, March 11th, broke down one potential barrier to them getting the protection they need.
Swansea Bay University Health Board's Immbulance is also being used to help reach people in more remote communities and in other hard-to-reach groups, such as the homeless.
Mosque chairman Farid Ali said they had also been trying to dispel the myths which can discourage those in the BAME community from accepting an invitation for vaccination.
These myths include that the vaccines contain animal products and cells from human foetuses. Neither is true.
The British Islamic Medical Association is encouraging Muslims across the UK to accept the vaccine when offered.
Mr Ali said: "We know that there's lots of different information going around in relation to the vaccine. Some is factual and some is not so accurate information.
"One of the things that we have been doing is trying to dispel that myth within our community and encouraging them to come forward and take the vaccine.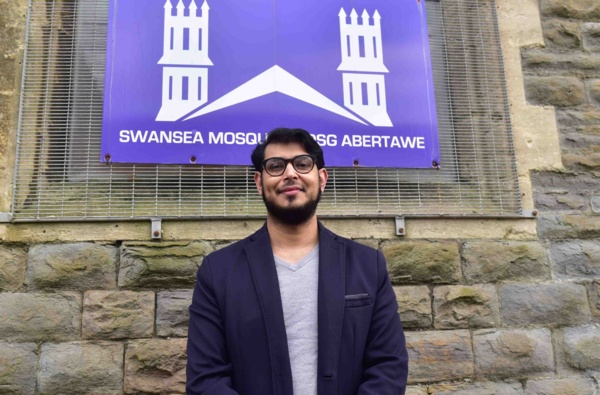 Swansea Mosque chairman Farid Ali. Credit: SBUHB
"We know that the BAME community has been disproportionately affected by the COVID pandemic right across the United Kingdom. They have also been quite slow in taking up the vaccine.
"So we are very pleased by the fact that today we have a number of individuals who are eligible to have the vaccine come forward to have the vaccine."
Among those being vaccinated on Thursday were Badsa Ali, 65, and Banessa Khatun, 64, both from Swansea.
Their son Khalid Hussain said: "They've been waiting for a while. But they are just happy and glad that they've had it now."
To help encourage vaccine uptake in BAME communities, Swansea Bay University Health Board has gathered the views of BAME staff members and community leaders on the vaccine and why people should have it.
Go to our new BAME page to read the views of NHS staff and community leaders who are having the COVID vaccination and also to read our FAQ section.
The health board is also supporting the new Tell Me More campaign, which aims to provide honest and accurate information on the vaccines and is backed by local faith leaders and prominent figures from the Swansea and Neath Port Talbot BAME communities.
Go to this web page for details on the Tell Me More campaign, which aims to provide accurate and honest vaccine information to the BAME community.