Vaccinations inject new life into Swansea Valley Men's Shed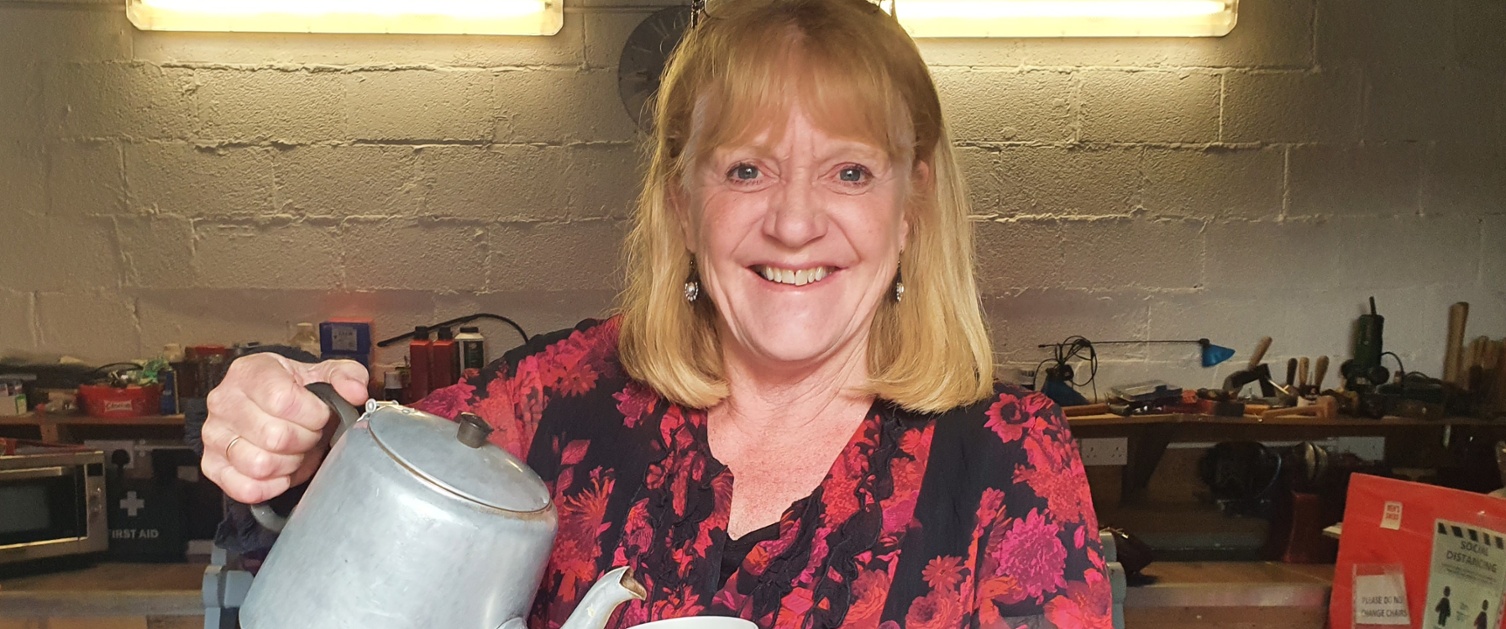 Members of Clydach's Men's Shed can't speak highly enough of Swansea Bay University Health Board's vaccination programme for helping them resume their weekly cuppa and chats.
Above: Clydach Men's Shed found Belinda Gardiner
Men's sheds are places for the community to enjoy craftwork and social interaction, whilst helping to improve the health and wellbeing of its members. But, like so many other groups, they were placed on hold during the second wave of the pandemic.
Thanks to the recent easing of restrictions, fuelled by the success of the vaccination programme, the shed has now opened its doors once more to members who have received at least one Covid vaccination.
Belinda Gardiner founded the shed in 2019 after buying a derelict blacksmith's forge in the Swansea Valley village believing it would make an ideal home for a local branch of the growing men's shed movement.
The former teacher said the reopening had been eagerly anticipated.
She said: "Unfortunately we have been closed since December, when the second wave hit, and it has been sorely missed.
"We have used the time wisely and have done a lot of work.
"We have a new wooden cabin that will be used for socialising, when we are allowed to meet indoors again, we have painted our storage container and put a new roof on it, and installed flower boxes around the grounds.
"We also have new gazebos and parasols for shelter, and heaters, everything to try and make people comfortable when they come here."
The Clydach Men's Shed opens on Wednesdays and Fridays, 10.30am to 1pm, when 25 to 30 people call in for a cup of tea and a chat.
Under Covid rules everyone has to be outside. Belinda said everything was sanitised and social distancing was maintained.
"We keep a register, with names and telephone numbers, and you must have had at least your first vaccination before attending."
Praising the vaccination programme she added: "The health board has done a great job protecting us all.
"I think it's essential we all have the Covid vaccination. Anyone who disagrees should become better informed, it's really important."
Belinda said the shed, which relies upon donations, had been greatly missed but she had done her best to keep in touch with her fellow 'shedders'.
She said: "We formed before the pandemic and had no way of knowing how vital we would prove to be for many of our regulars.
"We kept the communication going with everyone during lockdown by email, text and phone.
"We also tried to visit as many people as we could if we felt they needed some extra support and it was safe to do so.
"Some were more vulnerable and found it harder than others. They definitely appreciated it.
"The shed has a great network. If someone needs help, we know there's somebody we can go to, explain what the problem is, and someone will help us."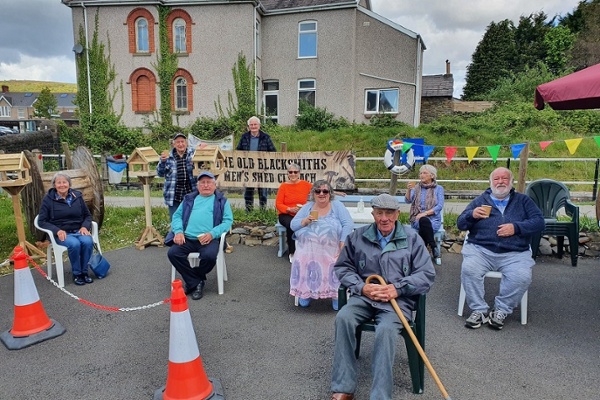 Clydach councillor Gordon Walker, himself a regular at the shed, said: "It's marvellous seeing people having had their vaccinations and the shed open once more. It's so nice to see everyone back and having a chat."
Mr Walker, who as a trained carpenter supported the shed by providing and fitting new doors on the old forge, praised its founder.
He said: "Belinda is outstanding with the older people of the village. She has called them all up during the lockdown, and provides an invaluable support network."
Larraine Rees, who regularly attends the shed along with her husband, said it was great to be back.
"There's a real hype about the place today. The shed provides such a nice social opportunity. It's lovely to meet people and chat to them.
"I enjoy helping out with whatever is going on here as much as I can.
"The lockdown has been difficult for everyone but we have managed to stay in touch as best we can, which has been a great comfort."
Of the vaccine she said: "We have both had our vaccinations and I would advise everyone to have theirs – the effect is showing already with such a fall in the Covid rates."
GP Dr Iestyn Davies, lead of the Cwmtawe Cluster, which fully supports the group, said: "It's fantastic to see the men's shed reopening as it provides a lifeline for so many in terms of friendship, socialising and support.
"This wouldn't have been possible without the dedication of our vaccination teams who have been working so hard to ensure people are protected."