Interns undergo "unbelievable" change just 10 weeks into jobs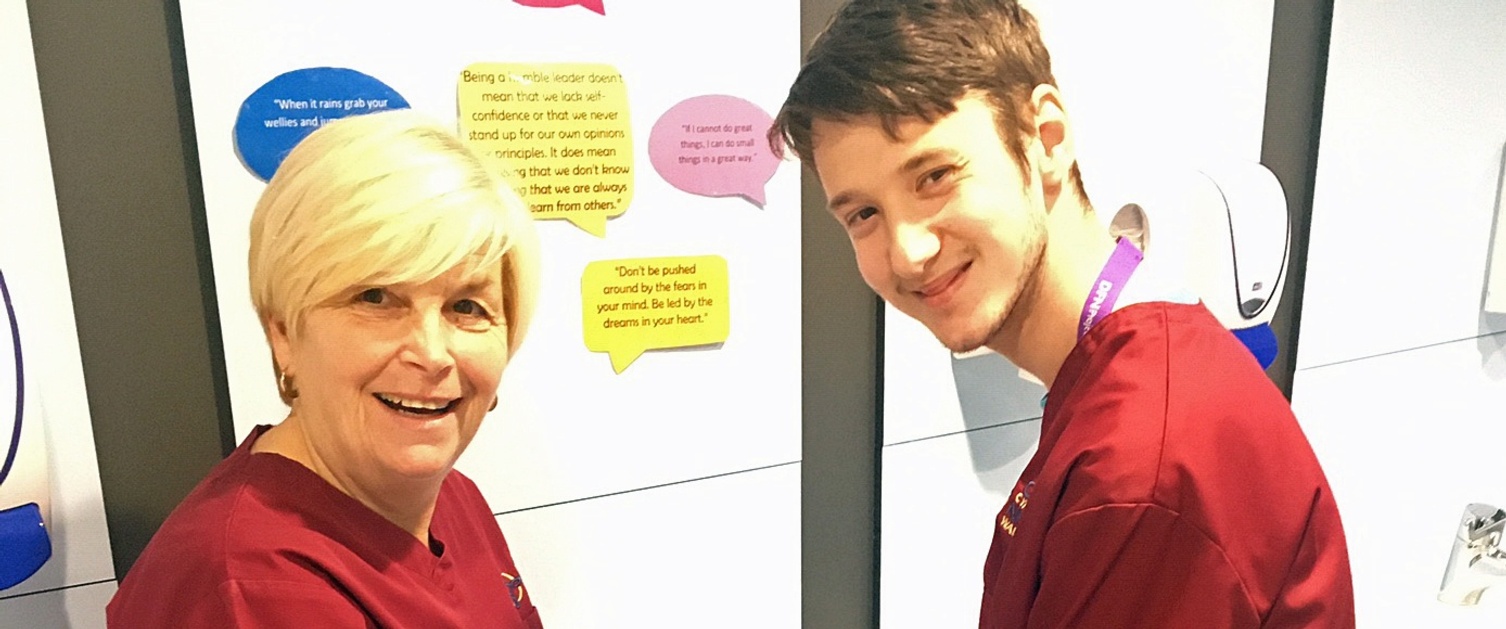 Above: Intern Scott Harris on placement with the domestics team.
When 20-year-old Rhea Lannigan started her internship at Morriston Hospital she was a very different person to the young woman she is today.
Rhea began working with the pathology department's general office in September last year and took on tasks such as sorting and labelling sample bags and photocopying documents.
But this was more than a typical work experience placement.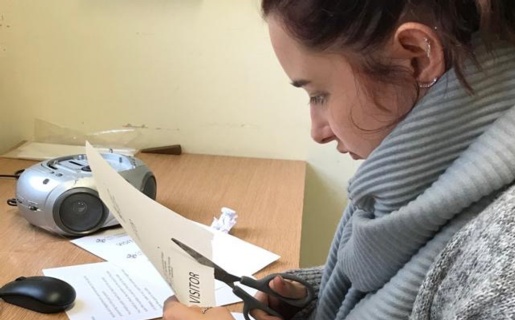 Rhea joined the health board as part of Project SEARCH, an international initiative which supports young people with learning disabilities and/or autism to gain the skills to move into paid employment.
Right: Rhea in the pathology general office
And in just 10 weeks, the encouragement of the project team as well as her new health board colleagues has helped Rhea grow personally as well as develop professionally.
Sian Lannigan, Rhea's mum said, "The change since Rhea has been going there is unbelievable.
"She suffers with social anxiety and always knew she was different.
"Going into this, she's different but is showing she can still achieve the same as anyone else as long as she's given the right support.
"She's always been very switched on and motivated – we're really happy Rhea's part of the project."
Rhea said, "I've enjoyed it so far, and it's helped improve my confidence."
Rhea is one of eight students who joined the health board as part of the project, which is run in partnership with Gower College. In addition to working towards a BTEC qualification in work skills, they have been helping out in different departments at Morriston Hospital, including domestics, catering and the cardiology ward.
---
Read more: New project searches for hidden talent
---
1-year-old Kieran Jones has been working in the linen room, helping to fold and hang the scrubs that hospital staff wear.
Like Rhea, he says the work has helped his self-confidence.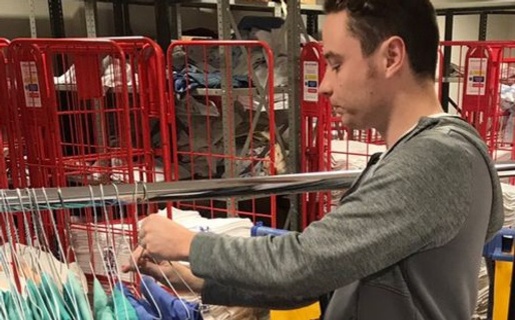 Kieran said, "I'm enjoying it. It was difficult at the start but I've got the hang of it now.
"The ladies are friendly and very chatty.
"Being there has made me more confident, I was quite nervous at the start."
Right: Kieran Jones working in Morriston Hospital's linen room
As the New Year begins, Kieran and the other interns are moving into another round of exciting work experience placements, with some progressing on to work in different areas of the hospital.
Chloe Davies, 19, worked with the pathology department for the first 10 weeks. The team there were so impressed with her that she will be continuing her internship with them.
"It's helped me a great deal and I've learned lots of things during my time here," Chloe said.
"I've been in charge of handling pods, emptying samples and putting them in different boxes to be sent back to departments.
"Sometimes I do different tasks like sending bags to reception, and taking empty pods down if they're piling up.
"The team are lots of fun to work with."
Sharon Davies, Chloe's mum, said, "We've noticed a big difference in Chloe at home.
"Now she will openly engage in conversation, when before she'd only sit and listen, and chip in every now and then.
"She sits down and watches TV with the family too.
"She wouldn't do that before, she likes her own company – for her to come and watch something with us is unheard of.
"Project Search has been an amazing opportunity for her.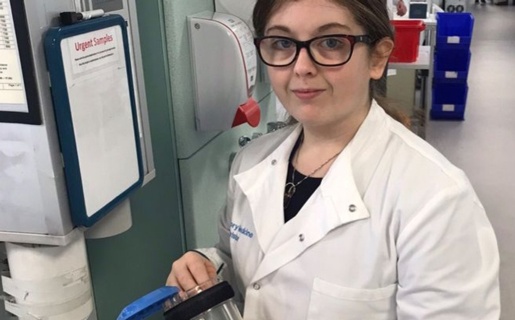 "Everyone in the lab has been really supportive and Chloe feels as if she has contributed.
"It's lovely to see her face light up when she talks about what she's been doing."
Left: Chloe in the pathology lab
Job coach Julie Bowen - who joined each intern on placement in the early days of their internships - agrees that they have all developed significantly since starting with the health board.
Julie explained: "When they started in September, they were all quite quiet.
"After just 10 weeks they are so much more confident.
"They really feel like they belong here and that staff have been supporting them.
"They may initially need a bit of extra support but they definitely have a positive effect on the departments they go into.
"Some of the first feedback we had was that our interns were helping to reduce workload in some departments."
---