New project searches for hidden talent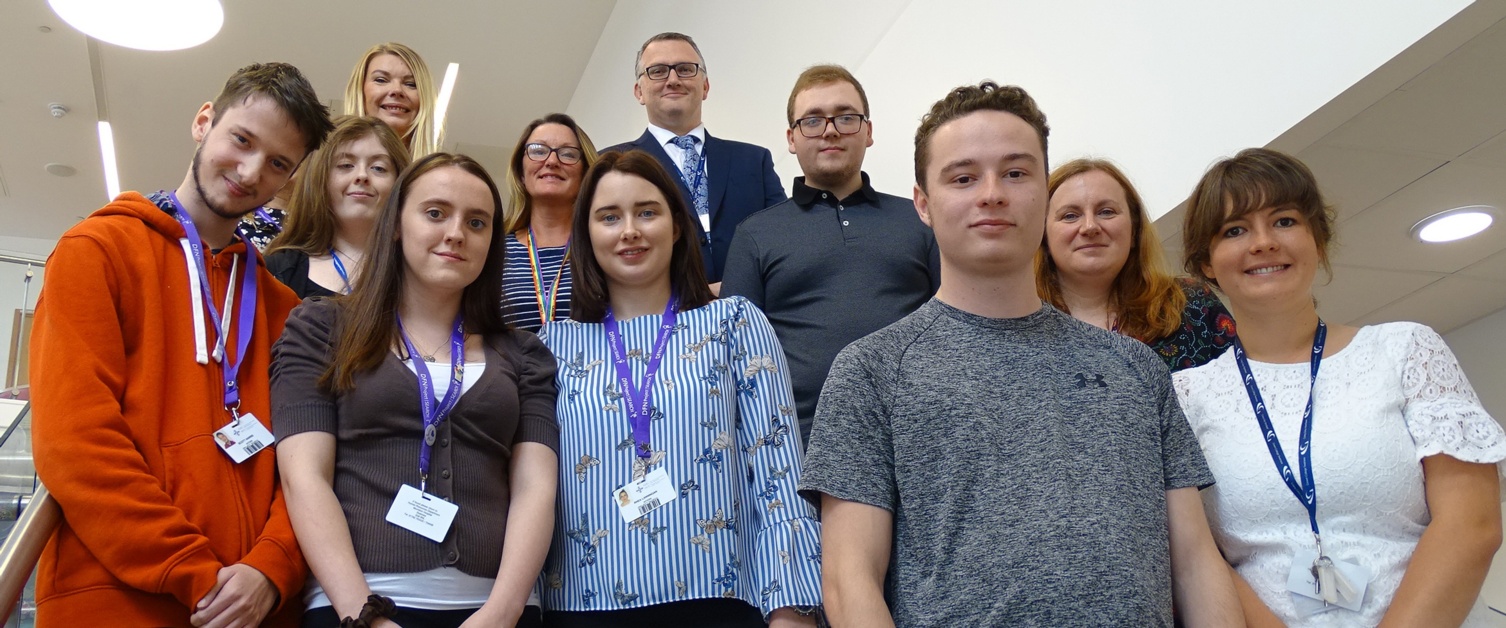 (See end of story for main picture caption.)
Eight teenagers with additional learning needs have begun internships that will see them take on a variety of roles at one of Wales' biggest hospitals.
The pharmacy, library and domestic service at Morriston Hospital are just some of the areas that the Gower College Swansea students will be assigned to.
As well as gaining practical experience, they will also take part in classroom sessions in the hospital as they work towards a BTEC qualification in work skills.
The internships are being provided under Project SEARCH, an international initiative which began in the US.
It's the first time Swansea Bay University Health Board has run the scheme.
But a previous Project SEARCH, undertaken by the former ABMU Health Board, saw some students get jobs at the Princess of Wales Hospital in Bridgend following the completion of their nine-month internship.
Chief Executive Tracy Myhill said the scheme will help Swansea Bay's workforce better reflect the communities it serves.
"Of course we get the benefit of you working with us as well and you will be working with passionate people to serve the patients," she told the interns at the official launch.
Gower College Swansea and its Better Jobs Better Futures employment agency are the health board's partners in Project SEARCH.
College instructor Joanna Emms has led the students through a two-week induction, which included team building and orientation of the massive hospital site.
"We have done some work getting used to the hospital site including scavenger hunts and generally getting used to the basic routine," she told the launch.
"This week we have looked at employment skills, including what makes a good listener. These are some of the soft skills the interns are going to need when they come out into departments in the next couple of weeks."
The interns will be well supported both during the project and beyond as they are guided towards paid employment.
Better Jobs Better Futures employment and training coordinator Joanna Leeuwerke will undertake the same roles as the interns so she is in the best position to guide them. She will also keep their parents up to date with their progress.
Health board colleagues will act as on-the-job mentors for the interns.
It's hoped that by the end of their internship, the students will have gained a range of skills - including organisation, timekeeping, independence and listening skills – that will help them secure roles either within the health board or outside it.
Even after their internships are finished, they will continue to be supported as they look for work.
Simon Pardoe, learning area manager for independent living skills at Gower College Swansea, said the education sector now recognises that job skills are just as important as academic qualifications.
"For me, the first eight learners who have enrolled will be the first of many to move in this direction.
"I think it is important that we step outside of our comfort zones and we challenge ourselves as this is how we grow."
The interns themselves are also excited about the future.
"My hopes are I would like to get a job with the domestic team and learn new skills while I do Project SEARCH," said Scott.
Amy added: "My hope is to get a full time job and work my way up onto the mental health ward or children's surgical ward."
Main picture caption: Six of the Project SEARCH interns with Louise Dempster future programmes leader at Better Jobs Better Futures (back row left), Ruth Gates, Swansea Bay's learning and development project manager (middle of third row), Gower College's Simon Pardoe (back row right), Joanna Leeuwerke, from Better Jobs Better Futures, (far right second row) and Gower College instructor Joanna Emms (far right front row).