Plasma therapy could be given to Covid patients in Morriston intensive care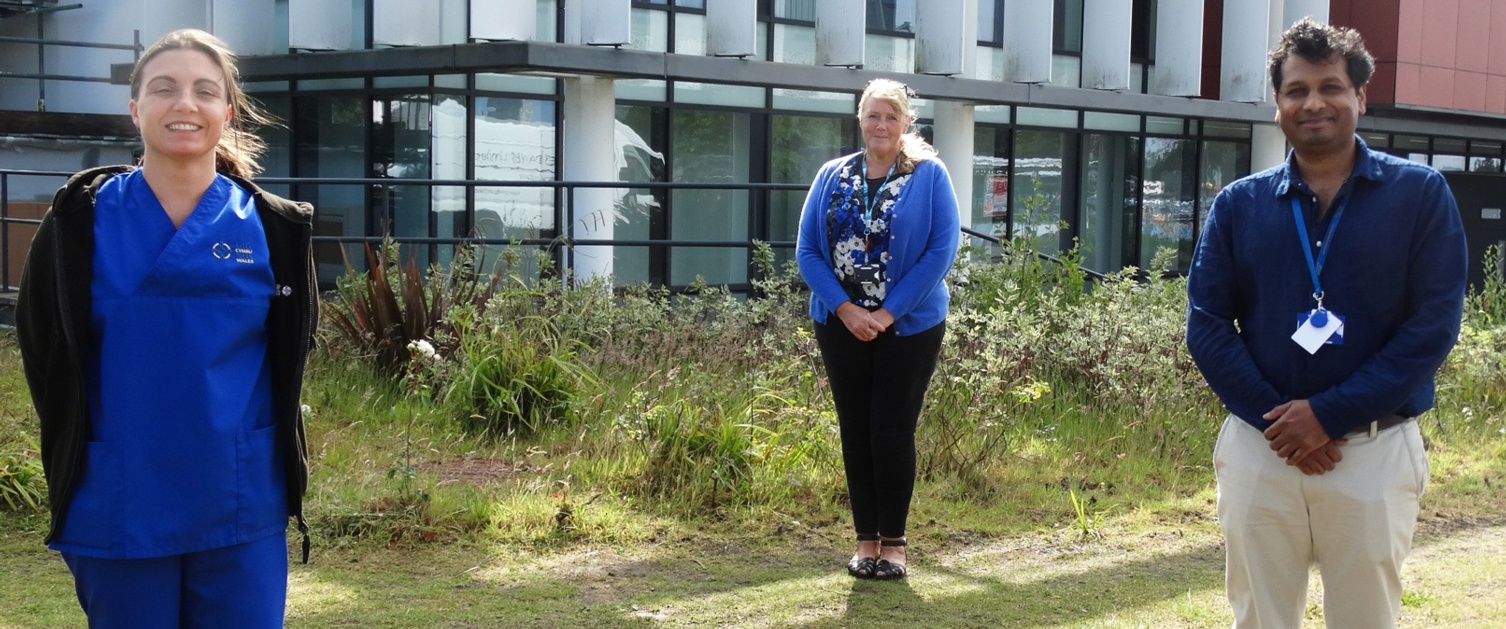 Antibodies from people who have recovered from Covid-19 could be given to patients in intensive care with the virus at Morriston Hospital.
The therapy, known as convalescent plasma, has been introduced into two urgent public health research studies taking in Wales, alongside the treatments they are already trialling.
Main photo above shows (l-r) R&D nurse Rachel Harford, R&D delivery manager Dr Yvette Ellis and emergency and intensive care medicine consultant Dr Suresh Pillai
It's hoped the antibodies, contained within plasma collected from people who have had the disease, could help patients critically ill with it – as well as others in hospital with Covid-19 but not in intensive care.
Swansea Bay is one of six Welsh health boards participating in the two UK-wide studies, REMAP-CAP and RECOVERY.
REMAP-CAP is a platform trial for severely ill patients with Covid-19, and tests multiple treatments at the same time.
These treatments include antiviral therapy, immune modulation therapy, therapeutic anticoagulation and, now, convalescent plasma.
Swansea Bay's lead for REMAP-CAP, Morriston-based emergency and intensive care medicine consultant Dr Suresh Pillai, said: "We started the trial here in April.
"It involves giving Covid-19 patients in ITU a number of different treatments – so far the minimum each has received is two.
"Patients are randomised into different arms of the trial. Some will be suitable for all the arms, while others may not be."
No patients have yet been identified as suitable for convalescent plasma in Morriston ITU since the therapy was introduced at the end of June.
Staff, however, have been fully trained in readiness, and all the other treatments available within REMAP-CAP have been used.
R&D nurse Rachel Harford said: "The data collection is very intense. It's done on a daily basis and they obtain a lot of information on each patient."
So far, 28 patients across Wales have taken part in the trial, 11 of them at Morriston – making the hospital Wales's highest recruiting centre.
Swansea Bay's R&D delivery manager Dr Yvette Ellis said this was despite the size of the site and the fact that there was no previous experience of a study of that scale in ITU.
"The success is down to a total team effort. My research team has been quite small but the impact they have had is fantastic.
"We couldn't do it without the clinical teams. Suresh has spoken to all the juniors and got everybody on board.
"We wouldn't have had as many patients if the teams weren't fully engaged. I have absolute faith that every possible patient has been recruited.
"It's a real team effort right the way across the board and I'm so proud of everybody who has been involved."
Convalescent plasma has also been introduced into the RECOVERY trial.
This tests if existing or new treatments can help a wider range of patients, not just those in intensive care, who have been admitted to hospital with confirmed Covid-19.
It's the largest of its kind in the world and Swansea Bay has recruited dozens of patients admitted to both Morriston and Singleton Hospitals*.
Both studies have been set up in Wales through Health and Care Research Wales, with the plasma collection programme delivered by the Welsh Blood Service, Welsh Government and Public Health Wales.
Health and Care Research Wales specialty lead for critical care Dr Matt Morgan said: "Much like giving blood, patients who recover can donate their antibodies in the form of plasma to help with the trials, and hopefully help patients.
"We still need more evidence-based, effective treatments for Covid-19.
"Although breathing machines and some drugs may help whilst staff care for patients as best they can, we really need more treatments that work.
"These studies aim to answer the question of whether using antibodies from patients who have recovered can save the lives of patients with COVID-19."
Professor Kieran Walshe, Director of Health and Care Research Wales added: "We are working hard to make sure patients across Wales are able to take part in Covid-19 research, which will hopefully make a difference to future care and treatment of the disease.
"Testing convalescent plasma as a possible treatment, through the RECOVERY and REMAP-CAP studies, is an opportunity for those who have recovered from the disease to potentially help someone who is fighting for their life."
Note:
REMAP-CAP stands for Randomized, Embedded, Multifactorial, Adaptive Platform trial for Community-Acquired Pneumonia. It's led in the UK by Imperial College London and funded by the University Medical Centre Utrecht.
RECOVERY stands for the Randomised Evaluation of COVID Therapy. It is led by the University of Oxford and funded by the Medical Research Council.
To read more about the use of convalescent plasma in Wales go to the HCRW website.
*To read more about Swansea Bay's involvement in RECOVERY please click here.