Dozens of patients in Swansea join up for Covid-19 trial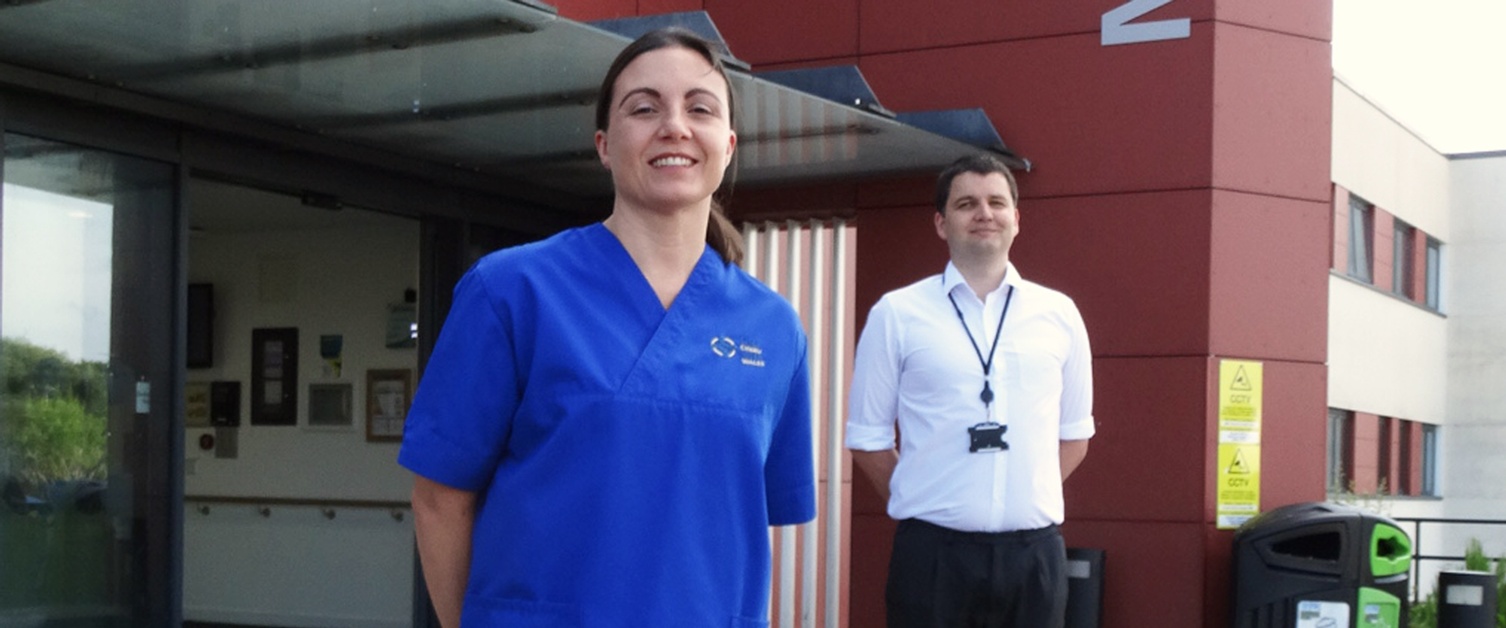 Dozens of patients hospitalised with Covid-19 in Swansea have volunteered for a clinical trial which has already seen life-saving results.
So far, more than 50 people admitted to Morriston or Singleton hospitals have agreed to take part in the UK-wide Recovery trial.
This tests a range of potential treatments against the virus.
Main photo above: research and development nurse Rachel Harford with Recovery local investigator Dr Ian Blyth
The study team at Oxford University has now confirmed that one of the drugs, the low-dose steroid dexamethasone, cuts the risk of death by a third for those on ventilators and by a fifth for those on oxygen.
It has also shown that a treatment which had been widely reported as beneficial, hydroxychloroquine, does not improve outcome.
This is an extremely important finding as it means future patients will not receive this treatment unnecessarily.
Swansea Bay is one of 176 health boards and trusts across the UK recruiting patients for the study.
Dr Ian Blyth, Public Health Wales acting consultant in infectious diseases and microbiology, is a local investigator for Recovery in Swansea Bay.
He described the news about dexamethasone as an amazing result.
"It means there is now a safe and widely available treatment for those who suffer the worst effects from Covid-19, and not just here in the UK but around the world," he said.
"The speed at which this discovery was made is credit to all the patients, including many from Swansea Bay, who altruistically took part in the Recovery trial when they were unwell."
Recovery is a randomised trial for adults admitted to hospital with Covid-19. Some receive the usual high standard of care hospitals provide, while others are also given one of a number of drugs being tested.
Dr Blyth said: "At the beginning of the pandemic there were a number of different drugs that were suggested to improve patient outcomes including reducing mortality, length of hospital stay, and the need for invasive ventilation.
"But none of those drugs had enough evidence that they could be rolled out across the population of individuals with the disease.
"Recovery provided a format by which those drugs could be assessed against the standard of care to definitively find out whether they were going to provide benefit to our patients."
Swansea Bay was one of the first health boards to get involved with the trial, but this involved setting up a complex process quickly.
Dr Blyth said a multidisciplinary approach across the health board had made that possible.
"We've had involvement from lots of different services across both Morriston and Singleton.
"The R&D department, IT, the Education Centre, ourselves in infectious diseases – you name it, every single part of the mechanism of the health board has played a part."
Swansea Bay's research and development delivery manager Dr Yvette Ellis added: "Many of the other health boards already had research-active clinicians in place to facilitate participation in the trial.
"When we were starting, getting all our clinicians and teams on board so quickly was a huge achievement.
"They did all that when they were already dealing with the biggest crisis the NHS has ever faced."
To date, 54 patients have agreed to take part. Others would have too, except they were found ineligible after screening.
Dr Blyth said: "These are people at their lowest ebb, unwell, isolated from their family with a disease that has a huge amount of anxiety attached to it.
"Yet they all want to support our efforts to help people coming after them. That has been really heartening to see."
The Recovery team in Swansea Bay is led by Dr Brendan Healy, Public Health Wales consultant in microbiology and infectious diseases (see end of release for a full list of those involved).
Dr Healy said: "We started with the baseline where we had a brand new disease. We knew it had a very severe outcome in a number of individuals and without a proven treatment.
"It was great to get involved in this trial early on. It meant patients had access to treatments of potential benefit.
"It also meant we could offer it in a way that enabled patients to consider the risks and benefits and contribute to our knowledge of COVID19 at the same time.
"It's a really important trial that has already provided invaluable information on how to treat people with Covid-19 for years to come."
The Recovery team also includes: Pharmacy – Julie Harris, Euan Pratt, Paul Jones.
Research delivery - Yvette Ellis, Rachel Harford, Tabitha Rees, Elaine Brinkworth, Marie Williams.
Clinical – Abigail Holborrow, Stephanie Bareford, Alice Bone, Richard Chudleigh, Simon Georges, Stacey Green, Claire Johnston, Manju Krishnan, Nicky Leopold, Fiona Morris, Ahsan Mughal, Gina Saleeb and John Watts.
Research Facilitators: Karen Chesters-Channon, Samantha Rees and Rebecca McGrath
Dr Healy added: "Delivery of the trial in Swansea has been a massive team effort and I am very grateful to all of the staff and patients that have made the trial possible."