Worldwide recognition for Swansea team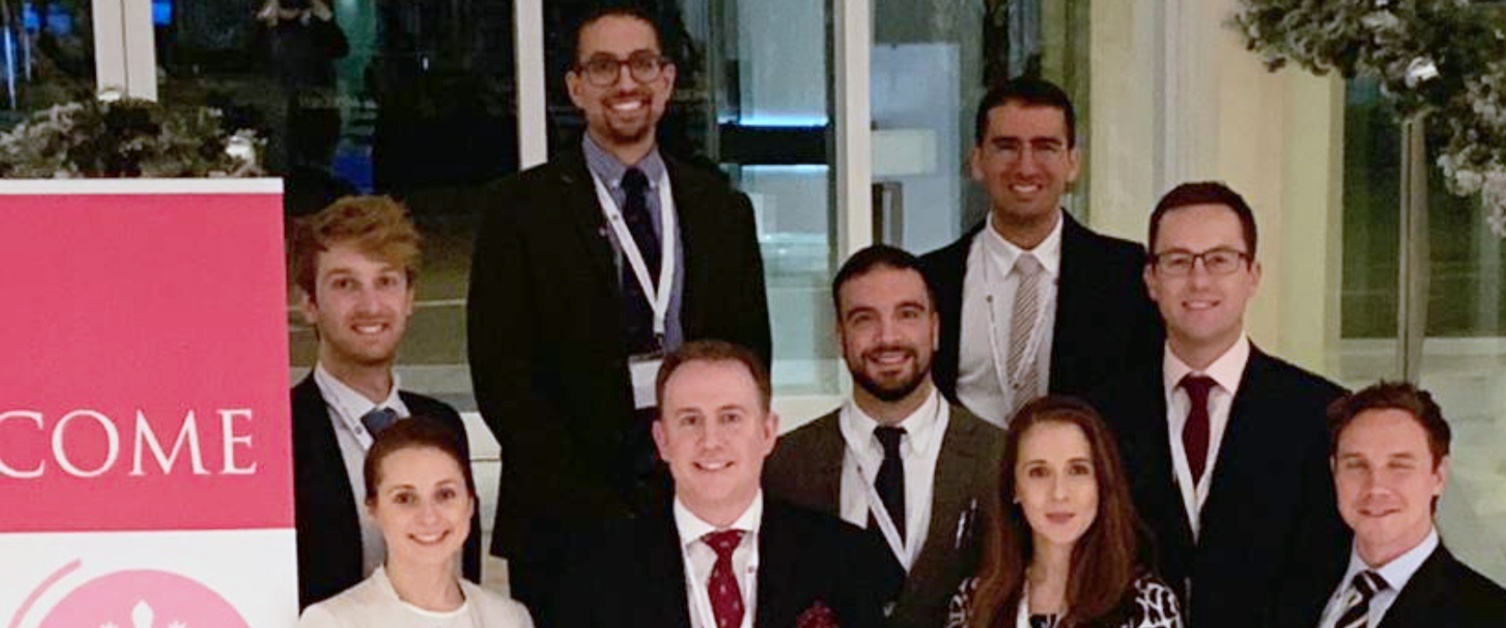 Pioneering work in Swansea on tissue 3D printing and reconstructive surgery has led to more global recognition for the team behind it.
The work is led by Professor Iain Whitaker, consultant in the Welsh Centre for Burns and Plastic Surgery at Morriston Hospital and Chair of Plastic Surgery at Swansea University Medical School.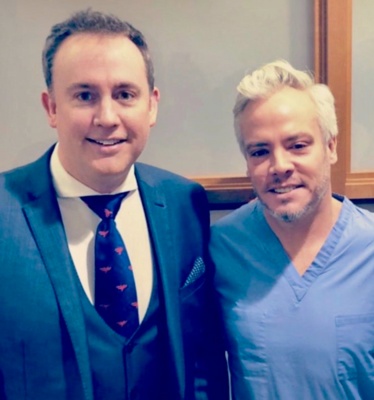 Professor Whitaker has been leading a research project to develop 3D-printed tissue made from human cells for the first time.
Last year he was made surgical specialty lead for Health and Care Research Wales.
Soon after that, he was awarded a European Association of Plastic Surgeons and American Association of Plastic Surgeons academic scholarship.
It was the first time the award had been made to a UK-trained surgeon, and was to formalise a collaboration with Harvard Medical School which will lead to a visiting professorship at Harvard this spring.
Pictured: Professor Iain Whitaker (left) with Dr Jay Austen, Professor of Plastic Surgery at Harvard Medical School and Chief of Plastic Surgery and Burns Surgery at Massachusetts General Hospital, Boston, USA
"This scholarship is based around the 3D bio-printing and tissue engineering research we're doing, to help reconstruct facial deformities," said Professor Whitaker, who travels to Boston several times a year for laboratory and group meetings.
"3D printing is one of four technologies predicted to transform the future of surgery by the Royal College of Surgeons.
"Tissue engineering is also one of the UK government's key research funding priorities.
"It just shows how topical and impactful the research we're doing is, and how Wales is leading the way."
Joint interim director of Health and Care Research Wales, Michael Bowdery, said: "This scholarship is fantastic news for Professor Whitaker and his team, and, indeed, for research in Wales.
"I'd like to congratulate Iain on his achievement. This international collaboration will help develop truly groundbreaking technology that could have real impact on people's lives, not just here in Wales but around the world."
Professor Whitaker was recently invited by the Royal Australasian College of Surgeons to present a keynote lecture on The Future of Plastic Surgery at its annual scientific congress in May.
He has also been awarded a Cutler/Royal College of Surgeons of England Fellowship to work with Dr Francoise Firmin at the Clinic Bizet in Paris with a view to bringing back its world-class expertise in ear and facial reconstruction to Wales.
Since his appointment as Chair of Plastic Surgery in 2013, Professor Whitaker has developed the Reconstructive Surgery & Regenerative Medicine Research Group (ReconRegen), which has now become the UK's largest plastic surgery research group.
This has led to the recruitment of current group members onto the Welsh Clinical Academic Training (WCAT) Programme. They have also scored notable individual achievements.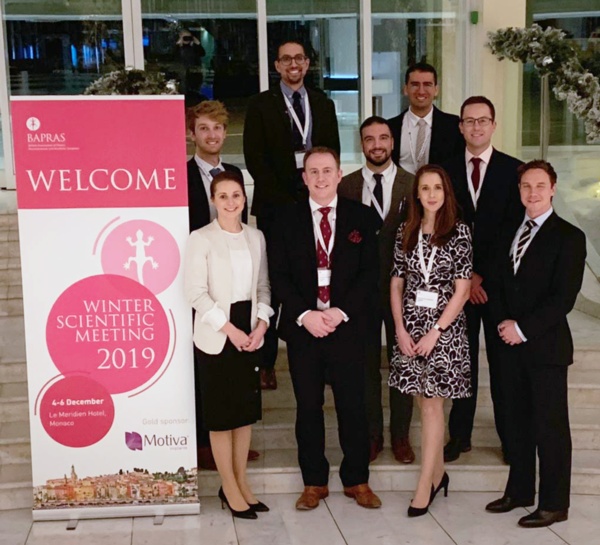 Zita Jessop was awarded a Royal College of Surgeons Fulbright Scholarship to visit the Wyss Institute, a cross-disciplinary research institute on biologically inspired engineering at Harvard University.
This builds on her PhD research on cartilage 3D bio-printing, which was supported by a Medical Research Council clinical research training fellowship.
She also received the Burnand Prize for the best science paper to be presented at the 2019 Society of Academic and Research Surgery.
Professor Whitaker said: "These are amongst the most competitive and prestigious awards in surgery, and are testament to Zita's hard work and talent.
"This is the first time a surgeon in Swansea has been awarded a training fellowship from the Medical Research Council."
The Reconstructive Surgery & Regenerative Medicine Research Group presenting their work in Monaco at the Winter British Association of Plastic, Reconstructive and Aesthetic Surgeons Meeting, December 2019. Front row (L-R): Ms Zita Jessop, Prof Iain Whitaker, MS Em Combellack, Mr Richard Thomson. Back Row (L-R): Mr Tom Jovic, Mr Nader Ibrahim, Mr Sam Tarrassoli, Mr Patrick Tabet, Mr John Gibson.
Meanwhile, Tom Jovic has been awarded a prestigious research award from Microtia UK, The Paton Masser Award from the British Association of Plastic, Reconstructive and Aesthetic Surgeons (BAPRAS) and an Action Medical Research/VTCT fellowship to support his PhD studies in optimising novel bio-inks for tissue engineering.
"These are fantastic awards, early in Tom's research career," said Professor Whitaker.
"They really showcase his strength as an individual and the novelty of the project and the research environment we have developed."
Both, along with team member Em Combellack – also a Welsh Clinical Academic Training Fellow – have been successful in obtaining Royal College of Surgeons of England Research Fellowships.
Finally, Associate Professor Shintaro Kagimoto, a plastic surgeon at Yokohama City University, has joined the team as a clinical research fellow.
He received a Royal College of Surgeons International Training Fellowship to pursue his clinical and research interests in ear construction – after seeing Professor Whitaker present in London.