Work powering ahead at field hospitals – with first one almost ready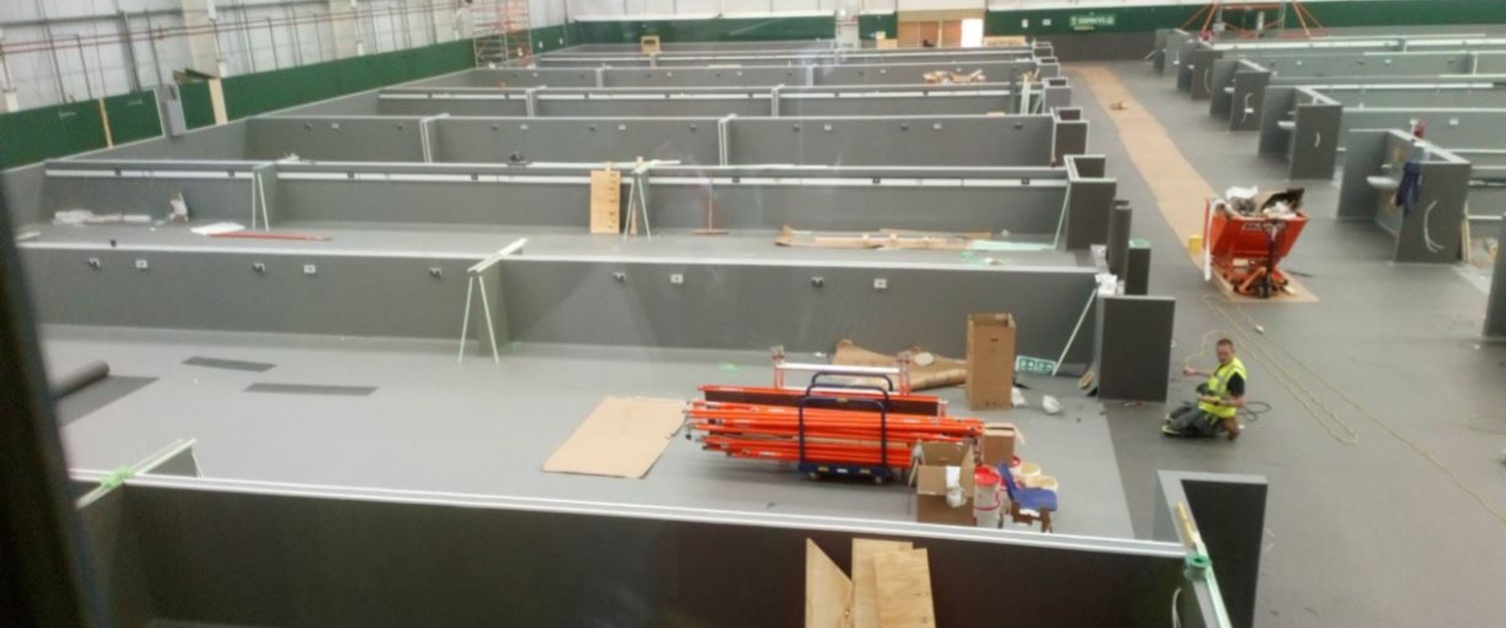 The first of two field hospitals providing up to 1,340 temporary beds for residents of Swansea and Neath Port Talbot to support our efforts to respond to Coronavirus is almost ready.
A record-breaking effort has seen contractors work around the clock since the end of March to transform Llandarcy Academy of Sport and Bay Studios in Fabian Way.
Llandarcy Field Hospital, above, is expected to be handed over to Swansea Bay University Health Board within days, although it will only begin accepting patients in phases when Morriston, Singleton and Neath Port Talbot hospitals become full.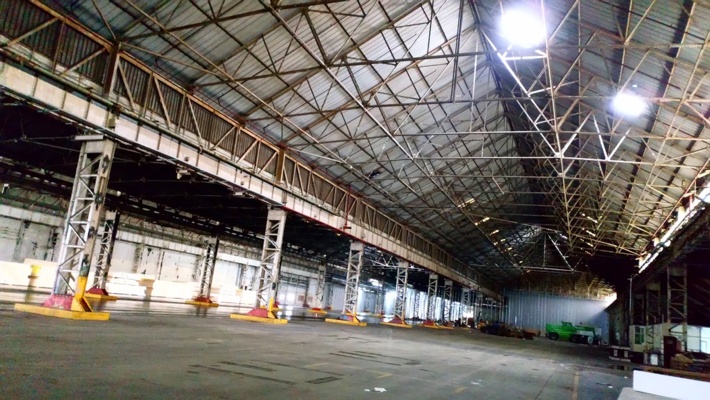 Work at the Bay Field Hospital, left, situated in part of Bay Studios in Fabian Way, is also powering ahead, and is scheduled to be available shortly after Llandarcy.
The public, health and private sectors, along with further education, are working closely together in an unprecedented response to safeguard the health and well-being of people in Swansea and Neath Port Talbot.
Unlike the Nightingale hospitals in England, the two Swansea Bay field hospitals will not provide care for the very sickest COVID-19 patients. These patients will continue to be treated in our main hospitals.
Instead the two field hospitals will be for patients who need lower levels of clinical care – including those who will stay for a very short time prior to going home.
This will ensure there is space in the main sites for those who need intensive care, emergency care or oxygen therapy if they have COVID-19 or other emergency conditions.
Hilary Dover, the health board's director of primary and community care and field hospitals lead said:
"This will be achieved by ensuring our field hospitals can pull patients out of our main hospitals as quickly as possible – the target is three hours from having been identified as suitable for transfer.
"Our field hospitals will come into operation when required once the health board has utilised all its facilities, including the increased capacity we have put in place within our main hospitals."
Tracy Myhill, health board chief executive said:
"It is unbelievable how much progress has been made transforming these two buildings into field hospitals in just a few short weeks. My thanks go out to the local authorities and the contractors for the huge amount of time and effort which has been put into making this possible."
Emma Woollett, health board chair, said:
"It is wonderful to witness this cooperation and teamwork across organisations which has resulted in the development of these crucial field hospitals in record time."
Work at the Llandarcy Field Hospital is due to be completed within days, with 340 beds becoming available. The field hospital will care for patients who do not need the very high level of support the main hospitals can provide.
Meanwhile, the Bay Field Hospital, will care for patients who need a less intensive level of support than Llandarcy. They will not need to be in one of the main hospitals either, but need additional support including preparation for their discharge.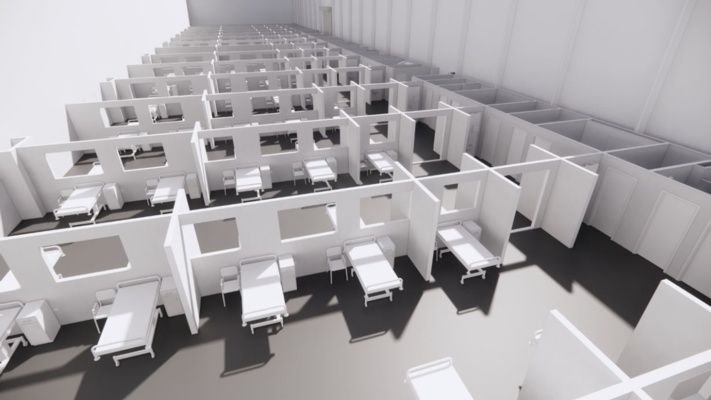 Bay Studios will initially have 420 beds for those requiring a short stay, and a discharge lounge with 80 seats for people ready to go home, which can expand to respond to growing need.
Work on these is due to finish at the end of April, with the beds and discharge lounge available in May. Bay Field Hospital will have the capacity to provide a further 540 beds if required.
Right: 3D aerial view of what Bay Field Hospital will look like
Swansea and Neath Port Talbot councils are managing and overseeing construction work at both field hospital sites.
The transformation of the Llandarcy Sports Academy into Llandarcy Field Hospital is the result of close collaboration between the health board, Neath Port Talbot Council's design and architectural team, NPTC Group of Colleges which own the site, and Port Talbot based contractor Andrew Scott Ltd.
Neath Port Talbot Council has been designing, managing and overseeing the construction work.
Leader of Neath Port Talbot Council, Cllr. Rob Jones, said:
"Combining the expertise of the council's design and architecture team with a local firm such as Andrew Scott Ltd. has enabled us to complete the Llandarcy Field Hospital in less than a month, and it will be handed over to the health board within the next week. I would like to thank all those involved who have been working tirelessly to complete this facility.
"This is a good example of partnership working during a crisis. We are all proud to be doing our bit in delivering extra beds to the NHS to support them in their efforts to save lives."
Swansea Council has overseen the remarkable transformation of a Bay Studios building from cavernous 1950s former factory unit to a functional hospital.
Working with contractors Kier and TRJ, the council is converting the former motor plant's Elba building, off Fabian Way, into a field hospital with potential for more than 1,000 extra beds for the NHS.
The outer shell of the building remains, but contractors are constructing a new box within the structure to create a suitable temporary hospital setting.
Work started in late March and, since Good Friday, has been carried out around the clock. The site is as large as several football pitches.
Council leader Rob Stewart said: "We've pulled out all the stops to succeed in this huge task.
"Fantastic work is being carried out on site by our staff and contractors – and I thank them all along with the health board; everyone is working together tremendously well, supporting our community at this incredibly challenging time.
"We're grateful to the site's owners Welsh Government and Roy Thomas for being helpful in arranging to lease the building to the council – and to Neath Port Talbot Council as the site is just over the border from Swansea."
Phil Roberts, chief executive of Swansea Council, said: "This is an incredible effort. I thank all our staff involved in pulling this project together. Their effort, expertise and dedication shows that they're here for Swansea – as they always are."
The support of the local authorities has meant the health board can concentrate on dealing with COVID-19 health issues including staffing and the expansion of its services, both hospital-based and in the community.
A huge amount of work has been undertaken, such as providing additional intensive care facilities and a Respiratory Assessment Unit in Morriston, and dedicated COVID-19 wards in Swansea and Neath Port Talbot hospitals.
The health board is now finalising its plans to enable both field hospitals to operate effectively when they are required to support the main hospitals in the area.
These plans cover support services such as catering, cleaning, portering and security, as well as medicines management, staff facilities, estates, transport and waste management.
Work is also under way to ensure the health board we can effectively staff these facilities. This will undoubtedly be a challenge, but all efforts are being made to ensure that these additional facilities are available and will be operational when and if the main hospitals need them.