Woman who relearned to walk completes seafront challenge to thank staff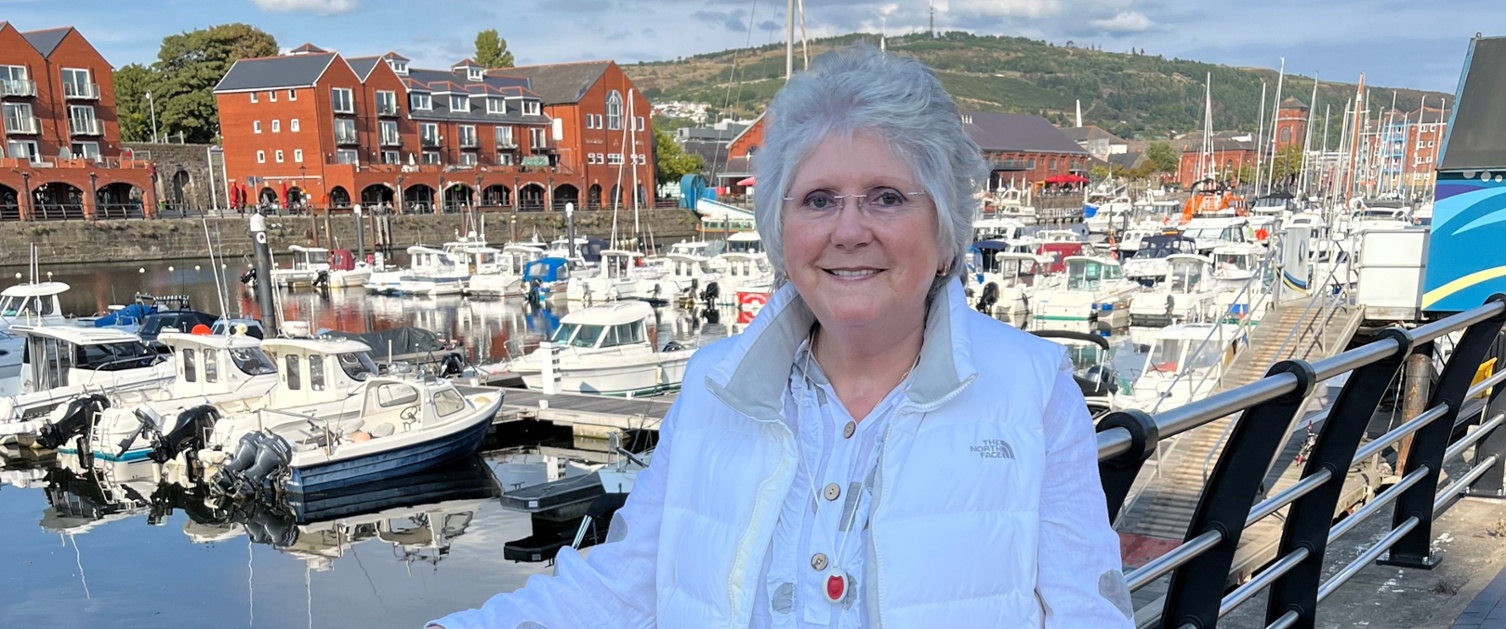 A woman who had to re-learn how to walk after a sudden brain injury has completed a sponsored walk to thank staff for their care.
In November 2010, Barbara Thomas had been getting ready for a shopping trip with her daughter before falling to the floor without warning.
After being rushed to the University Hospital of Wales (UHW), in Cardiff, it was discovered that she had suffered a subarachnoid haemorrhage (an uncommon type of stroke caused by bleeding on the surface of the brain).
She spent months in a coma and during that time was transferred to Neath Port Talbot Hospital for ongoing care.
Now, the 67-year-old has raised more than £3,000 for the hospital's neuro-rehabilitation unit as a way of thanking staff involved in her care.
Barbara (pictured), from Cymmer, said: "My daughter was coming up to take me shopping and I went into the bathroom to get ready and I shouted 'my head'. I fell to the floor with the toothbrush still in my mouth.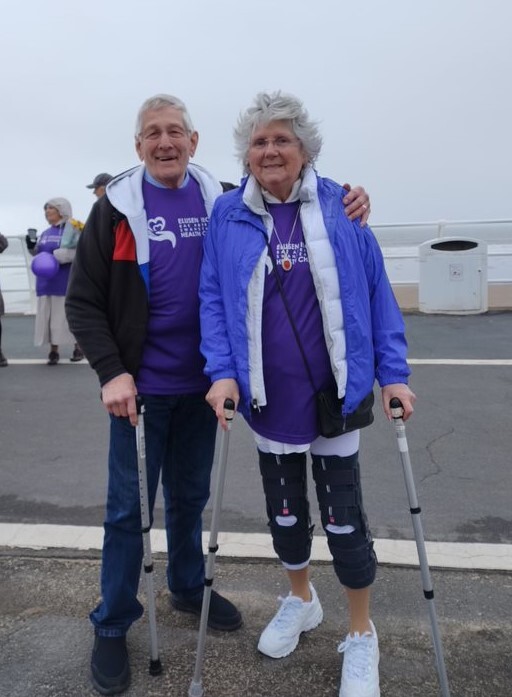 "I have no memory of what happened after that.
"I'm told I was initially taken to the Princess of Wales Hospital in Bridgend in an ambulance. CT scans showed I had a bleed on the brain.
"I was then transferred to UHW where staff were waiting for me and operated on me as soon as I arrived."
Barbara underwent surgery to implant a shunt into her brain so the excess fluid in her brain could flow through it and to another part of her body.
She also had a hole drilled into her skull to release some
of the pressure.
While the operation was successful, there were question marks surrounding how well she would recover.
Barbara was transferred to the intensive care unit, while in a coma, where she had a tracheostomy fitted to help her breathe and was fed via a tube.
After being moved to a separate ward, her recovery suffered a setback as Barbara came close to dying for several minutes and had to be put back in a coma.
Eventually she was deemed well enough to be transferred to the neuro-rehabilitation unit at Neath Port Talbot Hospital.
Pictured: Barbara with her husband Des.
"The operation saved my life and I'll always be very grateful to the staff," she added.
"I spent three months in hospital in Cardiff and then between the February and July I was in Neath Port Talbot Hospital, under the care of Dr Javaid who I now call a dear friend.
"I spent around five or six months in a coma during that time."
After finally waking from her coma, Barbara could not remember who people were or even how to walk.
Her tracheostomy was eventually removed and she had to learn to talk again, as well how to eat again after her feeding tube was taken away.
She said: "There were people next to me in the bed and I didn't know who they were.
"I had to learn everything again – how to talk, how to walk and how to eat.
"I would have to see a psychologist when I was in hospital he would show me pictures of a dog and I would say it was a cat, for instance.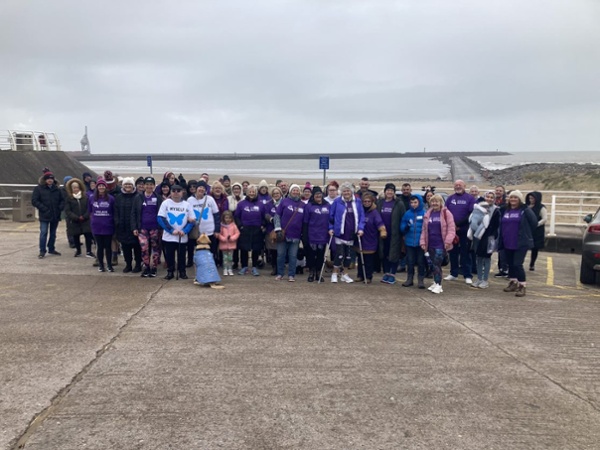 "I would think to myself 'I'll remember that for tomorrow' but then it would still be the same the next day.
"It went on for a long time."
After several months in hospital, Barbara was finally able to return to her home, which had to be adapted, to her husband Des.
Despite returning to some normality, she still went to day care at Neath Port Talbot Hospital which helped to maintain momentum with her ongoing recovery.
The daily rehabilitation has not only helped her to walk, talk and eat again but also remember skills such as cooking and baking too.
Pictured: Barbara recently completed a walk of Aberavon seafront to raise money for the neuro-rehabilitation unit.
"I owe everything to the hospital staff as they have done it all," she said.
"The staff have pointed me in the right direction.
"I was in my wheelchair and within months I was out of it and taking part in the recreation.
"In the day care they did things like cooking lessons and I would be making pasties and baking cakes.
"Members of staff would tell us what was in the news and would ask us lots of questions to get everyone's brains thinking. It was really good."
Even 13 years on, Barbara still has regular physiotherapy sessions at Tonna Hospital to help with her mobility.
She also visits Cimla Health and Social Care Centre to be treated for ongoing leg ulcers.
Having already conquered the ability to walk again, with the help of walking aids, she has now added another achievement to her list as a way of thanking the staff who have cared for her over the years.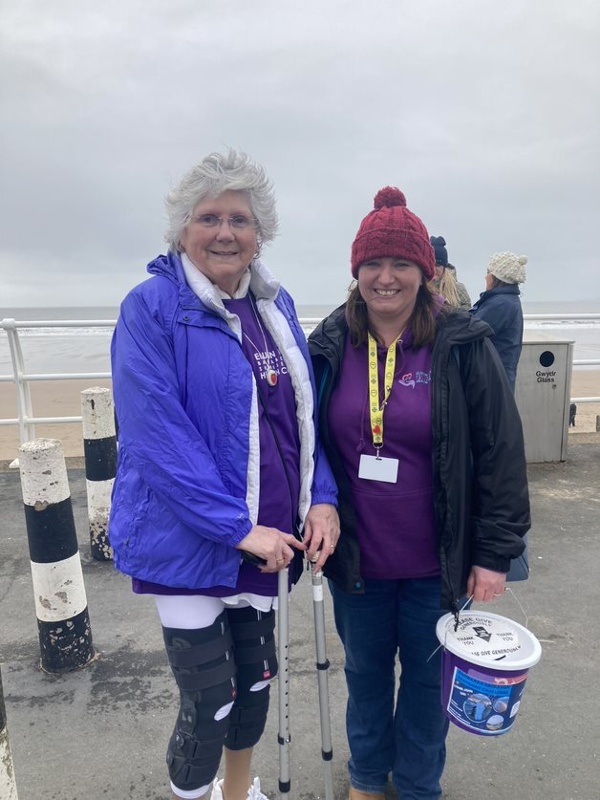 Barbara recently walked the length of Aberavon seafront, raising £3,343 for the neuro-rehabilitation unit.
She was accompanied by a crowd of family, friends and staff members from the unit, and elsewhere within the hospital, along the three-mile stretch.
As well as the money raised through her Just Giving page, Barbara also had a huge amount of support from local businesses with collection boxes in supermarkets and pharmacies and donations from hairdressers and Gilgal Church in Cymmer.
Barbara said: "I have come to a stage in my life where I want to give something back for the wonderful care I have had and continue to have from the neuro-rehabilitation ward.
"I just can't thank all of the staff enough and that's why I wanted to do the challenge.
"They deserve everything. They took great care of me – every single nurse and even the cleaners and food team.
"They are angels and they were all wonderful to me."
Pictured: Barbara with the Swansea Bay Health Charity's fundraising officer Cathy Stevens.
Staff on the neuro-rehabilitation ward are hopeful the money raised can go towards creating a sensory garden for the unit.
Christine Evans, ward manager, said: "What a truly inspirational lady Barbara is.
"She has had a long and difficult journey to get to where she is today.
"With her motivation and the encouragement from staff, she has kindly remembered the neuro-rehabilitation ward where her therapy journey started and we are all very grateful.
"We feel honoured that Barbara has completed a sponsored walk on Aberavon beach and all of the donations will go towards a sensory garden for our unit.
"We cannot thank her enough. We even joined her on her walk to support this amazing lady."
Cathy Stevens, Swansea Bay Health Charity's fundraising officer, said: "From the moment I met Barbara, I could see the sheer determination in her eyes.
"She was so motivated to get this walk organised to say thank you to everyone who has cared, supported and loved her through her recovery.
"We got the wheels in motion in setting up Just Giving pages, sponsorship forms and posters but Barbara has done the rest herself and seemed to raise the money so effortlessly.
"There was a great atmosphere on the day, with more than 60 people turning up to support Barbara.
"The money raised will go a long way in creating a special area for patients and staff at the unit."