Above; patients hang their hopes for the future on the garden's wishing tree.
A new garden in the Burns & Plastic Surgery Occupational Therapy and Physiotherapy Departments at Morriston Hospital is everything patients could wish for to help with their recovery by getting them out and about.
The garden, which was largely completed by a dedicated band of local volunteers, contains a basketball hoop, and mini golf putting range.
It also has a wishing tree where patients and visitors are encouraged to write their hopes for the future.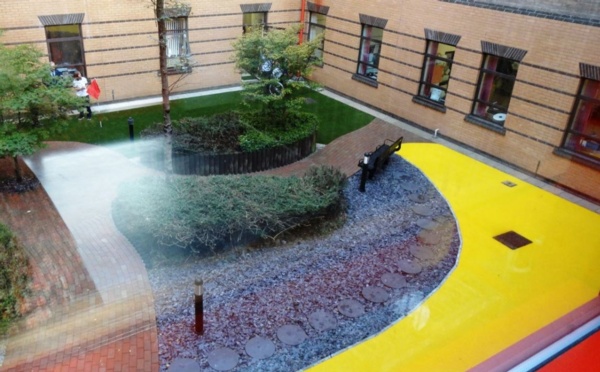 Pictured left; The new Rehabilatation Garden in Morriston.
The colourful outdoor space was officially opened by Paralympic athlete Nathan Stephens, from Bridgend, who was treated at the unit 22 years ago as a nine-year-old boy.
Nathan said: "One thing I didn't have when I was in hospital was an outside space for rehabilitation.
"The staff here do fantastic work, but I got so bored going into the same room, doing the same activities. I remember calling the staff physio-terrorists, instead of physiotherapists several times!
"I don't think you realise how much impact a space like this will have, not just in terms of rehabilitation, but in terms of mental health as well.
"It's such a huge thing to be able to go outside. It's also a great opportunity to mimic real-life situations, such as pushing a wheelchair over different surfaces."
Debbie Wilkes, a clerical officer with the physiotherapy department, said, "It's really good for patient morale, because it doesn't feel like physiotherapy.
"The patients actually look forward to getting out of bed now."
The space was made possible thanks to Contractors FP Hurley and Sons of Swansea, which used recycled plastics and locally-sourced material to make the garden as 'green' as possible. A team of volunteers carried out the planting, and made sure that the garden looked pristine for its grand opening.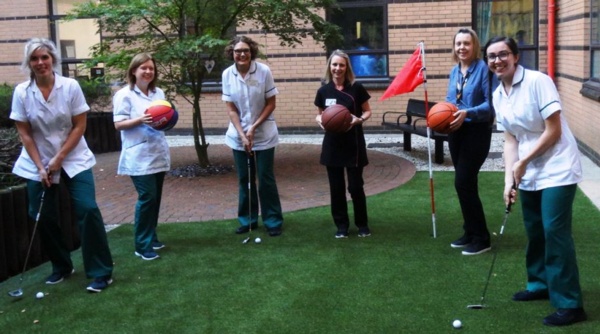 Left; Staff members enjoying the new garden.
Clinical Physiotherapy Manager Clare Ford said, "We're just so pleased with the space.
"In the past, maintenance of green spaces has always been an issue.
"But we hope that by keeping the area low maintenance and smoke-free, it can offer us a means of functional rehabilitation in the fresh air."
"We're so grateful to all the volunteers who have given up their time so willingly to get to this point. It's been an incredible team effort and I'm really proud of what we've achieved."
And Clare already has big plans for the future.
She said: "It would be great if we could get a car in here, so patients could practice getting in and out of it as part of their rehabilitation. How cool would that be?"