Virtual wards offer hands-on care closer to home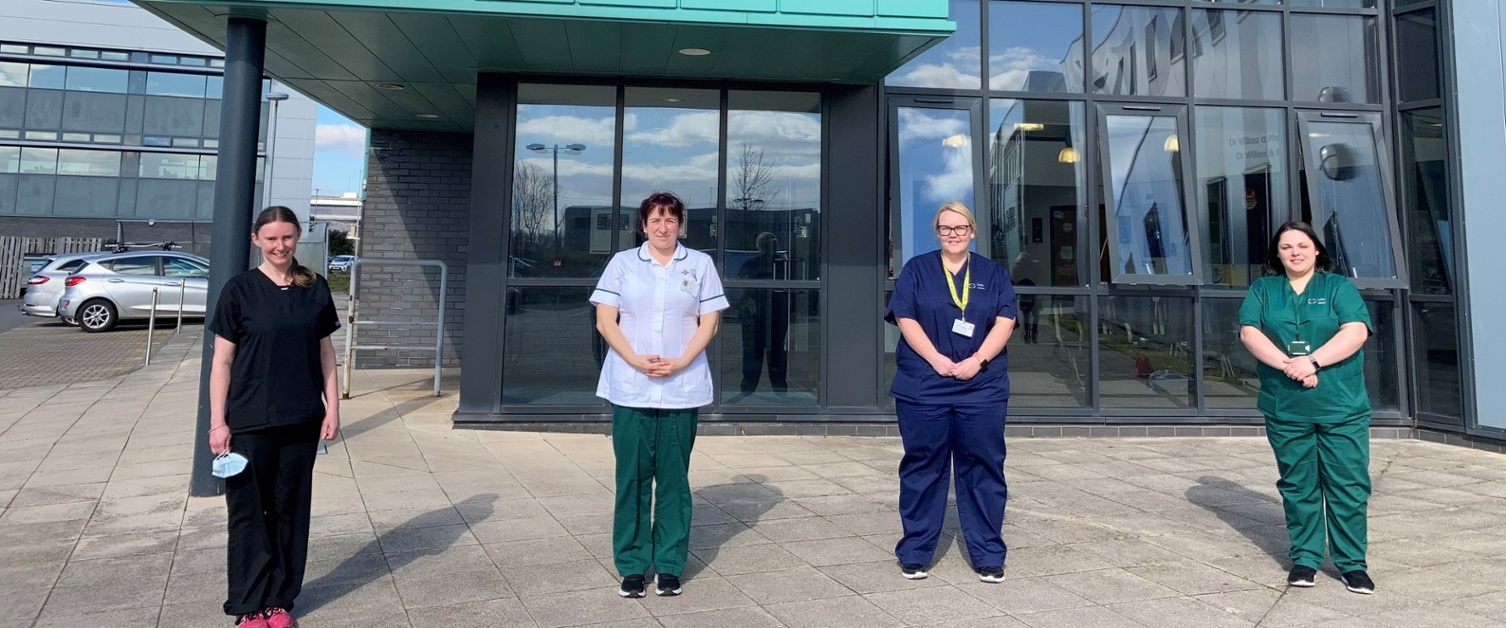 29/03/2022
Patients in Swansea Bay are benefiting from a new service which allows them to receive the care they need at home, avoiding admissions into hospital.
A 'virtual ward' provides wraparound support in the community to people with complex medical and social needs.
Unlike a traditional ward being made up of beds in a physical hospital, the patients' own beds become part of a virtual ward.
Patients' care remains hands-on, but it's given in the comfort of their own homes instead of a hospital.
The virtual bit of a virtual ward is the way multi-disciplinary teams of health and care professionals plan each patient's care, using digital technology to help them meet.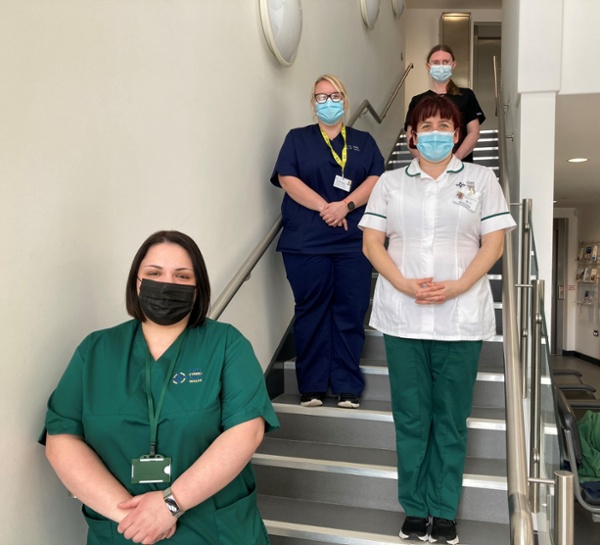 Pictured: Neath Cluster lead and virtual ward GP Dr Deborah Burge-Jones, clinical manager for Neath Cluster's virtual ward Samantha Roberts, occupational therapist Aimee Collier-Rees assistant practitioner Kimberley Tench
This support ensures appropriate care can be given in the patient's own home, avoiding unnecessary hospital admissions. It also means some patients who are in hospital can go home more quickly. Virtual wards also help to keep patients well in their homes for longer, delaying the need to go into hospital.
The multi-disciplinary teams (MDTs) bring together a wide range of healthcare professionals made up of GPs, hospital staff, therapists, nursing teams, pharmacists, social services and third sector (voluntary) colleagues.
They can support patients with complex or multiple needs, who have a history of falls, frequent or recurrent hospital admissions, uncontrolled chronic conditions or health and social care needs.
Virtual wards are currently available in four primary care clusters across the health board; Bay Health and Cwmtawe in the Swansea area, and Neath and Upper Valleys in the Neath Port Talbot area. (Clusters are groups of GP practices and other primary care providers working together to offer wider services.)
Michelle Williams, from Pontardawe, and her family have experienced first-hand how the virtual ward can provide extra support at home.
Her father, Lynn Mainwaring, who has dementia, had been suffering falls in recent months and staff from the virtual ward were able to offer their help after he was referred by his GP practice.
"Our mother passed away in December so my sisters and I have been going over to look after our father," Michelle, aged 52, said.
"He's been very unsteady on his feet and falling a lot. It's become more noticeable since December as we've been going to look after him a lot more.
"He has been having lots of tests so we've been back and fore to the doctors lately.
"While we have been awaiting the results, we have had lots of staff from the virtual ward coming to the house.
"Nurses have come to check his blood pressure and medication, some of which has been changed in case that had been making him unsteady, and an occupational therapist who helped install handrails among other things.
"They are even planning on helping him get a walk-in shower installed at home."
Recent family commitments have meant that Mr Mainwaring, aged 77, has been cared for at Ystradgynlais Community Hospital, following intervention from the Upper Valleys Cluster virtual ward to avoid him having to temporarily care for himself.
Michelle added: "Our father has now been assigned a social worker and the staff are working to see what else can be done to help him.
"We have found the virtual ward to be very helpful and the staff have given us lots of information and told us what we can do to help our father going forward."
Cheryl Griffiths, Upper Valleys Cluster virtual ward clinical manager, said:
"From the initial referral, the virtual ward MDT were involved with the occupational therapist, pharmacist and nursing teams visiting to complete appropriate and timely assessments.
"With input from our virtual ward geriatrician, GP lead and representatives from the voluntary sector, we were able to provide wraparound support for the patient and family, easing their concerns.
"The co-ordination of the team and the support involved is essential and part of my role is to feed back and be a point of contact for the family should they have concerns.
"I believe having that link and support at the end of the phone has made this experience a positive one and has improved the care for this patient."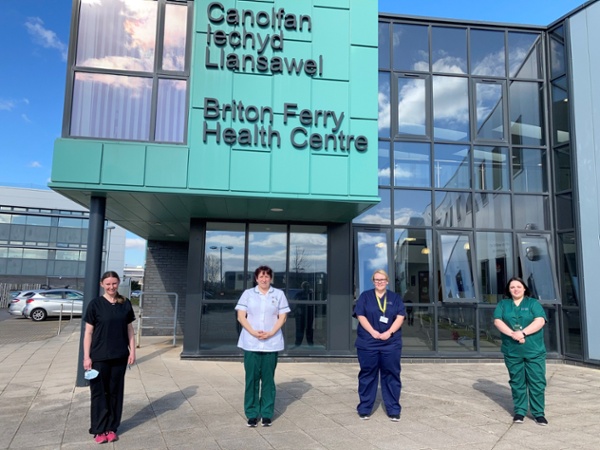 Neath Cluster introduced its virtual ward at the beginning of the pandemic, in May 2020, with the service since managing to prevent multiple hospital admissions.
Pictured: Dr Burge-Jones (left) with some of the Neath Cluster virtual ward team
Dr Deborah Burge-Jones, Neath Cluster lead and one of the virtual ward's GPs, said: "It started off with just our GPs, district nurses, the community resource team, and palliative care staff and slowly we had more and more staff join us as it proved really beneficial to be able to have those multidisciplinary discussions.
"The health board invested heavily in virtual wards last year which enabled us to grow our dedicated team and service to ensure we have the resource needed to really impact patient care.
"We've managed to prevent quite a number of avoidable hospital admissions within the last two years.
"This is something we are really proud of as we can see the benefit to our patients."
Not only do virtual wards care for people at home, they also help move them out of hospital sooner by arranging the most appropriate care for each individual.
Staff can recommend some patients join the virtual ward so they can be closely monitored to help prevent accidents or a decline in health.
"It's about prevention rather than just reaction when something goes wrong," Dr Burge-Jones added.
"Actually getting that help in place before the situation reaches a crisis point can help stop things becoming worse, not only for the patient but for their family as well.
"We try to prevent people going into hospital and help them keep as healthy and well as we can at home.
"In terms of helping get people out of hospital, we consider what support we can offer to enable them to come out that little bit earlier and safely."
Jacqueline Breen, from Briton Ferry, is just one patient who has been supported by the virtual ward after recently coming out of hospital.
Mrs Breen, aged 80, had been in hospital for around three months with suspected sepsis and unfortunately suffered a stroke during that time.
After returning home with a package of care in place, her family found it increasingly difficult to care for her on their own.
Her daughter, Beverley Toms, said: "When she came out of hospital I thought 'how am I going to cope?' as she needed carers several times a day.
"My husband and I were looking after her and after a week we noticed just how hard it was.
"I got in touch with Dr Burge-Jones who mentioned the virtual ward and asked if I would like to try it and I said yes.
"They sent a nurse out to come and assess my mother the next day. I was very pleased with the service.
"My mother has since been transferred to a care home."
Dr Burge-Jones said: "Mrs Breen required further assessment and intervention in addition to the package of care already in place.
"By offering this targeted MDT input we can assess a patient's holistic healthcare needs and help to provide the most appropriate management plan."
Samantha Roberts, Neath virtual ward clinical manager, added: "Mrs Breen's daughter contacted her GP because she felt her mum was poorly and that she was struggling.
"An initial assessment was completed with Mrs Breen through the virtual ward and through conversations with the family, they highlighted that they felt it would be more beneficial and safer if their mum was offered a care home placement.
"Through the virtual ward platform, the nurse was able to correctly identify the most appropriate services for Mrs Breen. This resulted in Mrs Breen and her family being able to choose the most suitable placement for her, with the support from a social worker.
"This intervention avoided an admission to hospital which would likely have resulted in a lengthy stay."
Following the success of the virtual ward roll-out within the current four clusters, plans are in place to expand the service to include the remaining Afan, City Health, Llwchwr and Penderi clusters in future.