Virtual tour highlights dementia journey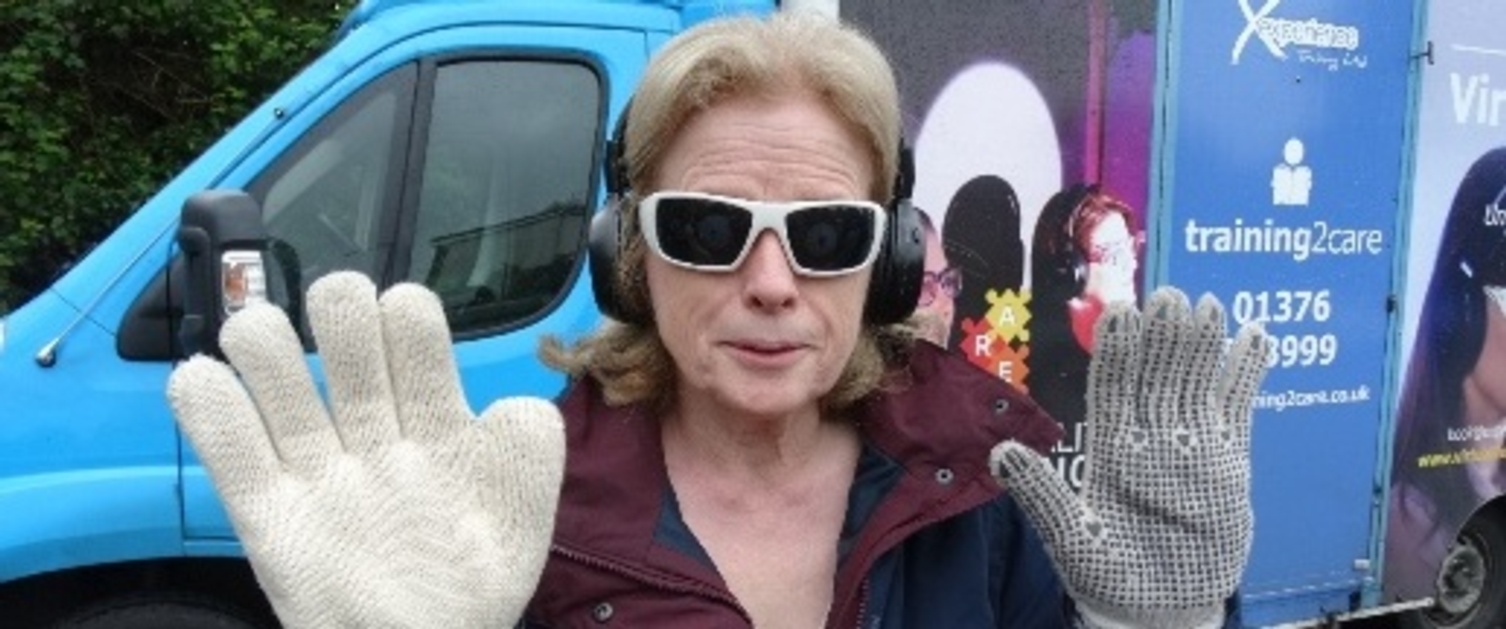 Measures to help support those living with one of our biggest killers, have been stepped up in the Lower Swansea Valley.
Dementia, the name for a group of symptoms that commonly include problems with memory, thinking, problem solving, language and perception, now kills more people in the UK than heart disease or cancer.
It is caused by diseases which damage the brain by causing a loss of nerve cells – Alzheimer's disease is the most common – and affects one in 20 over the age of 65 and one in five over the age of 80.
The Cwmtawe Cluster and Swansea Council for Voluntary Service (SCVS) offered more than 30 people working with older people in Morriston, Llansamlet and Clydach the opportunity to experience a brief glimpse of the challenges of living with dementia for themselves through hosting a virtual dementia tour bus to Clydach.
The training was organised as part of the Cwmtawe Dementia and Carer Project, which was funded through Integrated Care Fund Dementia Funding obtained via the West Glamorgan Regional Partnership.
As the cluster – made up of three GP practices, health care professionals, aspects of the local authority and the voluntary sector – has around 300 registered patients living with dementia it was a relevant and much need innovation.
Developed by care training provider, Training 2 Care, the virtual dementia tour bus uses props - gloves, spiky insoles, dark glasses and headphones - to take away people's primary senses, distorting their surroundings and simulating the physical symptoms of dementia.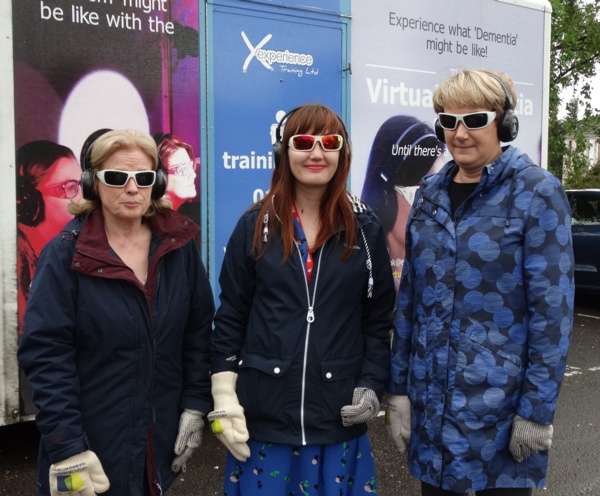 Left: Invitees Amina Jamaluddin, Maria Nagle and Elaine James prepare to take the virtual tour
Participants are then guided into a lorry that has been dressed up like a person's home and asked to complete normal, everyday tasks – to healthy people that is – which prove to be almost beyond them.
Elaine James, SCVS's Cwmtawe dementia and carer project worker, said: "We invited people working with older people in the community, across the cluster, from libraries, the local authority, the fire service, police and GP practice staff, to raise their awareness of dementia; to experience what it feels like, how people hear and see things. How different their lives are with dementia to how they were before."
Following the tour she added: "It made me feel quite useless but it also made me realise how difficult it is for someone with dementia to understand even the simplest of instructions, to carry out daily tasks, which they have done for years yet, all of a sudden, become virtually impossible. Things are difficult to handle, to see, to hear, it affects all your senses, not just your memory.
"It makes you realise that you need to have more patience with people, to speak clearly, to be slower with someone who has dementia, not to rush them but to explain things. To understand that they need extra support."
Clydach librarian, Maria Nagle, said: "I found it really distressing. It was a horrible experience, I was shaking when I came out. But I found it so illuminating, what people are going through with dementia, how they see the world. They were pretty normal, run of the mill, situations but when you take off the goggles and headset, it's worrying how normal everything looks. It's an everyday situation but with dementia it becomes really disconcerting."
Adding that the event offered a valuable insight she said: "We get a lot of people with dementia coming into the library and this will really affect how we provide a service. We try to welcome everyone from the community and this will really help us. It will help us emphasise and modify our behaviour in a way that makes people feel more welcomed. I think that anyone who works in a community setting should experience this tour."
John Sanders, the dementia virtual tour's facilitator, said: "It's great that SCVS and the Cwmtawe Cluster have organised this awareness day, I think everyone should be doing it. One of the best ways of raising awareness would be to bring it into the schools. Everyone will encounter someone with dementia. One in five of us will have dementia, that's a big percentage. It has become our number one killer in the UK.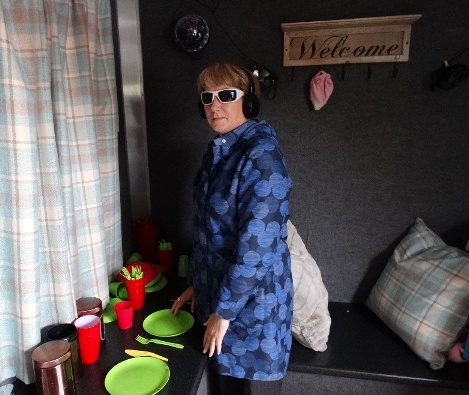 Right: Elaine James is tasked with laying a place setting inside the dementia bus
"It's the closest, scientifically proven, experience you can have to allow you to walk in the footsteps of someone who has dementia. The general reaction afterwards is emotional. I've put a lot of relatives through this, and so far no one has ever said they wished they hadn't done it, they all say they wish they could have done it in the beginning, because it gives them understanding. When the people you love change, and they will change, it gives them an explanation why they may be changing."
Dr Iestyn Davies, Cwmtawe Cluster lead, said: "We are trying to enhance the services that we provide as a cluster and there's more awareness for conditions such as dementia these days, and in partnership with SCVS, we were lucky enough to secure the dementia bus, which allows people who do not suffer from dementia to experience what it's like for a person who does suffer from the condition.
"It's a great exercise, it will allow individuals to connect better with those suffering with dementia and hopefully it's a stepping stone for us as a cluster for us to improve how we support people with dementia in our community."