Virtual clinics reducing hospital visits for patients and saving clinician's time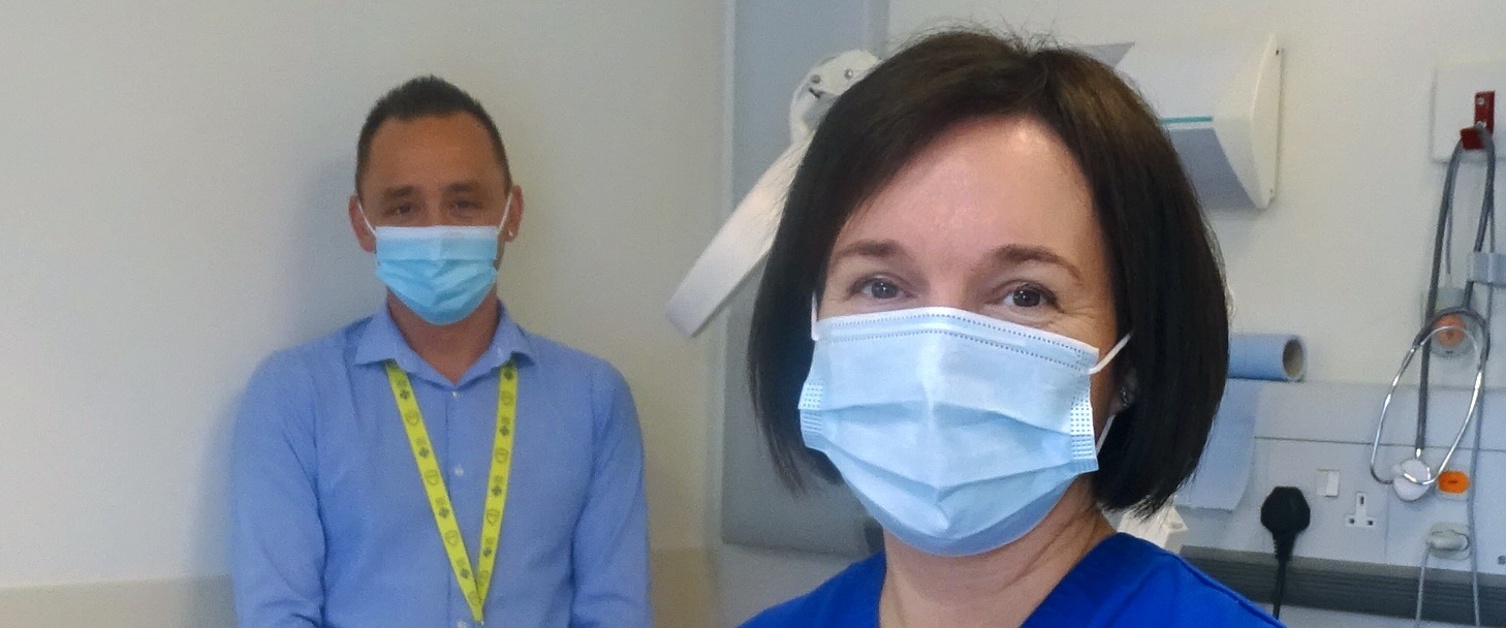 Technology is being harnessed to bring groups of Swansea Bay patients together for a specialist clinic without them having to leave home.
Young adults with acne can be given a powerful medication called Isotretinoin if other treatments tried by their GP proved unsuccessful.
As Isotretinoin cannot be prescribed by GPs, patients are instead referred to a hospital dermatology department.
Main photo above: dermatology clinical nurse specialist Joanna Wilyeo with dermatology coordinator Gareth Thomas.
Before the pandemic, they would be brought in for a half-hour screening appointment as the medication is not suitable for everyone.
However, this involved staff giving out the same information to each individual patient – which could tie them up for half a day.
Now, though, the advent of Virtual Group Clinics (VGCs) means a number of patients can be seen at the same time using Microsoft Teams.
This not only avoids a hospital trip but saves invaluable staff time too, as the information is given out to everyone simultaneously.
VGCs are a Welsh Government initiative, allowing clinicians to deliver care to groups of people with similar health needs, such as diabetes, rheumatology and dermatology.
Clinicians can run sessions with 10-15 patients on a specific area of their care. Bringing them together in this way means patients can also learn from the experiences of others and benefit from peer support.
The concept is being embraced by Swansea Bay, which has now held the first VGCs in Wales specifically for young adults with acne.
The health board's dermatology service is based in Singleton and Neath Port Talbot hospitals. It was consultant dermatologist Sharon Blackford who decided to focus on that particular group of patients.
"We decided to focus in on this group of patients as they are generally young, tech-savvy and comfortable with the technology. Also, there is a lot to get across at the first visit," she explained.
After referral, the patients have a blood test, then complete a questionnaire, after which they are invited to join a VGC, which is secure and involves the patients being sent access codes beforehand.
So far two sessions have been held. Both were for female patients; as Isotretinoin cannot be used during pregnancy, the screening process is slightly more complex than it is for males.
Between them they involved 15 patients, with the clinics hosted by dermatology clinical nurse specialist Joanna Wilyeo.
She said: "I gave them the information they needed about the medication and some of the side-effects, which triggered them to ask questions – so it was patient-led rather than clinician-led.
"The idea behind it is that they learn from each other as well. They are all listening when people ask questions – sometimes questions they may not have thought of themselves.
"It can be quite sensitive as part of it involves whether they are sexually active. They can talk openly and share information on their mental health and lifestyle choices.
"They learn about each other, what they've tried before, and they learn all about this medication."
Dr Blackford added: "We were initially a bit worried that some patients would be reticent about discussing some topics such as contraception and mental health as a group.
"But we have found that those who took part have been quite comfortable having these conversations, and we do stress that all information is confidential."
One of those who took part is 24-year-old Emma Davies, from Swansea, who said she found the group discussion to be informative, interactive and well adapted for everyone to understand.
Emma said there were many opportunities for people to ask questions and discuss anything that was important to them.
"With it being a group of young women all roughly the same age I didn't feel embarrassed to talk about my personal situation such as my skin, contraception and mood.
"All the clinicians and admin support were very approachable and I felt able to ask questions without feeling embarrassed or judged.
"As we were all young girls going through similar experiences with our skin I felt like I could relate to the others. Often our opinions or thoughts were quite similar.
"I was pleasantly surprised at how quickly I received the invite to join the group discussion after my referral - I think this is a great improvement for reducing waiting times."
Emma said not everyone would feel comfortable discussing their own personal experiences with their skin and moods.
"Overall, though, I felt the group discussion was very helpful and I would recommend to anyone starting on this medication."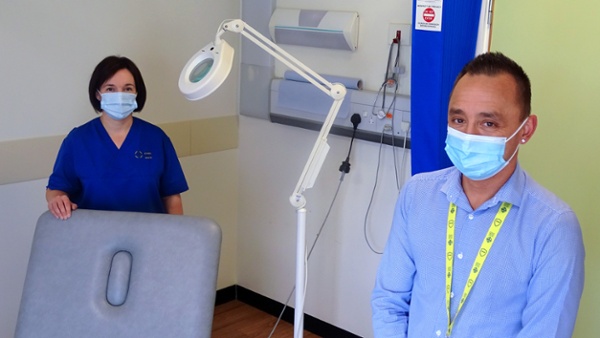 Based on the group sessions and the questionnaire responses, Joanna makes the decision as to whether to prescribe Isotretinoin.
Anyone who does not meet the criteria is invited to a one-to-one clinic so the acne can be managed with an alternative medication or antibiotics combined with a topical treatment.
Most, however, are prescribed Isotretinoin and the dermatology team provides ongoing monitoring and support. The female patients, for example, have to be checked every four weeks to rule out pregnancy.
Dermatology coordinator Gareth Thomas said: "Before we started these sessions we also thought about how patients could reach us with any questions or concerns either before or after the VGC.
"We decided to set up a dedicated VGC email inbox so they could email us at any time.
"Even if Joanna is busy, I can liaise with her between her clinical and admin duties to get any information or raise any concerns, keeping patients informed at all times."
Further sessions are being arranged, including the first VGC session for young adult males. The virtual clinics are not compulsory and patients can have an individual consultation if they prefer.
Kim Beddow, Assistant Directorate Manager for Neath Port Talbot and Singleton hospitals, said: "We are going to develop this but first we had to find out whether it worked.
"Because we weren't sure it would work. We thought, they're young, they wouldn't open up, but we found the total opposite.
"We can see this working in different groups as well, but we are still testing the concept at the moment."