Vintage tearoom opens for patients at Gorseinon Hospital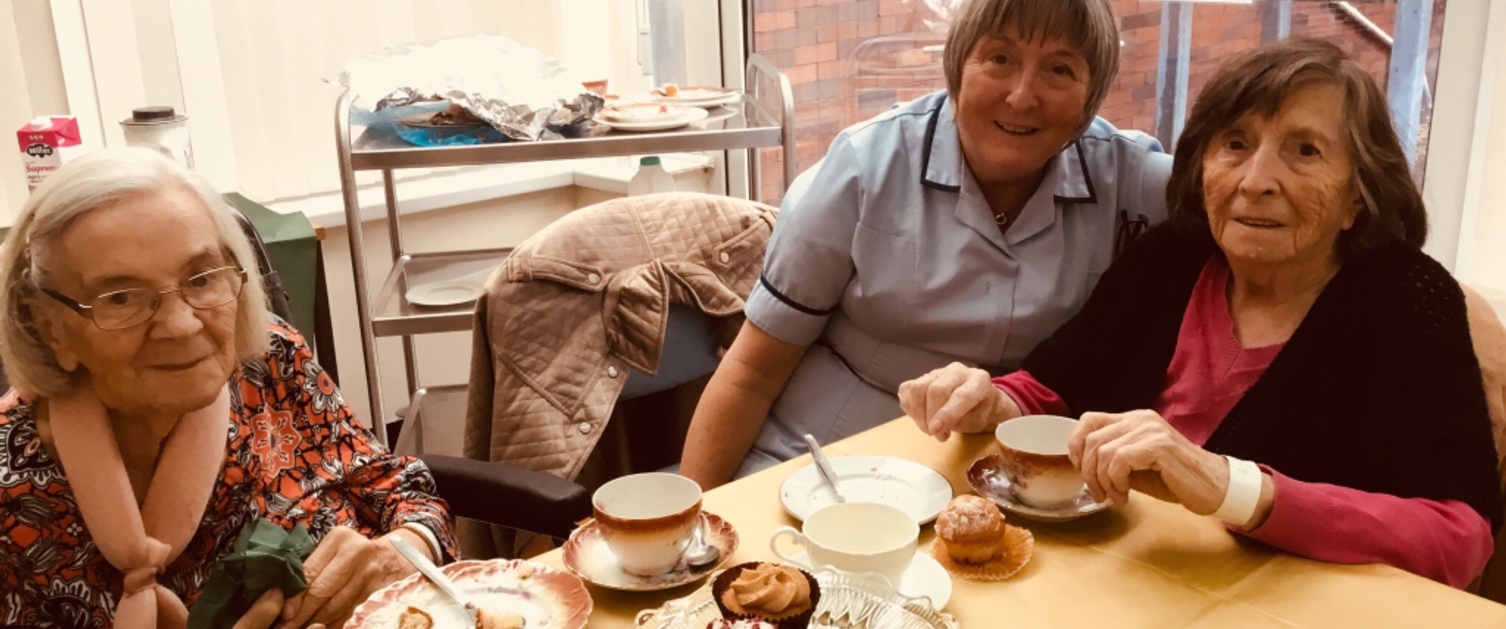 Above: Patients Margaret Morris and Ruby Mouls with Ruby's daughter Beverly
Floral bunting, cake stands and china cups aren't what you would usually expect to find in hospital – unless you're in Gorseinon that is.
Staff at the rehabilitation facility have opened a new tearoom on site for patients and their visitors. "Poppy's" is based in the hospital's light and airy conservatory room, which previously functioned as a day room.
Now, every Thursday from 2-4pm, guests at the tearoom can enjoy tea and cakes served from bone china cups and plates, which were donated by a staff member's mother.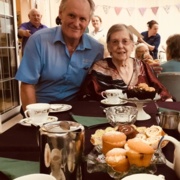 Kevin Griffiths, porter at Gorseinon Hospital, with patient Muriel Kingdom
The large tables are laid with colourful tablecloths and napkins, and a selection of vintage tunes plays in the background as patients enjoy their café visit.
Debra McNeil, lead nurse and unit manager, said, "We've had real positive feedback already, and lots of comments about how people have enjoyed meeting others who are staying in different zones of the hospital.
"Gorseinon Hospital is here for reablement, and part of that is emotional well-being so it's a functional tea party too.
"It reminds patients they can do things like pour a cup of tea for themselves and will be able to again at home.
"We already use dining tables for people to have their meals on the wards. This takes it one step further so they can meet other people staying elsewhere in the hospital."
Claire Bishop, reablement assistant who helped run the tearoom on its opening day, said: "It's been really good, everyone has enjoyed.
"One lady said she felt like she was at home being here and a few others who met for the first time today have agreed to come back and meet again next week."
Debra added, "It goes to help staff morale too. It allows us to spend some quality time with the patients, and helps us see each other as people not just staff and patients."
On its first day, 24 of the hospital's 36 patients stopped by to enjoy the tearoom, including Jean Thomas and her husband Leonard.
Jean said: "It's been lovely. Very good food and it's been really nice to see other patients and have a little variation to our time here."
Leonard added, "It's a very good idea. It helps break the ice between people who are in the hospital."
Poppy's tearoom is part of a weekly timetable of social activities that staff are putting together for patients at Gorseinon hospital. As well as visiting the tearoom, patients will be able to take part in arts and crafts classes, enjoy film afternoons and team up for quizzes.