Swansea cancer centre first in Wales to take part in proton beam therapy trial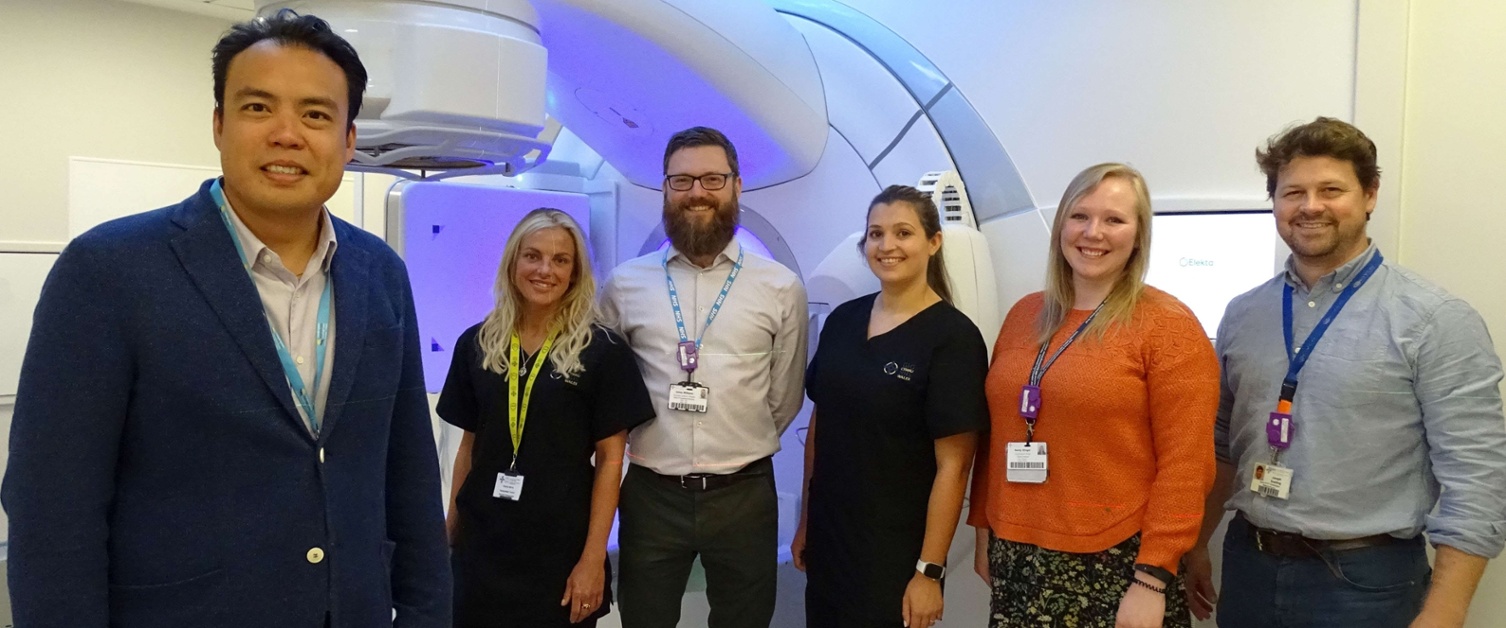 Swansea is the first Welsh centre selected for a UK trial looking at the potential benefits of proton beam therapy for certain patients with breast cancer.
The South West Wales Cancer Centre is the first site outside of England to open the PARABLE trial.
This will test the benefits of proton beam therapy compared with standard radiotherapy for patients with breast cancer who are at greater risk of long-term heart problems after radiotherapy treatment.
These are patients with existing cardiac or specific clinical conditions, and where the radiotherapy would be targeting an area close to their heart.
Main image above shows, l-r: Dr Owen Nicholas, consultant clinical oncologist; Victoria Morris, research radiographer; James Williams, consultant clinical scientist (radiotherapy physics); Bethan Williams, research radiographer, Rebecca Slinger, clinical scientist (radiotherapy physics); and Joseph Snelling, advanced radiotherapy physics technologist.
Proton beam therapy (PBT) uses charged particles instead of X-rays to target tumours more precisely.
The hope is it will allow doctors to deliver the dose exactly where it is needed, minimising the risk of radiation damage to the heart without increasing the risk of early side effects.
These can include skin redness and changes in breast appearance.
However, PBT is expensive and only available in certain locations across the UK. This is why researchers emphasise the importance of evaluating any potential benefits within a trial.
PARABLE, the first UK trial of its kind, will enrol 192 patients across 22 sites. They will be put into one of two groups, selected at random.
One group will receive PBT in one of two hospitals in England. The other will go to their local centre for standard X-ray radiotherapy – the most modern and highest-quality available anywhere worldwide.
The Swansea centre aims to enrol up to six patients. They will not know which form of therapy they will receive until after they consent. But if they do have to travel to England, all their costs will be covered.
Around 30,000 people every year across the UK receive radiotherapy after surgery as part of their breast cancer treatment.
Standard radiotherapy is very effective in the vast majority of cases, with the benefits far outweighing the side-effects.
However, for a very small group of patients, fewer than one per cent, there is a slightly higher risk of heart problems later in life.
Dr Owen Nicholas, consultant clinical oncologist at the South West Wales Cancer Centre in Singleton Hospital, said this was because the breast tissue and some lymph nodes requiring treatment were close to the heart.
"We know there is likely to be spillage of dose that hits the heart," said Dr Nicholas. "For those patients, we want to see whether the heart dose can be reduced using protons versus the very best X-ray radiotherapy.
"It will not be open to all patients but to those who meet pre-specified trial criteria.
"Eligible patients will have cardiac risk factors, be that previous heart disease, high blood pressure or a high BMI. They may be at slightly higher risk of heart problems later in life due to radiotherapy.
"Younger patients with cardiac risk factors are the ones we believe may benefit the most and so are most likely to be eligible."
Dr Nicholas said the first two patients in Swansea Bay had now consented to take part in the trial. The intention was to recruit up to four more.
Like all participants, they will be randomised to receive either standard radiotherapy or PBT in The Christie NHS Foundation Trust in Manchester or University College London Hospitals NHS Foundation Trust.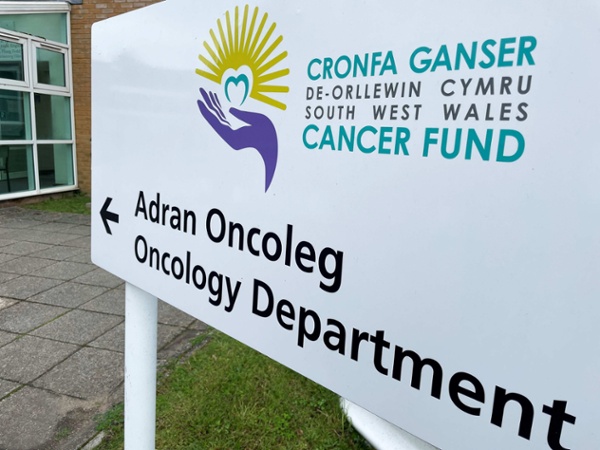 There they will receive 15 treatments over three weeks. "Travel and accommodation will be covered," said Dr Nicholas. "Health and Care Research Wales has funded a number of patients selected for PBT."
Those selected for standard radiotherapy will receive it locally. However, like all PARABLE centres, Swansea offers tailored radiotherapy – the most modern and targeted radiotherapy available globally.
"Our radiotherapy is state-of-the-art," said Dr Nicholas. "It is as good as it gets, and we needed to be at that level to be eligible for this trial.
"We've upped our game locally with our standard treatment. It's something we are proud of here because I think we're ahead of the curve. We really are ahead of the game."
The trial is supported by Swansea Bay's cancer research delivery team, comprising oncology research nurses Emma Dangerfield, Esther Reeves and Michelle Romano; research delivery manager Jayne Caparros; research radiographer Bethan Williams; radiographer Victoria Morris; and research assistant Lewis Jones.
Speaking on behalf of the team, Emma Dangerfield said: "We have worked very hard behind the scenes to ensure the smooth set-up and running of the trial, so our patients get the opportunity to take part.
"We are proud to have recruited our first participants within a month of opening and look forward to supporting others in future."
Dr Nicola Williams, Director of Support and Delivery at Health and Care Research Wales, said: "PARABLE is one of several trials open in Wales looking at whether proton beam therapy improves outcomes for different cancers.
"We aim to make it as easy as possible for patients to participate in research - whether it is open in Wales, or elsewhere in the UK."
Note:
PARABLE is led by researchers at The University of Cambridge, The Institute of Cancer Research (ICR), London, and The Royal Marsden NHS Foundation Trust. It is sponsored by ICR and managed by the Cancer Research UK-funded ICR Clinical Trials and Statistics Unit (ICR-CTSU).
The trial is funded by a National Institute for Health and Care Research (NIHR) (Efficacy and Mechanism Evaluation programme NIHR131120) and Medical Research Council partnership.