Swansea Bay nurses honoured in RCN Wales Nurse of the Year awards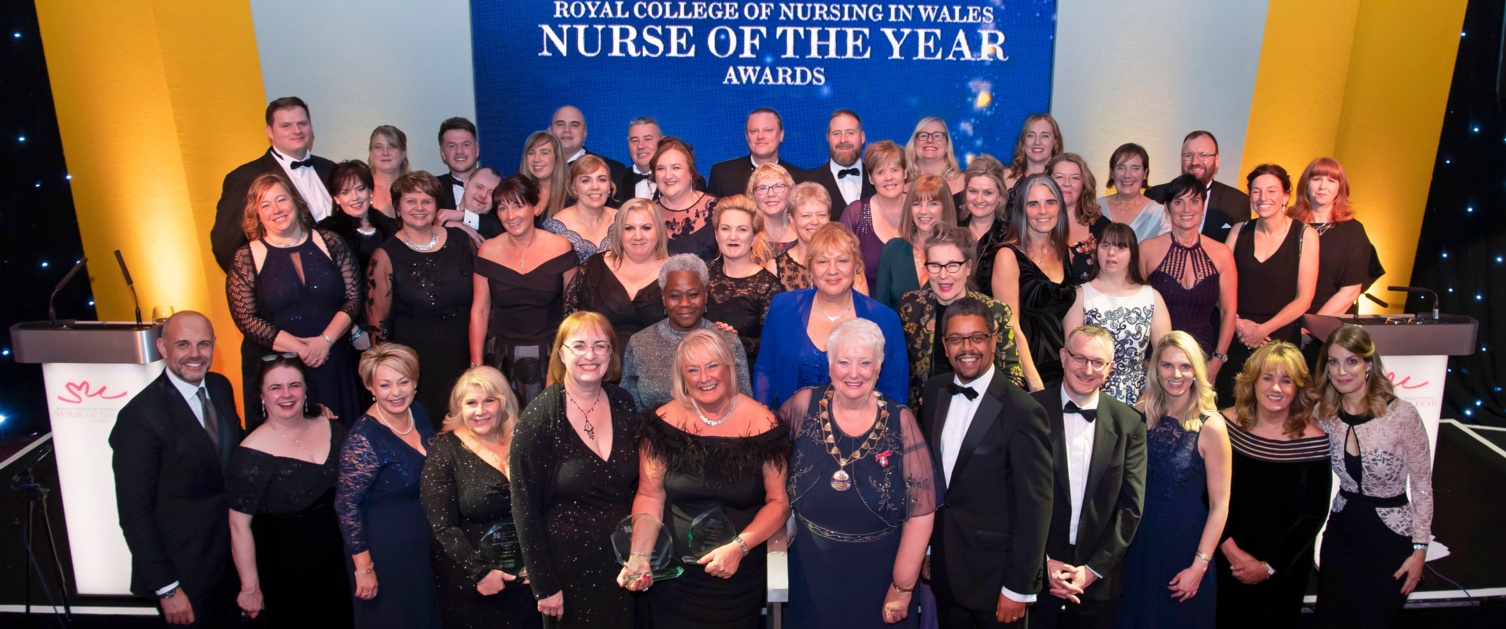 Eight Swansea Bay nurses have been recognised for their outstanding work in a national awards ceremony.
Jean Saunders triumphed in the 2019 RCN Wales Nurse of the Year Awards, winning both the Community Nursing Award and Nurse of the Year.
Mitchell Richards claimed the Nursing Student prize and Lynne Hall won the Registered Nurse (Adult) award.
Five other nurses were named runner-up in their categories. They are Lesley Jenkins (who was nominated for the Chief Nursing Officer for Wales award), Sharron Price (Innovation in Nursing award), Catherine Thomas (Registered Nurse (Adult) award), Nicola Derrick and Edward Stark (both Nurse Education award nominees).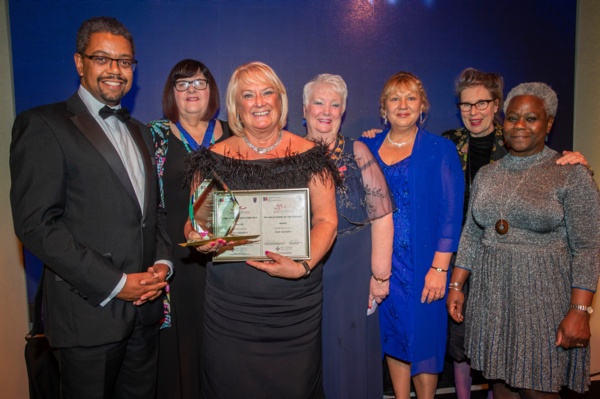 Nurse of the Year Jean Saunders, asylum seeker lead nurse and health access team coordinator, was awarded for her work helping asylum seekers access healthcare.
Caption: Jean Saunders (centre, with her awards) at the 2019 RCN Nurse of the Year Awards.
Leading a team of five, Jean has been helping adult and child asylum seekers get the support and treatment they need in Swansea Bay for 15 years.
She has continually fought for equality in their care, and contributed to research to improve services for asylum seekers.
Jean said: "I'm completely overwhelmed but this is not just about me. I'm the voice, the advocate for a brilliant team which is working so hard to help asylum seekers in Swansea Bay.
"We are very proud of what we do. It's a very rewarding job and I feel privileged to be part of such a unique service.
"This is not normal health visiting or community nursing. It's a very varied role and whatever the problem someone has - whether it's health-related or not - we do our very best to help our clients as a team."
An asylum seeker who Jean has worked with told the RCN: "I ran away to find freedom, to a country I did not know and a system I did not understand.
"You need someone like Jean to guide and help you. Wales is my home now. Thank you."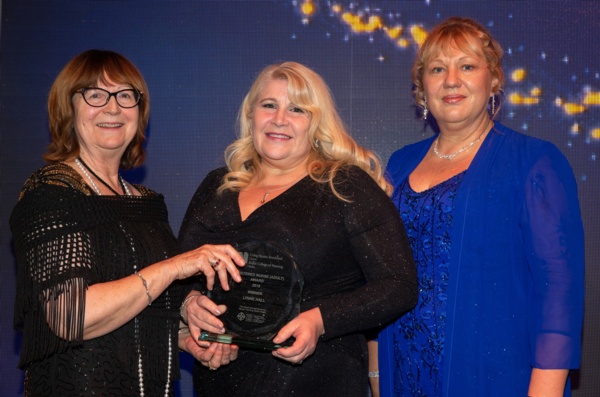 Lynne Hall, a ward manager at Neath Port Talbot Hospital's Afan Nedd unit, picked up the Registered Nurse (Adult) Award in recognition of her role developing a nurse-led blood transfusion service, which is unique in Wales.
The service means patients no longer have to travel long distances for blood transfusions which, according to the RCN, has "transformed the lives of patients".
Caption: Lynne Hall (centre) with her award.
Mitchell Richards, a staff nurse at Hafod y Wennol, won the Nursing Student award for his work as a champion for people with learning disabilities.
Since he started as a nursing student in 2016, Mitchell has worked with the Paul Ridd Foundation and organised numerous fundraising events across Wales. He has also developed e-materials to promote greater understanding of individuals with learning disabilities.
As a direct result of his efforts, Swansea University has pledged to train every nursing student as a learning disability champion.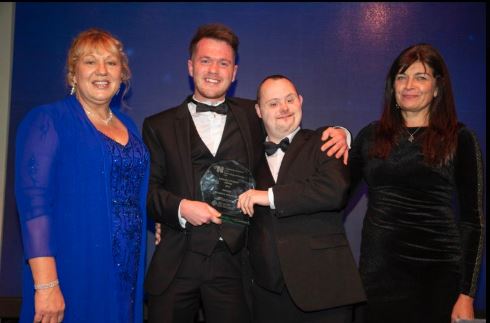 Mitchell said: "I was thrilled to even be nominated. I've only been in my post since September 30th, so this is a brilliant start to my career.
"It's also great to raise awareness of the Paul Ridd Foundation and the work they do to make sure that patients with learning disabilities get the best possible care.
Caption: Mitchell (centre left) with his brother Nathan (centre right) at the awards evening.
"My older brother, Nathan, has Down Syndrome, so that's something I'm hugely passionate about.
"I'd like to thank my nominator Catherine Williams, programme director at Swansea University, and Professor Jayne Cutter head of nursing at Swansea University."
Gareth Howells, Director of Nursing and Patient Experience, said: "I am exceptionally proud and our successes epitomise the skill, commitment and dedication of our nurses, midwives and health visitors to provide the best care possible."