Swansea Bay leads the way with digital prescribing supporting quality care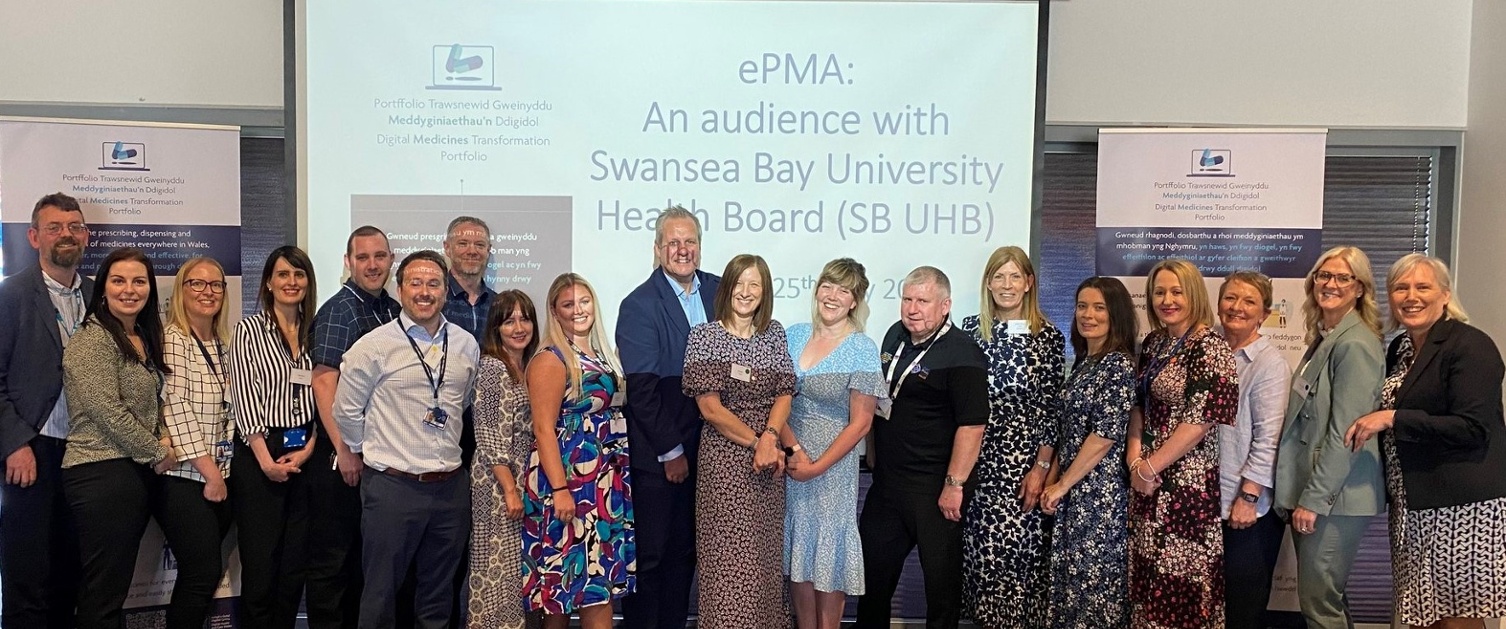 The days of old-fashioned paper drug charts at the end of beds are almost over, as electronic prescribing transforms the way medication is being managed in Swansea Bay hospitals.
The health board is leading the way in Wales as the pathfinder organisation for the new digital system, and as it goes live across more and more wards, its success is shining through.
Already over five million medications have been administered having been managed through Hospital Electronic Prescribing and Medicines Administration, or HEPMA for short.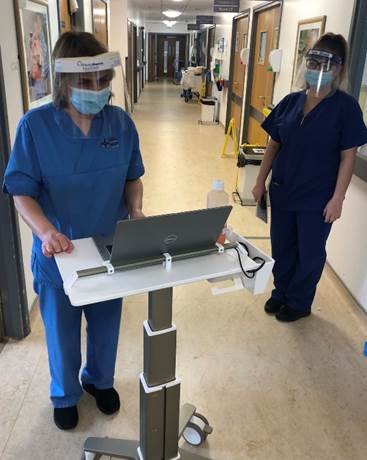 Equipped with mobile devices on carts rather than paper charts, staff are uploading medication information digitally into the system, which is not only making it easier to manage records, but most importantly is reducing errors and improving patient safety.
HEPMA has already flagged alert warnings for almost 500 potential prescription conflicts in Swansea Bay, including over 100 cases where penicillin was about to be given to a patient who was allergic to the drug.
Not only was direct patient harm avoided, but also the additional cost to the NHS of having to treat a patient with an allergic reaction.
Once the first stages of the HEPMA rollout were completed at Neath Port Talbot and Singleton hospitals we carried out an initial evaluation, and were delighted with the positive feedback (below). We'll be evaluating HEPMA again once it is fully implemented across Morriston Hospital, to measure the expected benefits and get a more accurate reflection of them, given the increased activity and patient flow challenges for each of the sites.
The initial evaluation found that 83% of pharmacists, 75% of nurses and 69% of prescribers who use HEPMA agree that it supports safe practice and medication safety.
Pharmacists reported that they particularly appreciated not having to track down missing medication charts any more, and having remote access to them instead.
No longer needing to decipher handwritten notes is one key HEPMA advantage appreciated by staff. And with re-writing paper charts fast becoming a thing of the past, nearly 6,000 hours – or 450 days – of prescribers' time has already been freed up, allowing them to instead concentrate on direct patient care.
The new system is also reducing the number of unnecessary prescriptions, which is helping to cut costs, too.
Started in Neath Port Talbot Hospital in 2020, HEPMA is now operational at Neath Port Talbot, Singleton, Morriston and Gorseinon hospitals medical wards and at the Cardiac centre in Morriston, with the remaining surgical wards coming on board in August. Mental Health and Learning Disabilities wards will also be switching to HEPMA soon.
The results of the HEPMA roll out in Swansea Bay have now been shared with health boards across Wales at a special learning event at Cardiff City Stadium.
Dee Roberts, Assistant Director of Digital Transformation said:
"It's been a fantastic experience having Swansea Bay lead on this important innovation in medicines management. The potential for improving patient safety, freeing clinicians up to spend more time with patients, and to also cut costs is there for all to see.
"I want to congratulate all the team involved with getting HEPMA rolled out, along with our clinical colleagues who have embraced the change and are also helpfully giving us regular feedback so we can continually adapt and improve.
"Now we're looking forward to completing the roll out to the rest of Morriston and Mental Health and LD as soon as possible."