Stunning field hospital artworks revealed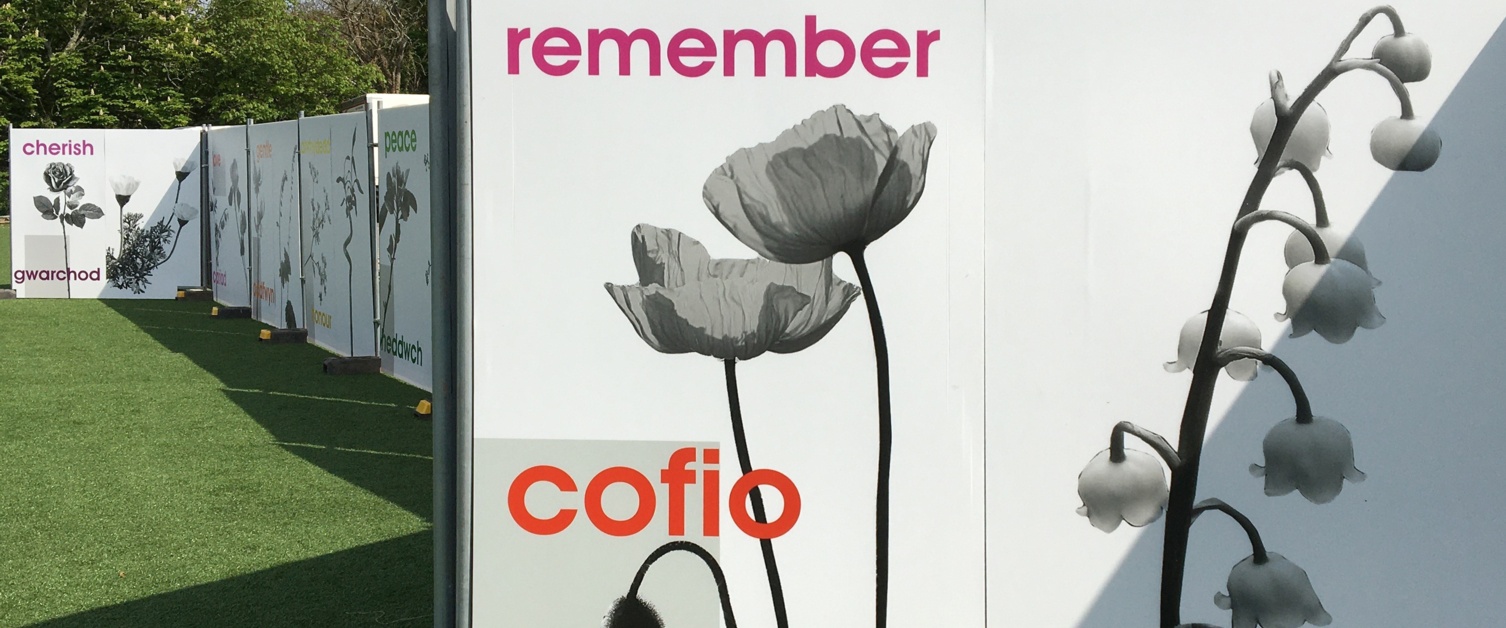 They may be field hospitals built in just weeks, but they are also blank canvasses for some stunning pieces of art to welcome patients and staff.
A series of panels depicting meadow flowers, designed by Cardiff artist Louise Shenstone, now adorn some of the walls at Bay and Llandarcy field hospitals.
The artwork was requested by nursing staff to send out a clear message to the public that their loved ones would be cared for with dignity and compassion, even though they are not in one of the main hospitals. Staff selected the phrases and words used and were enthusiastic about using meadow flowers to create a positive, humanising atmosphere after seeing some of Louise's work.
Key bilingual words and phrases from poems have been combined with visual motifs to evoke a positive atmosphere of peace and calm. Poetry in Welsh and English has been introduced along the 'Dignity' corridor; a significant journey made by staff with patients who have passed away. Michael Prihoda, an American poet was delighted to have his work selected by nursing staff. He said:
"I'm incredibly touched to hear the nurses are interested in using my poetry in a piece of artwork. The design looks lovely. And to know that it will be appreciated by frontline workers is a supreme joy to me.
"Please let me know if there is anything else I can do to be of service. I hope you and your loved ones are able to stay safe and well. As a side note, I'm quite an avid football fan, and it brought an extra kick of excitement to see you're in Wales as my favourite footballer is Gareth Bale."
Emily Davies, head of nursing development for the field hospitals, said:
"This artwork is immensely important to the nursing team in helping us create a respectful and peaceful area for both patients and staff.
"We wanted it to signify a connection between patients and their loved ones, and hope that family members recognise the significance of the poetry in providing a calm and dignified final pathway for our patients.
"As a nursing team, we feel very privileged to have had an input into the design of the field hospitals and know this artwork will provide a sense of comfort and security for both patients and staff."
The panels are not the only creative work in the field hospitals. Heather Parnell, the health board's capital arts manager said:
"There is a lot of evidence about the positive value of nature to our wellbeing.
"This has been the focus of the large immersive film made by Swansea artist, Johan Butenschon Skre, for the staff Wellbeing rooms at both field hospitals.
"He ventured out into sunny Gower and brought back short films of the beauty, peace and stillness in the local environment; in parks, at the beach and in the woods. The Wellbeing rooms offer a retreat for staff to unwind and find calm in the midst of their busy, vital and much appreciated care of patients."
After the field hospitals are decommissioned, the artwork will be available for use at other hospitals and clinical settings.
Funding for the artworks has come from three sources: Coastal Housing, The Arts Council of Wales and part of the budget for the field hospitals themselves.