Student on NHS frontline during Covid-19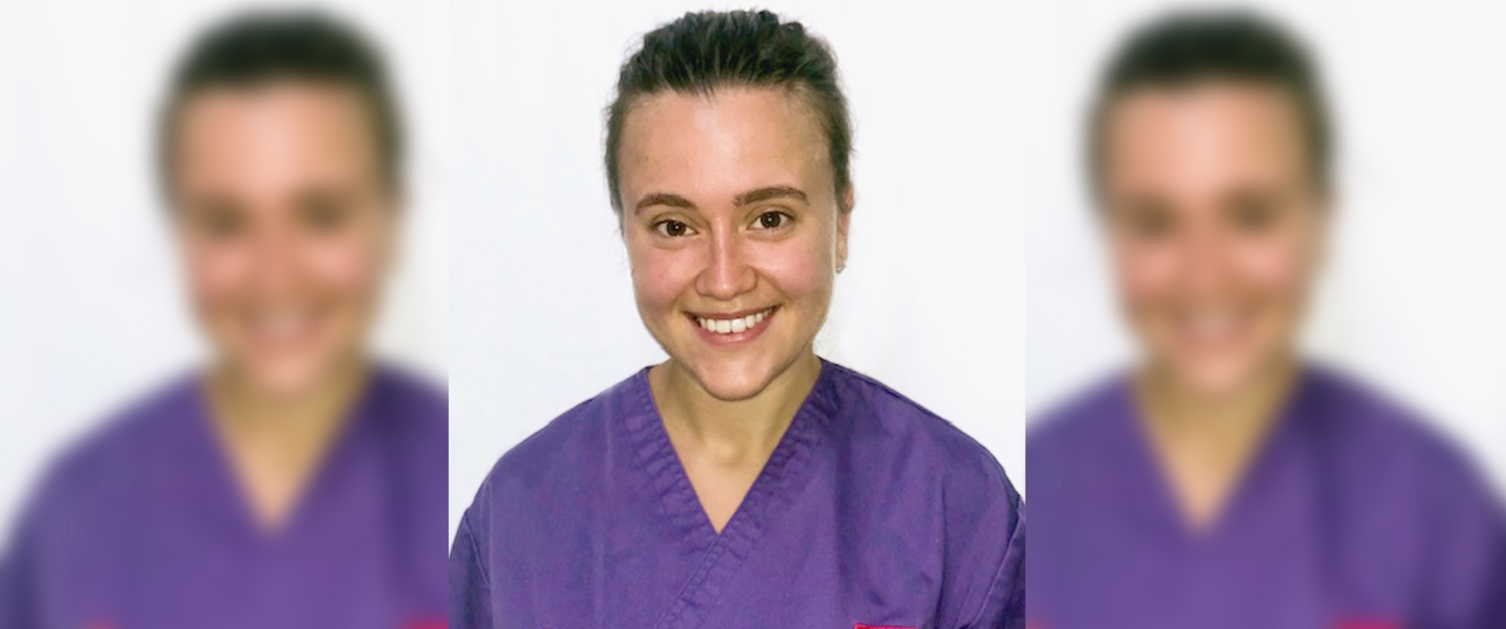 Main image: Megan Ware
A student learning disability nurse has spoken about her "challenging but rewarding" work on the NHS frontline during Covid-19.
Megan Ware has been helping seriously ill patients with additional needs admitted to Morriston Hospital in Swansea, ensuring they understand what is happening and have access to the best support.
The 23-year-old is one of many undergraduates who responded to the call to help the NHS during the pandemic.
But she is the first ever student learning disability nurse to undertake an extended placement with the Acute Liaison Nurse for People with Learning Disabilities, Kara Knowles.
"The past few months have been rather unsettling and scary for everyone given the unpredictable and unprecedented circumstances," said Megan.
"However, I can honestly say that when given the choice to opt in or out of an extended placement, I didn't think twice.
"I am totally blessed that I can be part of helping out during this pandemic and I'm also gaining valuable experience too."
Megan's role has involved acting as an advocate for patients with learning disabilities, helping them to make sense of what can be a very confusing time and helping to plan their admission and discharge from hospital.
She has also ensured the patients continue to be supported by one of their existing carers while in hospital under a special exemption to the no visiting rule during the pandemic.
Paula Hopes, learning disability nurse consultant for Swansea Bay University Health Board, said: "This unique placement has allowed Megan to enhance the valuable support we already provide to some of our most vulnerable patients.
"We are proud of her achievements during what has been a very challenging time for the NHS."
Megan, a second year student at the University of South Wales (USW), said the knowledge she had gained over the last 12 weeks will help shape her future career.
But it's a career which almost never happened as Megan – who previously featured in a S4C documentary about nurses – was not aware that learning disability nursing existed as a profession until a chance conversation with a friend.
"I had never heard of it," she said.
"But during my music degree I did a placement at a music therapy centre for people with learning disabilities, which I loved.
"Then a family friend happened to mention the learning disability course at USW and it sounded like an exciting and interesting profession and something that I could definitely see myself doing.
"Having the chance to support people with learning disabilities in hospital has given me endless learning opportunities and has really encouraged my confidence and improved my competence."
During her placement Megan has liaised with different professionals, families and carers, been involved in clinical decisions and ensured the patients have been totally involved in their own care.
She added: "Being able to have this opportunity during the Covid-19 pandemic has been challenging but so rewarding."
Rachel Morgan, Specialist Lead (Learning Disabilities), University of South Wales, said: "The fantastic learning experience that Megan has benefited from is due to the excellent working relationship with have with our practice colleagues in SBUHB.
"Megan is an amazing student nurse (learning disabilities) who can always be relied upon to go above and beyond. She's always there when we need enthusiastic volunteers for projects, and supports us to raise both the profile of our profession and our nursing course at USW.
"We are very proud of her achievements to date, and already predict she will go on to achieve great things in her future career as a Registered Nurse Learning Disabilities."