Stroke unit takes inspiration from former patient to complete peaks challenge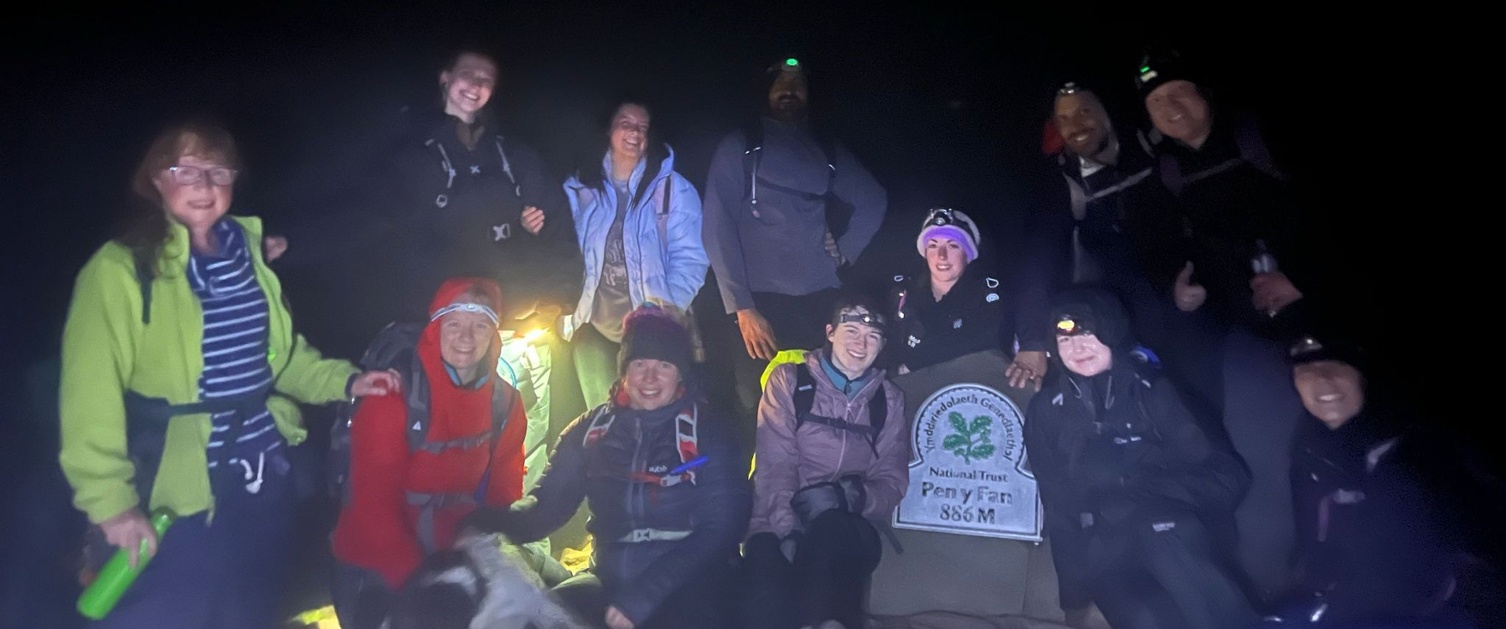 A group of hospital-based colleagues have conquered the three highest peaks in Wales to raise money for patients on their ward.
Staff from the stroke unit at Morriston Hospital took on the Welsh Three Peaks Challenge, which saw them climb Snowdon, Cadair Idris and Pen y Fan.
The challenge, which is usually done over a 24-hour period, is made up of a total walking distance of 17 miles and an ascent of 2,334 metres.
Despite contending with the strong winds and heavy rain brought by Storm Antoni, the team managed to complete the challenge in 17 and a half hours.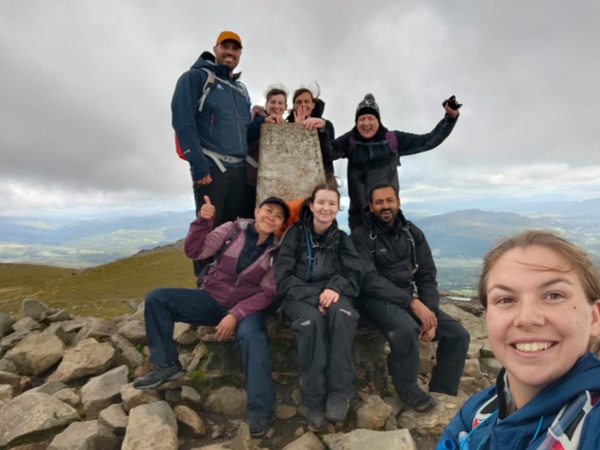 Pictured: Some of the Ward F team at the summit of Cadair Idris.
The Ward F colleagues took inspiration from former patient Alan Hardie who recently raised money for the ward by walking the equivalent distance of Hadrian's Wall.
As a result, he raised £1,100 and finished off the last leg of his 90-mile challenge on Ward F where staff were waiting to congratulate him.
Jan Glover, Ward F physiotherapist, said: "The inspiration came from Alan who was an inpatient with us last autumn.
"His stroke had been quite significant but he made a very, very good recovery.
"He regained his speech, his balance and eventually he regained his mobility and part of what he wanted to do when he returned home was walk outdoors with confidence.
"A goal was set for him to walk around the block outside his home, which he did with the support of the early supported discharge therapy team.
"He then set himself the goal of walking the equivalent distance of Hadrian's Wall so on the back of that we were inspired as a team.
"As Alan's challenge related to walking and mobility, the Three Peaks Challenge seemed fitting for us."
The stroke unit is made up of a multidisciplinary team including physiotherapists, occupational therapists, speech and language therapists, rehabilitation assistants, doctors and nurses.
Members of staff from each area took part in the challenge, which started just before 6am on a Saturday morning.
Among them were consultant stroke physicians Dr Peter Slade and Dr Tal Anjum.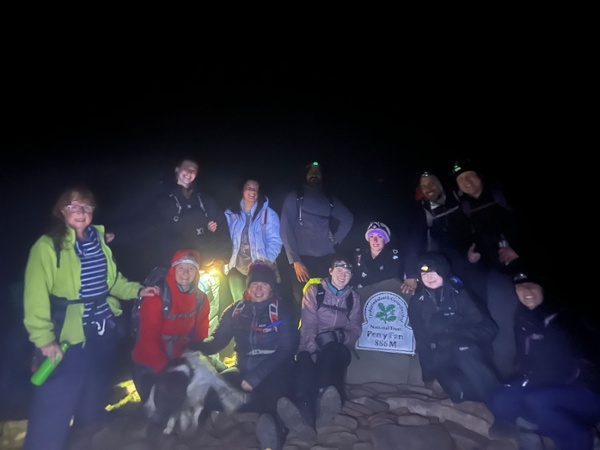 "Eight members of the team completed all three peaks," Dr Anjum said.
"While some missed out on the middle walk but felt rested and well enough to do the final walk.
"We started the clock at 5.58am and stopped it when we came down Pen y Fan just before 11.30pm.
"That included the travel time between the peaks and the times we had to stop to nurse ourselves and to try and get dry by changing our clothes."
Pictured: At the top of Pen y Fan.
The team were able to use a 16-seater minibus kindly loaned to them by Port Talbot Bulldogs Boxing Club for the challenge.
Dr Slade said: "I think the weather was as bad as it could have been, with 70mph winds at the top of Snowdon.
"In terms of difficulty, it was one thing going up Snowdon as the path we took was quite challenging but a couple of us found it really difficult coming down Cadair Idris as our knees were shattered."
Dr Anjum added: "If it wasn't for the team effort, I'm sure we would have found it much more difficult.
"Our multidisciplinary team working ethos from the ward worked brilliantly in the mountains, in a completely different context and for a completely different purpose, which is fantastic."
The team managed to raise £5,788 for the Ward F fund and plan to put the money towards more equipment to help patients with their rehabilitation.
The Ward F fund is one of hundreds of individual funds that come under the umbrella of Swansea Bay Health Charity.
This is the health board's official charity. Money raised is used for equipment, staff training, research and special projects for the benefit of our patients and staff, above and beyond what the NHS can provide.
Pictured: At the base of Snowdon before starting the challenge.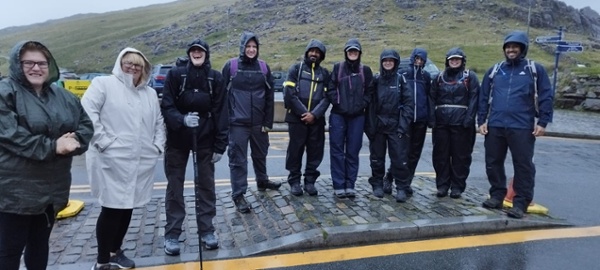 Jan said: "We do plan to do more fundraising so we aren't sure what our overall total will be yet, so we are thinking of putting the money towards lots of smaller things for that reason.
"It will go towards equipment for rehabilitation purposes for the benefit of our patients.
"We provide equipment to enhance their overall experience of their time on the ward so we will spend it on adding more equipment."
Dr Slade added: "The great thing about our health board charity is that we know the patients we work with on a day-to-day basis are the ones that are going to benefit from it."
Cathy Stevens, Swansea Bay Health Charity's fundraising officer, said: "Well done to all the staff who took part in the Welsh Three Peaks Challenge where the weather was certainly not on their side.
"The money they have raised is incredible and will go a long way to supporting our stroke patients on Ward F. Well done everyone!"
If this story has inspired you to raise funds for your local NHS then Swansea Bay Health Charity would love to hear from you.
Email the charity team at: swanseabay.healthcharity@wales.nhs.uk.
Swansea Bay Health Charity (registered charity number 1122805) is the official charity of Swansea Bay University Health Board.

Swansea Bay Health Charity
Are you interested in raising money to support NHS services in Swansea and Neath Port Talbot? Did you know that Swansea Bay University Health Board has its own fundraising charity?
Swansea Bay Health Charity supports patients, staff and services within Swansea Bay University Health Board. Visit its webpage here to find out more.