Staff produce video to promote organ donation discussions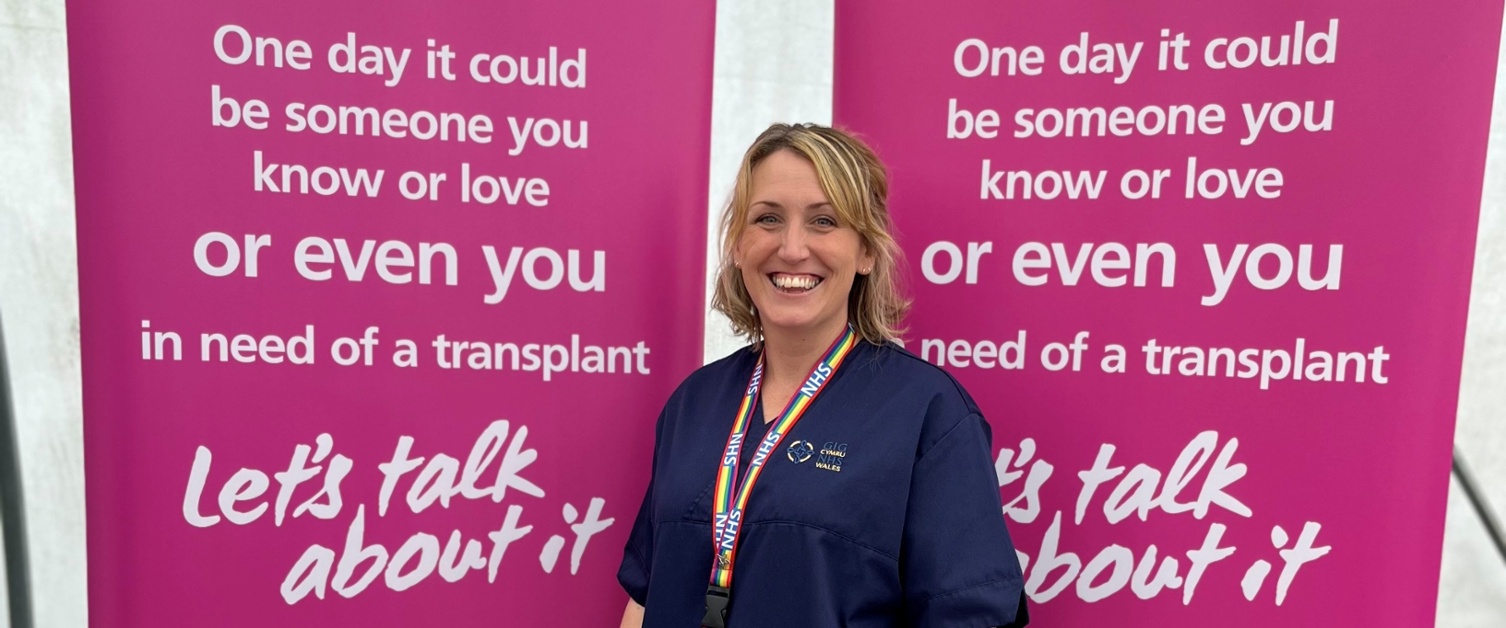 It always starts, of course, with the precious donation of an organ to help a stranger.
But to ensure that treasured gift has the best chance of successfully transforming someone's life, did you know there is a large network of professionals helping every step of the way?
To demonstrate how organ donation has many links in its chain, the various teams involved within Swansea Bay have produced a video offering an insight into the process of providing the gift of life.
From radiology to virology, and pharmacy to theatres, the Swansea Bay organ donation team spans all departments and services.
The video is being launched to coincide with Organ Donation Week (18-22 September 2023) in a bid to encourage people to make their decision to donate known to their family and loved ones.
The law in Wales was changed to 'deemed consent' in 2015 – meaning you will be treated as if you have no objection to your organs being used to help another person in the event of your death.
While it is highly unlikely that doctors would do so against the wishes of the deceased's immediate family, having the conversation around your desire to donate can prevent any future upset.
Kathryn Gooding (pictured above), a specialist nurse for organ donation (SNOD) in Swansea Bay, said: "The idea for the film came from our Organ Donation Committee meeting a number of years ago. However the making of the film was delayed due to the pandemic but staff remained keen to be involved and for the project to succeed.
"On the committee we have representatives from all aspects of the donation journey. We wanted to recognise these areas and the essential role they play in organ and tissue donation at Swansea Bay University Health Board.
"The video features health board staff supporting and being part of the wider organ donation team - with the message running throughout for people to confirm their decision on the organ donor register."
With around 300 people, across the UK, currently waiting for a transplant, the need for donors is as urgent as ever.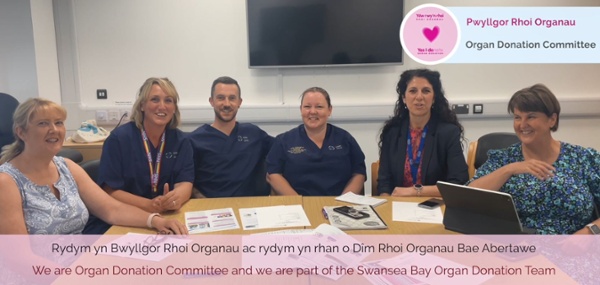 Above: a still taken form the video featuring members of Swansea Bay UHB's Organ Donation Committee
Kathryn said: "The message for Organ Donation Week 2023 is to encourage people to confirm their decision on the NHS Organ Donor Register.
"The aim is to get 25,000 more people to register to become organ donors. It only takes two minutes, which is quicker than making a cup of tea!"
More than 50,000 people are alive today across the UK, because someone said yes to organ donation.
And organs donated by one person can potentially save and transform the lives of up to nine people.
Damien Stevens, Specialist Nurse in Organ Donation, said: "You can save as many as 9 lives as an organ donor. And 9 in 10 families support organ donation going ahead if they knew what their loved one wanted.
"So please talk to your loved ones and add your name and decision to the NHS Organ Donor Register."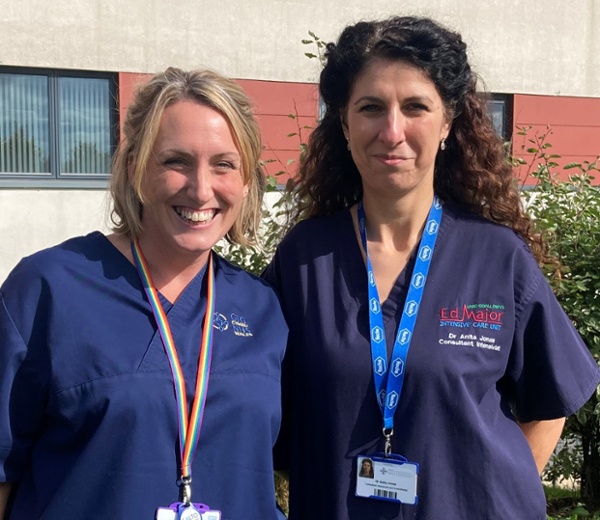 Swansea Bay Clinical Lead for Organ Donation, Anita Jonas (pictured above, left, with Kathryn Gooding), said: "I don't think many people are aware that someone, who is on the waiting list, dies every day.
"We would like to raise awareness and get this message out. To get people to talk about it.
"It can be difficult when you don't know a lot about organ donation. It can be difficult to make a decision.
"But the more you talk about it, the more you hear about it, the more you read about it, uncertainties can disappear and you can make a decision about it."
As a consultant in Morriston Hospital's Intensive care Unit Dr Jonas knows more than most about the emotive area.
She said making your wishes known spares your family and loved ones the anguish of having to deal with this at one of the lowest points in their lives.
"The main message is to encourage people to have a conversation about organ donation because it's something that can happen to us all," she said.
"Also, you never know when you could be in a situation where you, or someone close to you, requires a transplant.
"There is nothing worse than having a loved one who is critically unwell and being told that there's nothing more we can do for that person.
"Then the conversation about organ donation comes up – it's quite a lot to think about at that time. If these conversations were held before hand it makes it that little bit easier for the family."
Often families find comfort in knowing their loved one has made a difference.
Anita said: "I've also experienced families who, through organ donation, found a little piece of comfort. It is an extremely difficult situation when you are losing your loved one, but knowing that they have actually given the gift of life."
The Swansea Bay Organ Donation Team will be found on stalls in Morriston Hospital on Monday, Singleton Hospital on Tuesday and Neath Port Talbot Hospital Wednesday should you want to discuss the subject.
Staff and members of the public are also encouraged sign up for Organ Donation Week's #Race4Recipients and walk, run, cycle or swim any distance in order to publicise the need for donors www.raceforrecipients.com
To mark Organ Donation Week buildings across the UK – including the Guildhall in Swansea – will be lit up pink to help raise awareness.
To find out more about organ and tissue donation visit the NHS Blood and Transplant website here www.organdonation.nhs.uk