Specialist team delivers quicker service for mental health patients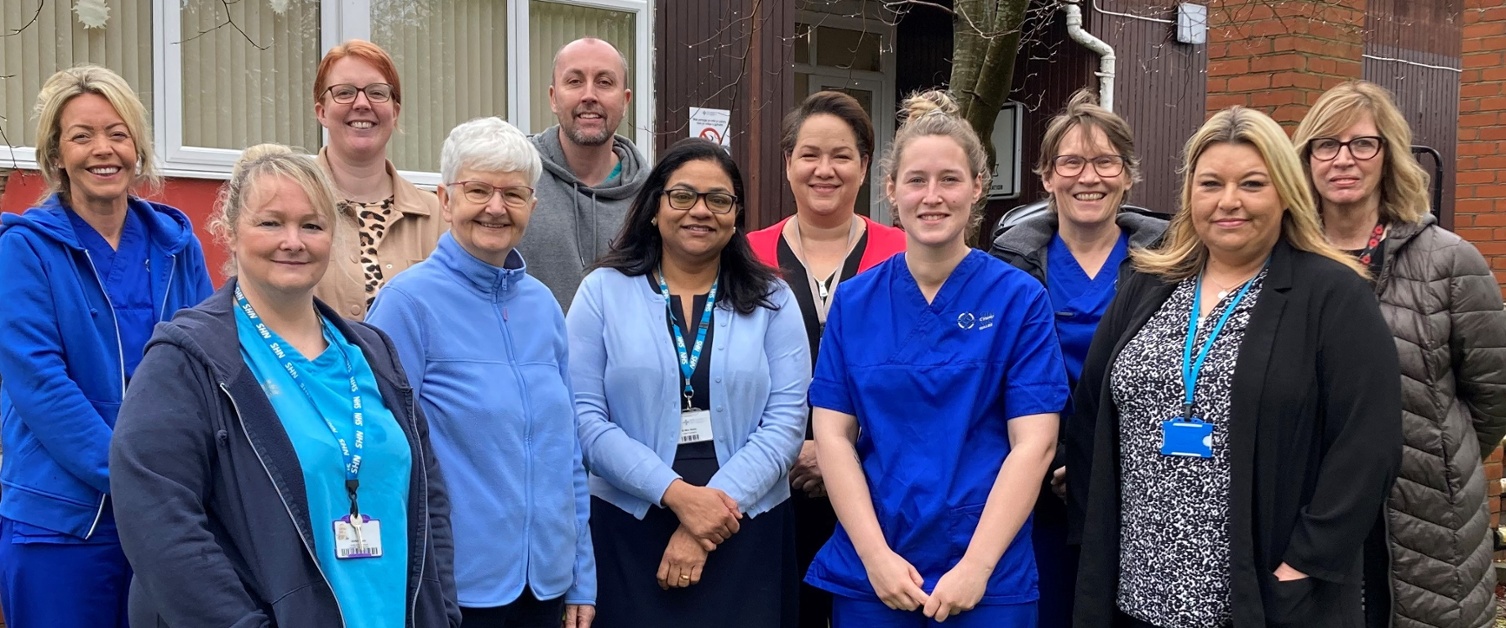 Patients with an urgent mental health need who turn up at the Emergency Department at Morriston Hospital are now being assessed within an hour by a specialist team.
Previously, they would often have to wait hours at a time to be seen because ED staff have to prioritise those with serious injuries and medical conditions.
Unfortunately the delay could cause some patients with mental health conditions to become distressed, which could trigger abusive, aggressive or even violent behaviour towards staff.
But they are now being assessed by a triage nurse and referred directly to the Department of Liaison Psychiatry team within an hour.
The multi-disciplinary team consists of 36 staff, including consultant psychiatrists, associate specialists, mental health nurses, occupational therapists and technicians, substance misuse nurses, in-reach advisors, a learning disability nurse and administrative staff.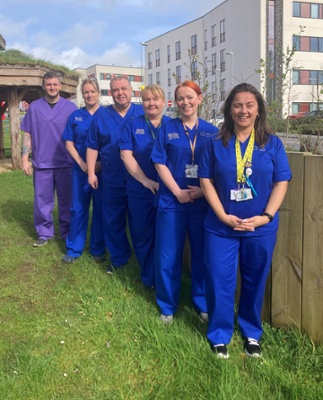 The service has now been awarded a gold standard mental health liaison service accreditation – the only service in Wales to get it.
The standard of care and treatment delivered over the past three years has seen the department meet all standards required to be reaccredited by the Psychiatric Liaison Accreditation Network (PLAN).
PICTURED: Clinical Nurse Specialist Devlyn Evans (third left) and members of the Department of Liaison Psychiatry service
The team helps adult patients with a wide range of mental health issues, including dementia, across Morriston, Singleton, Neath Port Talbot and Gorseinon hospitals.
Outside of ED, patients are referred to the Liaison Psychiatry team from any ward for assessment, medication management or for establishing a management plan, which includes whether they need to be referred for admission to a psychiatric unit, home treatment or signposting to primary care.
The service runs every day between 7am-10pm, and has a response time target of one hour for any patient aged 18 or over that has been referred from ED.
Currently, 92 per cent of patients are discharged either home or directed to other agencies for further help.
Clinical Nurse Specialist Devlyn Evans, who has been part of the service for nine years, said: "We can see patients on wards with dementia, delirium or assist with their medication management.
"It can be any mental health related behaviour or issue. The staff will refer the patient to us.
"We receive a written referral from wards with some background on the patient, but in ED we don't do that as we have a response time of one hour."
He explained the response time for non-ED patients varied according to their needs, but the team's aim was see patients as quickly as possible.
The service came to the fore during the Covid pandemic with specialist care delivered quicker to those who needed it, which proved crucial at a time where the number of patients reporting mental health problems soared.
Sara Ware, Liaison Psychiatry team manager, said: "When Covid hit, there was a rise in patients with mental health problems. They were unprecedented times.
"We were working in ED, the Intensive Treatment Unit and face to face with a lot of patients who had Covid and were really scared. We also had to manage the anxiety of our own staff. None of us had experienced anything like that.
"But there was a real determination within the service to step up and be there for the people who needed us most.
"People with mental health problems often turned up at ED because they thought that was the best place for them.
"While ED staff prioritise people arriving with serious or life-threatening conditions, the triage nurse would identify a patient with mental health problems that would benefit from a quick referral to our service. It resulted in the patient getting quicker care with our team, while it also helped the flow of patients being seeing in ED."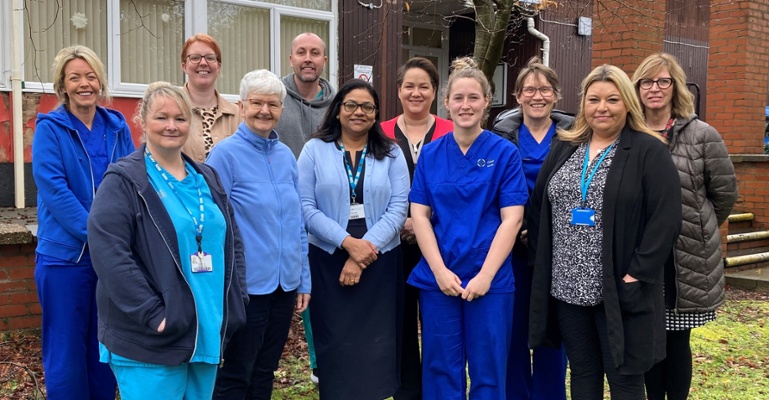 Sara added: "During the pandemic, we split our team into two and had different bases in Morriston Hospital - just in case there was an outbreak in one team. We had to ensure our service was still available.
"The second lockdown was more difficult for certain patients as they were struggling without the face to face interaction. There was definitely a rise in patients during the second lockdown.
PICTURED: Sara Ware (second right), Liaison Psychiatry manager, with members of the team that has helped retain the service's accreditation by PLAN.
"But it's the combination of the efforts of everyone within our team that helped us maintain our high standards of service to each patient who needed us. The communication and team work has been crucial in ensuring patients were given the best possible care."
In order to be awarded PLAN accreditation, the team underwent audits while service users gave views on their experience. Staff from liaison teams from health boards around Wales and England also examined the service.
Sara added: "It's a really big achievement for the team because we've met this gold standard through unprecedented times.
"The gold standard is the top level we can achieve, so it means the service is offering the best standard of care for patients."