Rugby playing director tackles Active August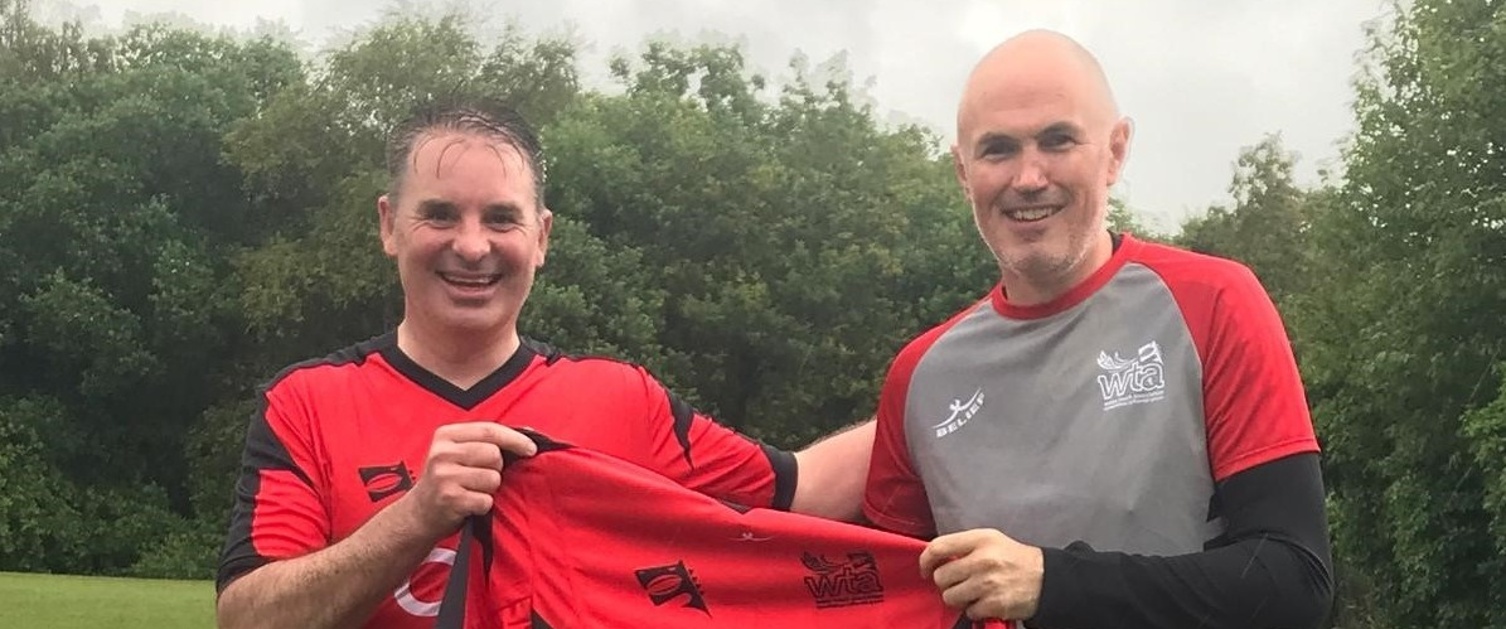 Active August - our campaign to get patients and staff moving more – has literally gone international.
Swansea Bay's Director of Insight, Communications and Engagement, Richard Thomas, is leading by example having been picked to play touch rugby for his country.
The 51-year-old, who was born and raised in the Swansea Valley rugby hotbed of Trebanos, will represent Wales Over-50s this week at the European Touch Championships in France.
Having grown up in in the village which produced Welsh rugby stars Bleddyn Bowen, Robert Jones, Arwel Thomas and Justin Tipuric, his sporting journey has taken longer than most but is a fine example of not letting age be a barrier to fitness.
Above: Richard Thomas (right) with Wales Over-40s coach Steve Higgs
He said: "I first remember playing rugby when I was seven-years-old in school in the Swansea Valley. I went on to play for Trebanos but then, when I was 26, I got injured and had to stop.
"I picked up a knee injury which meant that I didn't do much in terms of fitness. Up to then all the fitness I did was because of rugby – I really enjoyed playing rugby but didn't necessarily enjoy the fitness. I found myself getting out of shape and not doing that much, working long hours in an office leading quite a sedentary lifestyle."
Having moved to Penarth his love for rugby blossomed once more after introducing his son to the game.
He said: "Around 11 years ago, I started coaching my son's rugby team and bumped into a couple of friends seven years ago who were starting a touch rugby group in Penarth – that was completely transformational because I started playing touch rugby and haven't looked back since."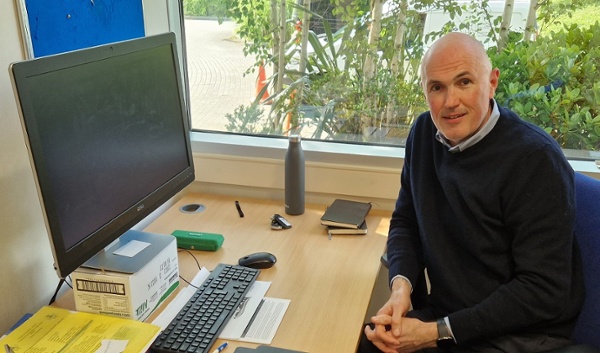 Richard was spotted by the Welsh Touch Association (WTA), which governs the sport in Wales, and was selected to represent his country for the first time.
He said: "I've got two caps already because I played for Wales Over-40s, two years ago, against England. Don't ask what the score was because we lost by quite a few tries! But it was a great experience playing against England and I thoroughly enjoyed it."
Richard hopes the result will be better this times around but is determined to enjoy his time in Vichy, in the central region of France.
He said: "This is my first time playing for the Over-50s team. We are hopeful because we have been training for six months as a squad. Every Sunday morning for a couple of hours. We've also got a good team spirit. It's a good bunch of guys."
Touch rugby – matches are 20 minutes long with six players in a squad of 14 on the pitch for each side at the same time with rolling substitutions – is a growing sport.
Richard said: "It's a sport for all ages. It's a sport for everybody. There are male and female teams, and mixed teams. And it's great fun, while being great exercise as well.
"The sense of camaraderie is brilliant. You get lots of the good things about rugby but without the really heavy physical injuries."
Whether the team returns home victorious or not Richard is just glad that he playing sport once more.
He said: "I feel completely different in the sense I feel more energetic. I feel healthier, and the best part is staying that way while having fun in terms of playing the game that I really love but also making good friends through the social side of it. It's a win, win."
His top tip to anyone thinking of starting to exercise is to do so in a group.
He said: "It's massively important to exercise but it is so easy to drift into a lifestyle where you don't stay active. It's important to find ways of getting into a routine of doing things.
"Personally, every Wednesday night is touch rugby night. I really enjoy that but it's about getting into that routine and about playing with friends where there's peer pressure of not wanting to let your friends down so you are more likely to do it."
Swansea Bay Chief Executive Officer, Mark Hackett, said: "As a former rugby player myself, I can imagine how proud Richard must feel representing his country, and on behalf of everyone in Swansea Bay I wish him and his team mates every success.
"This being Active August, our campaign to get everybody moving more, patients and staff, Richard is certainly leading by example."