Retired Anne supports NHS by sewing for victory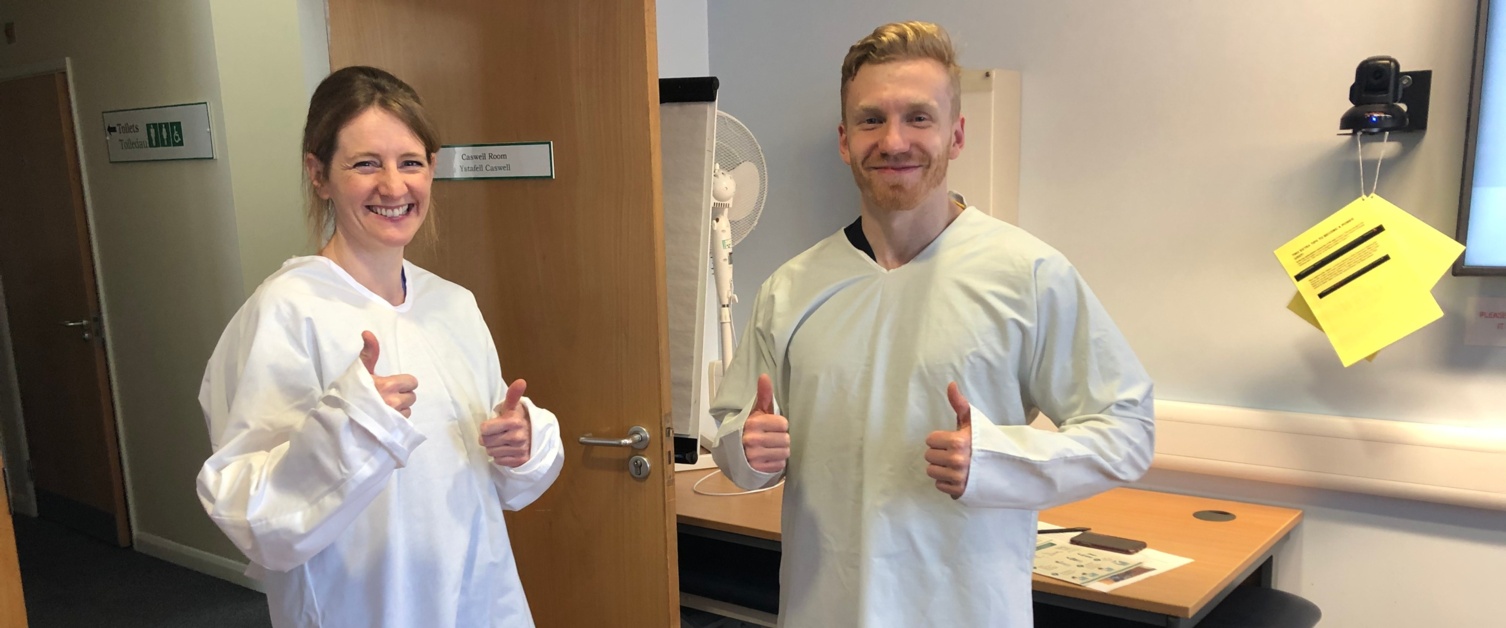 Former NHS worker Anne Jones may have headed off into retirement but she is still doing her bit in the war against Covid 19 on the home front.
Above: Swansea Bay doctors Bryony Coupe and James Ainsworth
Having begun her career in Morriston Hospital in the 1960s, and finishing up working in admin in Singleton Hospital's neonatal department, Anne, who has a daughter working as a nurse in Swansea Bay, was determined to help.
Encouraged by her friends in the village of Norton, Gower, she decided to mobilise her sewing skills to make gowns for health board staff after hearing that those used for training had seen better days.
She said: "Friends have been kind enough to give me old duvet covers, which I boiled washed, and used to make gowns.
"They either have daughters who are nurses or work elsewhere in the NHS and we all wanted to do something to help.
"I can't go back and help them as I'm too old, it's the only thing I can do to help, apart from staying home that is."
Hannah Skipp, a medical registrar working in Singleton Hospital, welcomed Anne's efforts.
She said: "We'd been reusing two of the PPE gowns to help people practice but they'd ripped and were pretty much useless. We didn't want to use any more and waste them.
"We can now use these and make sure we've got our PPE donning and doffing just right which will reduce our risk of contaminating ourselves and others. It makes us all feel that bit safer.
"Thank you Anne so much, you're a star!"
Bryony Coupe, who works as a doctor in both Morriston and Singleton Hospitals, added: "We are very grateful to Anne Jones for making these wonderful gowns for us to practice donning and doffing PPE. This has really improved our confidence in clinical situations. We are also very grateful to medical registrar Dr Hannah Skipp for all her hard work and her excellent teaching sessions."
Fellow doctor, James Ainsworth, added: "Big thank you to Anne Jones. The gowns are ideal for practicing the donning and doffing, and easier to re-use than the plastic ones so also helps to save the NHS equipment."