The Duke of Cambridge made a special phone call to Swansea Bay University Health Board this week, to thank all our NHS staff for their efforts throughout the Covid-19 pandemic.
Alison Clarke, Assistant Director of Therapies and Health Sciences spoke to Prince William on Wednesday the 17th of March.
They discussed how staff in a wide variety of roles had jumped into action to see Swansea and Neath Port Talbot through the crisis.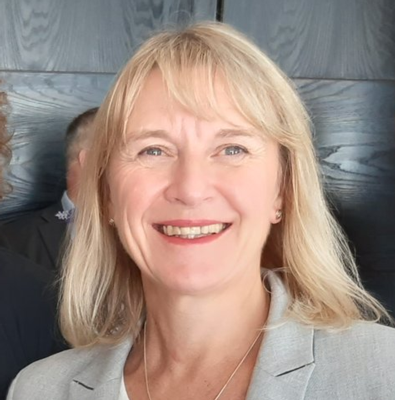 Right: Alison Clarke, Assistant Director of Therapies and Health Sciences at Swansea Bay University Health Board
Alison told the Duke that while doctors and nurses had been treating Covid positive patients on the frontline, numerous other professions were responding to the challenges the virus brought in their own innovative ways.
Health therapies and sciences encompasses many different specialties, including physiotherapy, speech and language therapy, cardiophysiology, biomedical science and medical physics. During the first wave, many therapy and health science staff took on completely different roles, while others worked hard to make sure their patients could still receive treatment, often via virtual consultations.
The Duke heard how audiology staff retrained to be healthcare support workers, and went to help out at Gorseinon Hospital. Many therapy staff who were redeployed in roles like this may have never professionally stepped foot onto a ward before so it was a big learning curve for them.
Alison explained how occupational therapists had set up groups for more vulnerable families, delivering virtual 'parenting in pandemic' groups so they could access support from the team remotely. The patient feedback for these groups has been so positive that plans are in place for them to continue after COVID-19.
The Duke was also told how the paediatric physiotherapy team had recruited a rag doll named Rosie to help children with cerebral palsy, delayed development and various other syndromes, when face-to-face sessions were no longer possible.
The physiotherapists use Rosie and her rag doll friends to show parents on video chats how to position their children for exercises and how to measure their little ones for items such as leg splints.
Prince William was interested to hear how the well-being of staff had been supported too, and how the teams had changed their ways of working to ensure student therapists and health scientists could still gain the clinical experience they needed to graduate.
Alison said, "I would like to pass on Prince William's sincere thanks to all Swansea Bay University Health Board staff.
"I was delighted to have the opportunity to speak to him, and explain how those who work in therapies and health sciences had played a crucial part in the health board's response to Covid-19.
"He was very respectful of the work that we had done, and how we had made sure patients who needed the support of our services could still receive their treatment."