Rosie the rag doll keeps young patients moving through Covid pandemic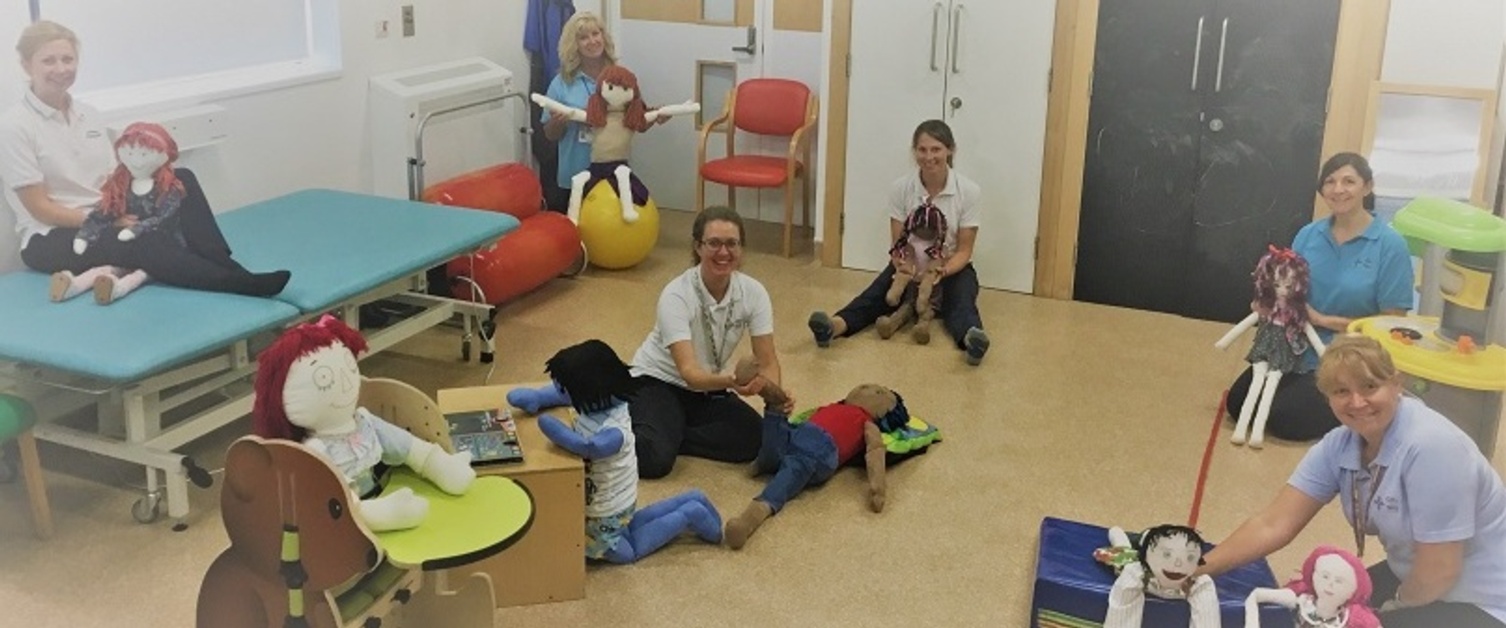 (Main Image: The physio team with their new doll recruits)
Rosie the rag doll is one of the more surprising faces of NHS innovation in the response to Covid-19.
Swansea Bay University Health Board has embraced cutting edge technology as it has adapted many of its services during lockdown, and continues to do so while transforming to the 'new normal'.
Rosie is from a more traditional background than high-tech digital solutions, but in many ways just as crucial. She is the latest recruit to Swansea Bay's Paediatric Physiotherapy team.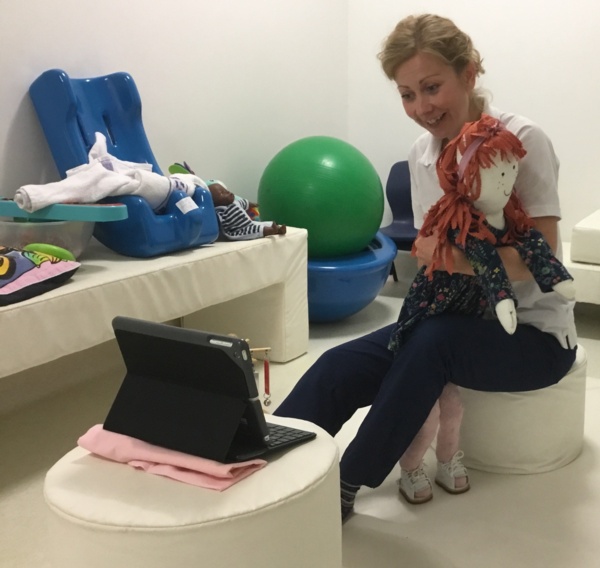 As the pandemic hit, the team, who help children with cerebral palsy, delayed development and various other syndromes, quickly realised their face-to-face sessions would not be possible. Many of their little ones have life-long conditions and so a solution had to be found as to how they would continue to provide treatment through Covid.
Ceri Selman is Rosie's original 'creator' and one of the Paediatric Physios. She said: "It soon became apparent that we would have to think about different ways of working and quickly.
"We set up our virtual services, but I personally found trying to explain to parents, via video calls, how to position their children for exercises, really tricky.
"I would be saying, move their right arm on the left leg, then move it this way, then move it down.
"And that doesn't translate very well over a video call.
"I realised we were going to need something that we would be able to show the positions we wanted mums and dads to put their children in."
Enter, stage left, Rosie the rag doll.
Ceri admits at the start of the pandemic she was quite anxious and worried. She felt she needed something to occupy her time in the evenings in those early days, and while she confesses she is not a 'natural sewer', she dusted off an old 1980's sewing machine that had been a hand-me-down from her mum - and Rosie was born.
Ceri said: "Making Rosie from scratch really helped me at a time when I was particularly anxious with everything that was going on.
"It really helped my wellbeing during that period which was very difficult for many health professionals."
Rosie has been quite a hit with the families she helps.
Amelie Foster is three and a half years old, and has cerebral palsy. She has been having physio with Ceri since she was 6 months old.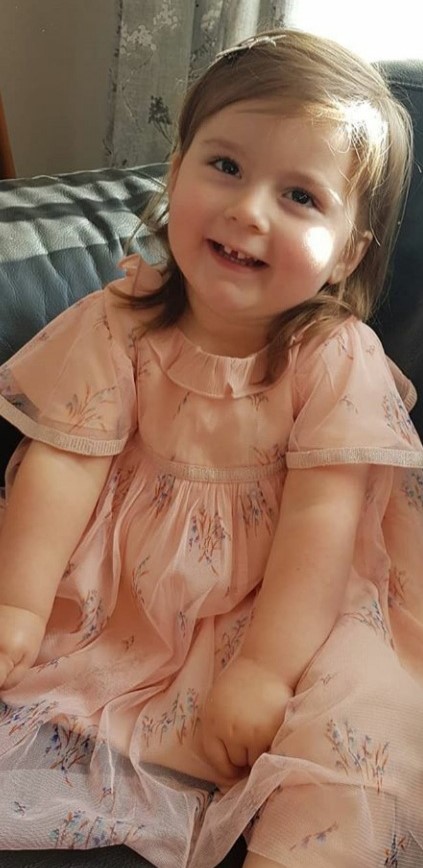 Amelie's mum, Luci, says her daughter thrives during her sessions with the physios and admits she was apprehensive at first as to how they would be able to carry on their treatment as Covid struck.
Luci said: "It has been seamless.
"Normally, when we are face-to-face, Ceri would put Amelie in the positions she wants me to see, moving Amelie about and showing me exactly what to do.
"Trying to explain that to someone over a video is really difficult, so having the doll has been such a help."
"Also Amelie is being measured for leg splints, and Ceri used the doll to show me how to take all the correct measurements, just so we can get them ordered now, rather than waiting for everything to go back to normal."
(Right: Amelie Foster)
Rosie the rag doll has been working flat out, but there are only so many shifts one doll can do, and Ceri had already returned her mum's sewing machine back to its retirement home at the top of the wardrobe.
Now, however, Rosie has been joined by an army of new recruits, all thanks to Swansea Bay's For the Love of Scrubs group.
The independent volunteers have done an incredible job in turning out thousands of much needed scrubs and various other items for the health board's workforce during the pandemic.
Lisa Parez founded the group's Facebook page and co-ordinates the making of and delivery of the scrubs. When asked if they could help make some new Rosies, she knew the passionate and enthusiastic group wouldn't shy away from a challenge.
Lisa said: "Everyone has such a mixture of talents, there is always someone who loves to be creative and help out.
"They have all been so amazing, pulling together to help our communities out."
Thanks to them there are now enough dolls to go around, helping even more children. The physio's have been sending pictures of their new dolls in action to the group on social media, so they can see how their hard work has paid off.
Lisa said: "It's been lovely to see the pictures, and hopefully our group has been able to make the physios' jobs a little bit easier, and help the parents understand how to help their kids while the pandemic continues."
The dolls are not afraid to switch departments either, such has been their success in physiotherapy, they are now also being used by Swansea Bay's Occupational Therapists and Speech and Language Therapists.
As the Welsh Government gradually eases the lockdown, it is still unclear what the future looks like for many services like paediatric physiotherapy. What will the much touted 'new normal' be and when will the physios be able to meet their children face to face once again?
Rebecca Kennedy, Swansea Bay's Clinical lead for Paediatric Physiotherapy said: "In the current circumstances, Rosie, and now her new friends, have meant we have still been able to provide something, when the alternative was it would have been really difficult to achieve anything with the families.
"In the future, we hope that this will be an added extra, rather than instead of.
"I think it's enriched what we offer.
"But I don't see it ever replacing that face-to-face contact."