(Left to right: Jayne Tayler and Sally Mora)
"If someone had told me, this time last year, that in 2020 I would be working on a Covid ward in the middle of a worldwide pandemic, I would have, 100%, respectfully, told them - they had lost the plot."
Jayne Tayler has worked in audiology for Swansea Bay University Health Board for more than 20 years, and is a senior audiologist working with children and adults.
But for the majority of this year, she has been on the frontline as a healthcare support worker caring for patients with Covid-19.
Jayne, from Baglan, is one of many in Swansea Bay University Health Board who have volunteered to be redeployed in the fight against Coronavirus, and found themselves in roles that are polar opposites from what they were hired to do.
In fact on her own team, she is one of four who stepped forward, fellow audiologists Sally Mora, Richard Perdue and Tim Loescher all work as healthcare support workers alongside Jayne on the same ward.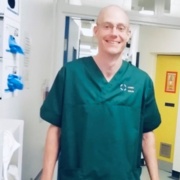 (Left: Richard Perdue)
In the immediate response to the disease, the team's audiology department at Neath Port Talbot Hospital was scaled back, all routine appointments were cancelled, with only one member of staff needed at one time to do emergency repairs on hearing aids or batteries.
Jayne, and her colleagues, told their manager they would be happy to help wherever they were needed.
Jayne said: "There was a one day course to train as a healthcare support worker. The four of us decided to go on it to see where it would lead.
"That night our manager called us to say staff were desperately needed at Gorseinon Hospital and would we be prepared to start tomorrow?
"It was a bit scary.
"We picked up our uniforms from Morriston the next morning and then headed off to Gorseinon. They welcomed us with open arms there. They are a lovely team. We shadowed members of staff for a couple of days and then we were ready to go on our own."
Wearing full personal protective equipment (PPE) caring for patients with Covid-19 must feel like a whole world away from Jayne's usual job. But she does get to see some familiar faces from the world of audiology when Sally, Richard and Tim are on the same shift.
Jayne knew she would have to prepare herself to experience things that she would never see in her usual job, but said the reality still came as a shock:
"I've very sadly seen patients dying.
"I would have been with them the day before, caring for them, maybe feeding them, seeing to their personal needs. Then on my next shift I would discover that they had sadly passed away overnight.
"I've seen staff crying. Staff who have been in this job a long, long time.
"But it still hits you for six to lose a patient in that way, especially because they weren't allowed to have their family around them.
"I'm not used to things like that and that's been hard.
"But I knew that and I just felt I really wanted to get stuck in, and help out, no matter what happened, and what we were likely to see.
"It's the most rewarding job I've ever done in my life, and I feel as if I am helping and earning my money".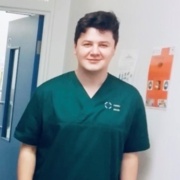 (Right: Tim Loescher)
Rhys Meredith, head of audiology, manages all four in their normal roles and said: "I remember asking the team whether they would be prepared to help during this challenging time, and they all immediately said yes.
"Having been made to feel so welcome by the staff and patients at Gorseinon, they don't appear to be in any rush to come back to audiology!
"But on a serious note, myself and their colleagues are so very proud of them, they stepped up as soon as they were asked."
As the first peak now seems to have passed, but preparations continue for the possibility of a second wave, Jayne and her workmates immediate future will be sorted soon.
They may return to their audiology roles, as those sort of services begin to start up again, or it may be they continue to be needed on their ward at Gorseinon. But it's clear whatever happens all four of them will embrace their next challenges.
Jayne said: "I feel like we're all in this together in Wales, and we'll all come out of it together, I'm sure."