Above: Firefighter Geraint Davies has a selfie with Elsa and Belle during the Fluenz party
Firefighters and princesses have lent a hand in helping children in the Vale of Neath fight off the flu this winter.
Families with children between the ages of two and three, yet to have their flu vaccination, were invited to a Fluenz and Firefighter party at the new Vale of Neath Medical Centre in Glynneath.
Guests of honour were Disney princesses Elsa and Belle, aka practice nurse Tracey Davies and health care support worker Clair Orrells, as well as a crew from the local fire station, which gave a demonstration before answering questions from the children and posing for photographs.
Alex Davies, practice manager, said: "Practice staff arranged to post letters and invitations to over 200 resident families with children aged 2 and 3-years-old, who do not receive their Fluenz nasal vaccination as part of the school immunisation programme.
"Judging by the excellent turnout on the day, many parents recognised the importance of getting their child immunised, whilst the children enjoyed some arts and crafts in the waiting area.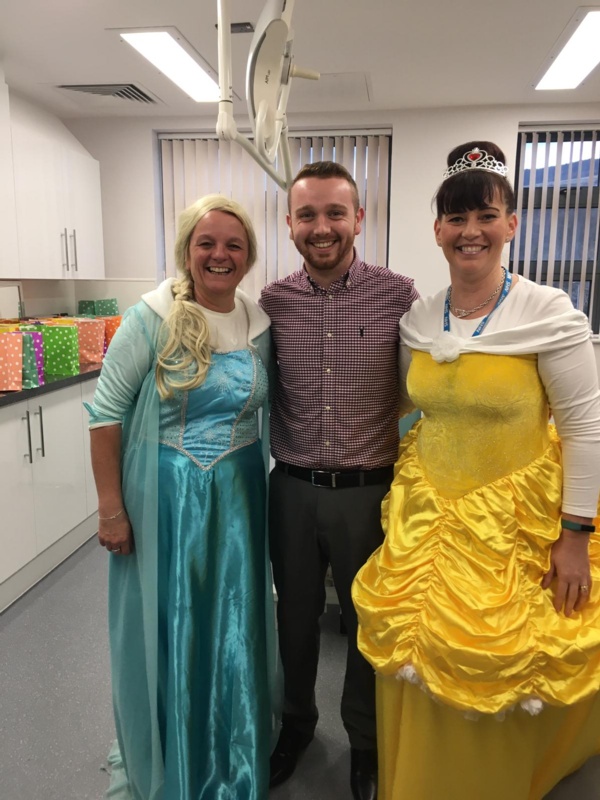 Left: Sam Elis from the Vale of Neath Pharmacy with the two princesses
"After receiving their nasal flu vaccination, bravery sticker and goody bag, the children headed outside to meet the firefighters and have their photograph taken whilst sitting in the fire engine.
"The dedicated crew that attended are a real credit to the fire service, as they engaged with the children by attentively answering all of their questions, before helping the little ones with their aim as they jet hosed some strategically positioned targets.
"The children were also allowed to sound the fire engine siren, which woke up all the other patients who were patiently sat in the waiting area.
"Everyone at the Vale of Neath Practice would like to express their sincere gratitude to Gary Davies and the Mid and West Wales Fire and Rescue Service for making our party such a wonderful success."