Pharmacist's medicinal expertise helps set the standard during Africa visit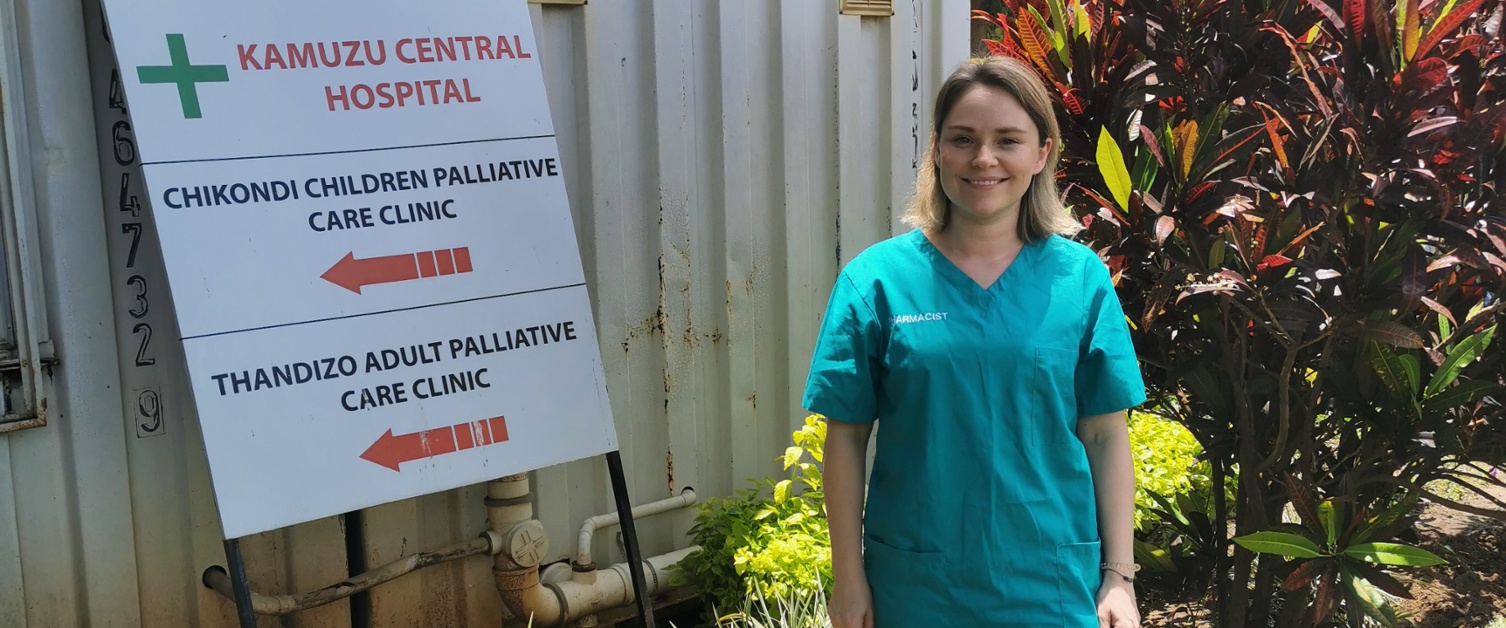 A Swansea Bay pharmacist has set the standard and established key practices in the use of medicine including antibiotics during a trip to Africa.
Antimicrobial pharmacist Charlotte Richards spent 10 days in Malawi visiting two hospitals and observing how they operated.
Her role within the health board involves promoting the appropriate use of antimicrobial agents such as antibiotics to improve patient outcomes and minimise side effects such as Clostridioides difficile - diarrhoea which can lead to slow resistance to antimicrobials and even death.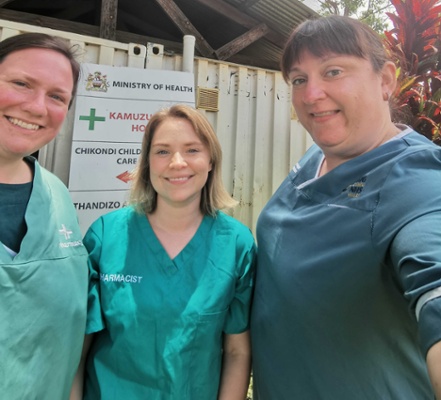 PICTURED: Charlotte Richards (centre) with Welsh Antimicrobial Pharmacists Group members Charlotte Makanga and Ceri Phillips.
"Bugs become resistant to antibiotics, which isn't a good thing," said Charlotte.
"In some cases, antibiotics which we would have usually used to treat a common infection no longer work as the bacteria has become resistant.
"There has been a lot of work in the last few years to raise public awareness of antimicrobial resistance and how we need to use antibiotics correctly. For example, not taking antibiotics for a virus because they don't work and only taking antibiotics when it's absolute necessary."
Antimicrobial resistance (AMR) is a serious issue which needs global cooperation to tackle.
Charlotte said: "AMR is a global problem that, like Covid-19, doesn't have borders.
"We need to work globally to reduce the burden of AMR and support the development of antimicrobial stewardship programmes in low and middle income countries if we are going to make an impact. This partnership in Malawi is an important part of that."
The visit was made possible after the Welsh Antimicrobial Pharmacists Group, which Charlotte is part of, obtained a grant through the Commonwealth Partnership for Antimicrobial Stewardship (CwPAMS).
That led to a partnership with the Pharmaceutical Society of Malawi (PHASOM), which opened the door for a special visit to south east Africa.
Alongside two members of the Welsh Antimicrobial Pharmacists Group - Charlotte Makanga and Ceri Phillips - Charlotte headed to Kamuzu Central in Malawi's capital Lilongwe along with Mzuzu Central Hospital in Mzuzu.
The team spent time observing the hospitals' systems and antimicrobial stewardship (AMS) activities.
This involved collecting data on prescribing practices, meeting with AMS committees to develop key performance indicators and developing practical toolkits and training that will be led by Malawian pharmacists to promote good AMS within their areas.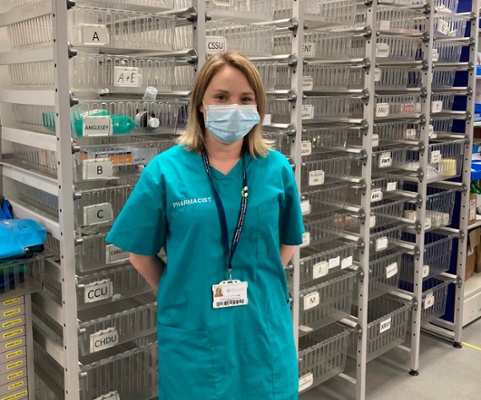 During the visit the team also reviewed the results of the Global Point Prevalence Survey (PPS), which had been completed by the team in Malawi over a two-week period.
The PPS revealed the most commonly used antimicrobials and infections treated at that time and whether the medication was prescribed intravenous (injected into the vein) or by mouth.
This is important information that will guide the work of the hospitals' AMS committees, and is the first time the Global PPS has been done by a hospital in Malawi.
"We started collecting consumption data using the supply systems already in place, and it's something I'm hoping to develop into a dashboard the hospitals can use to keep track of their antibiotic usage," Charlotte explained.
"This will allow them to track changes and monitor interventions put in place by the AMS committees.
"We also went on the medical ward rounds with the doctors, nurses and pharmacist to see their methods and to support the pharmacist in contributing to the multi-disciplinary team.
"We hope the project will help promote pharmacists within the multi-disciplinary team and support the development of the clinical pharmacy service, which is very much in its infancy in Malawi.
"Within the hospital, pharmacy is mainly dispensary and supply-based with limited specialist roles.
"The pharmacists have brilliant clinical knowledge and are very ambitious and inspirational in wanting to push their profession forward.
"We are just in the process of finalising the practical toolkit and the team in Malawi are starting the educational sessions in April. We are hoping to train 120 people across the two sites.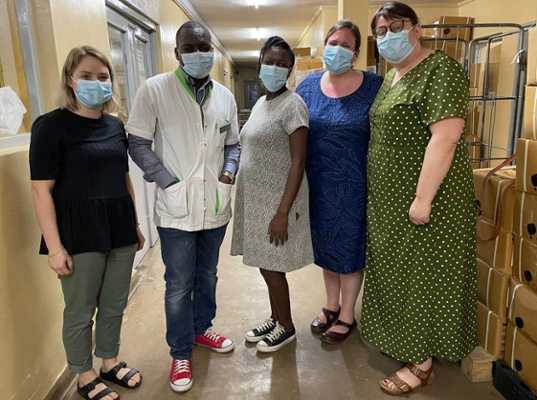 PICTURED: Charlotte Richards (left) pictured with Kamuzu Central Hospital pharmacists Hope Chadwala and Hanna Kumwenda along with Charlotte Makanga and Ceri Phillips.
"Even though it's an antibiotic stewardship grant, we hope the partnership will empower pharmacists in Malawi to be more involved in challenging inappropriate prescribing and educating prescribers in all clinical areas."
Hanna Kumwenda, who is a member of PHASOM and a pharmacist in Kamuzu Central Hospital, said the visit to Malawi has strengthened the partnership through rapport building with the hospital management, hospital AMS committees and pharmacy departments.
This, she believes, was necessary in ensuring the success of the project.
"Having a baseline picture of the hospital's structure and system and face-to-face experience and interaction by both partners has also allowed for the correct baseline information to be collected and right interventions to be put in place," she said.
"The trip also allowed the networking and collaborations with other projects and committees on AMS already put in place.
"AMR is a global, emerging challenge that needs a coordinated approach to contain it, hence the need to involve other projects and stakeholders already put in place.
"The visit of the partners in Malawi has also enabled both teams to explore and develop the necessary toolkit tailored to the local setting.
"Lead pharmacists for the projects were equipped with the necessary tools to carry out the necessary interventions and training for the project.
"Discussions of the way forward and progress of the project are very much more productive as they are coming from a place of know-how from both ends."
The visit didn't just prove a success for pharmacists in Malawi, with Charlotte also picking up pointers to use within her work in Swansea Bay health board.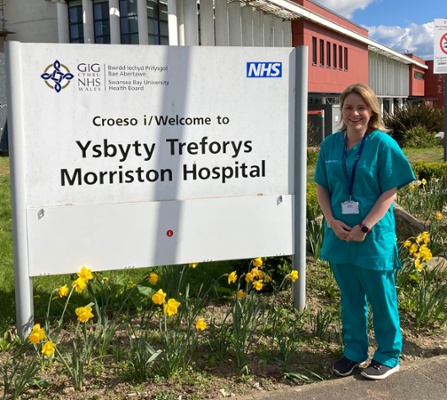 She added: "The trip was reciprocal in terms of learning. The way the pharmacy department manage the supply of some of their high-risk antibiotics like meropenem is controlled far tighter than here. We can certainly take guidance from them on that.
"The healthcare professionals are very resourceful and have to deal with issues we never have to think about in Wales. They are very adaptable because of this, and I hope I will learn from that via the partnership.
"There were so many different emotions from my trip to Malawi. It has given me a bigger appreciation of the NHS and what we have here, but it was also very inspiring."
The hope is that this partnership doesn't end here, as Charlotte explained: "We want to apply for further grants to extend the partnership, with the goal of bringing some of the pharmacists from Malawi to Wales.
"We hope that Wales can continue to support the developments we've made in Malawi."