Patients to help trial new bowel cancer test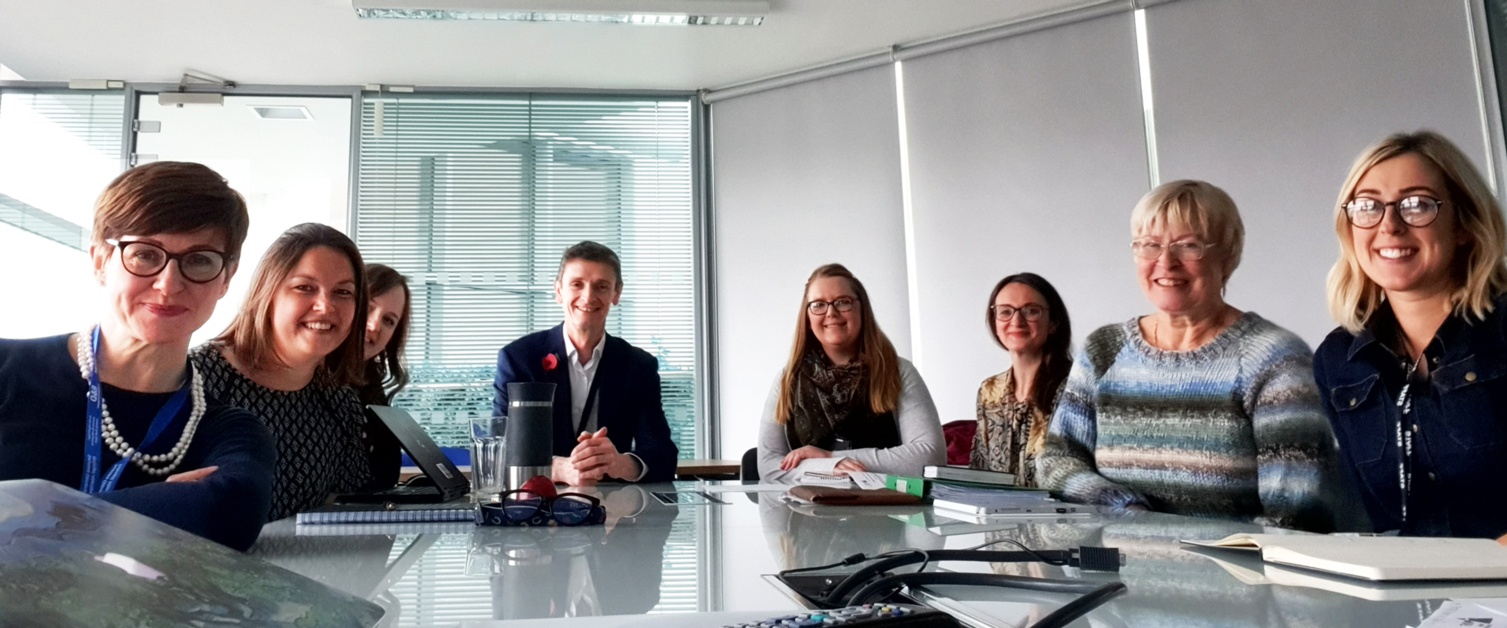 Hundreds of patients are being asked to help trial a test that could detect or rule out bowel cancer without the need for hospital investigations.
The test could one day mean that people showing possible bowel cancer symptoms would no longer require a colonoscopy – using a tiny camera to check their insides – or a CT scan.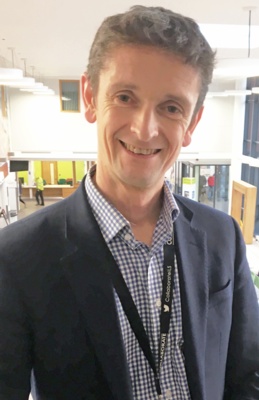 This latest study builds on award-winning research developed by experts at Swansea Bay University Health Board and Swansea University.
It will combine a new type of blood test created by the Swansea team with a test already widely available for bowel cancer screening.
And while the team may be based in Swansea, the study will involve around 800 patients from four South Wales health board areas and two regions in England.
Left: Professor Dean Harris. Main photo, above: The Swansea research team. See end of release for full caption.
Colorectal, or bowel, cancer is the third most common cancer worldwide, with 41,000 cases diagnosed in the UK every year.
Early diagnosis is hampered by the lack of "red flag" symptoms and patients often present either at a late stage of development or as an emergency, with reduced chances of survival.
The earlier Swansea project looked at how nanotechnology could be used to screen patients with a blood test, reducing the need for current diagnostic tests such as a colonoscopy or a CT colonogram.
It used a laser-based blood analysis procedure called Raman spectroscopy to create a "fingerprint" specific to bowel cancer.
An initial study involved 160 patients from the Swansea area, some of them known to have bowel cancer and some known not to have it. That was followed in 2017 by a trial involving around 600 patients.
Professor Dean Harris, Singleton Hospital consultant colorectal surgeon, is leading the research project.
He said: "We have just finished analysing the results of the second trial and it was very successful.
"We found very good accuracy levels from the blood test and a really good reliability in ruling out cancer. If it's ruled out then far fewer patients would need to be referred into hospital.
"They can be reassured by their GP that it isn't cancer, and their symptoms can be treated by the GP.
"If the test does come back positive then the patient can be fast-tracked to have an urgent colonoscopy test."
The next stage of this research combines the Raman test with the widely-available FIT (Faecal Immunochemical Test) screening test, for which patients have to submit a sample of their poo.
It is known as CRaFT (Combined Raman FIT trial).
Professor Harris said there was some uncertainty about how accurate FIT alone was in detecting cancer at an early stage.
"There is also uncertainty over whether patients will comply with doing the test because of the yuk factor of collecting their faeces.
"The combined test will not only look at accuracy but also GP attitudes towards the test combination and how willing they will be to use in future, and not just refer patients to hospital.
"That is what the current guidelines recommend because there isn't a good, accurate diagnostic apart from colonoscopy – yet only around three per cent of patients referred do have cancer."
Funding for CRaFT has come from Health and Care Research Wales and Cancer Research Wales.
Patients who go to their GP surgery with symptoms that may suggest colorectal cancer will continue to be referred for hospital investigation.
However, they will also be asked if they will participate in CRaFT, by providing blood and faecal samples for analysis.
Patients are being recruited from the Swansea Bay, Cwm Taf Morgannwg, Cardiff and Vale, and Aneurin Bevan health board areas.
They are also being enlisted in the Wessex and West of England clinical research networks covering Gloucester, Cheltenham, Bristol and Swindon.
Professor Harris said: "By comparing the test results with the final diagnosis, we hope to prove this new test is just as reliable.
"It would provide much faster results, be available in primary care and be much cheaper than current hospital tests.
"Hopefully in future we'll be able to get results back to GPs within 24-48 hours whereas now they're waiting four to five weeks.
"From our analysis of the previous study, we think about 42 per cent of colonoscopies could have been avoided. That is quite a saving, considering they cost around £400 each.
"We are going to do some health economic work to try to understand how that translates to the wider NHS."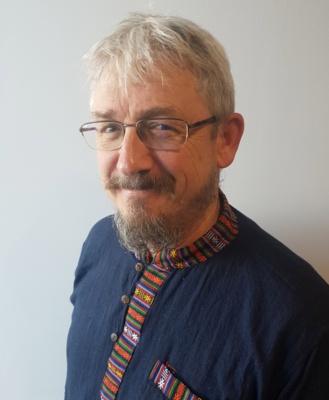 Swansea University Medical School's Swansea Trials Unit has been involved with the Raman spectroscopy project for the last four years.
Unit Director, Professor Greg Fegan (pictured right), said CRaFT represented the latest in a series of increasingly larger studies testing this technology.
"We very much hope we will shortly be able to do a very large-scale, UK-wide trial," said Professor Fegan.
"Such a trial could clearly demonstrate the potential for this test to fundamentally change the course of how we identify and more urgently treat this very treatable condition – while reducing anxiety amongst large numbers of patients visiting their GP.
"This approach also aims to provide clear insights into a number of the top 10 research priorities for early detection of cancer."
Main photograph shows (l-r): Anne-Claire Owen, Swansea Bay UHB research and development; Cerys Jenkins, Centre for Nanohealth, Swansea University; Kirsty Price, Swansea Bay UHB research and development; Professor Dean Harris; Jenna Walters and Non Gwynn, laboratory medicine, Swansea Bay UHB; Julie Hepburn, patient and public partner Keyleigh Nelson, study manager, Swansea Trials Unit.