Patients get crafty to help raise awareness of dementia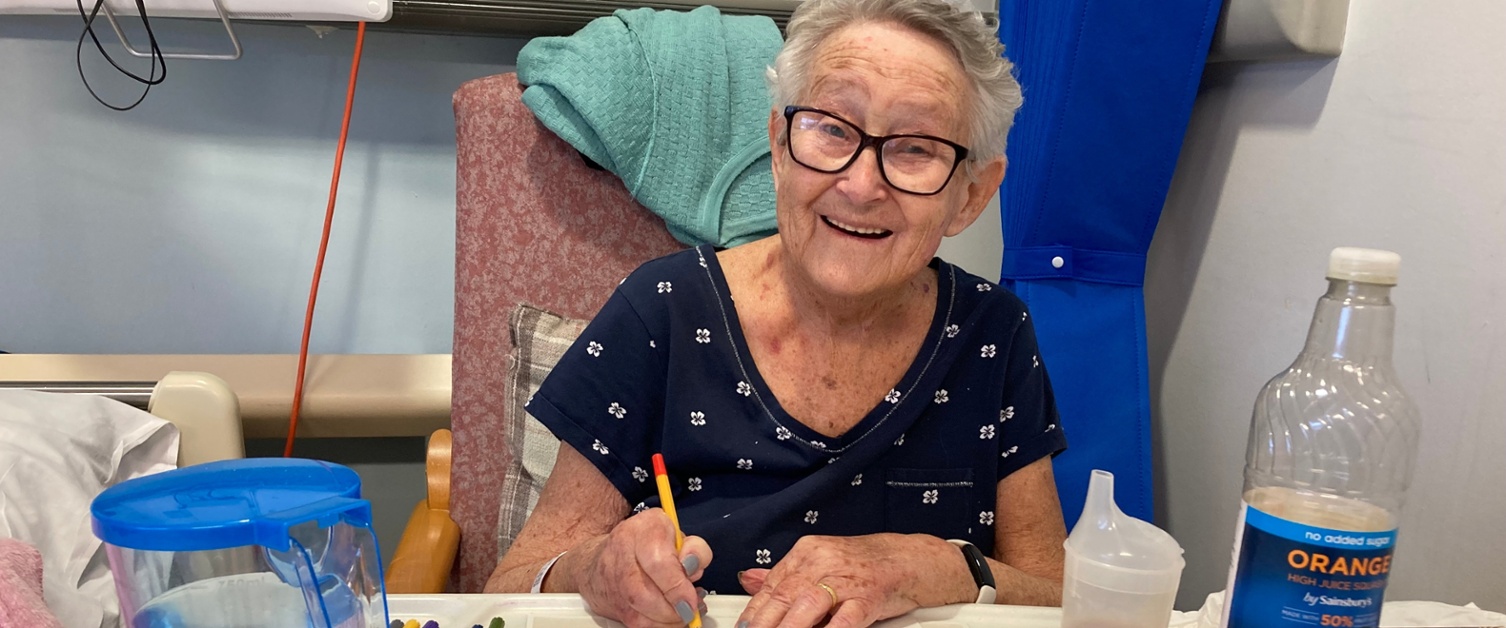 PICTURED: June Phillips is among the patients who have enjoyed taking part in the fun activities.
Patients have been getting crafty and showing their artistic side as part of an effort to raise awareness of dementia.
A range of activities have been set up on wards in Singleton and Neath Port Talbot, with patients getting involved in sensory sessions, making pom poms, signing and colouring forget me not flowers for a display.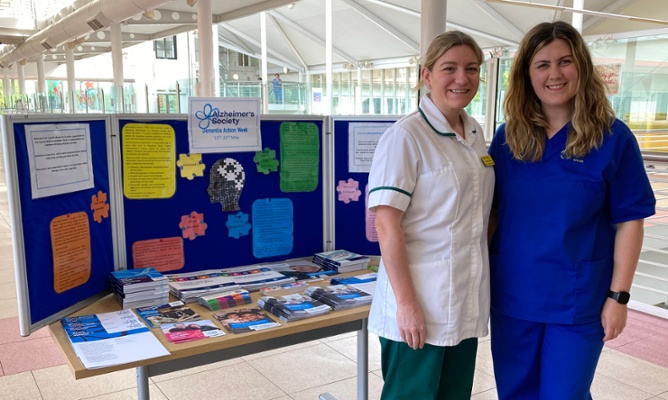 The activities have been organised by the memory impairment advice team to mark Dementia Awareness Week (May 15-21), with this year's theme being dementia diagnosis.
Joanna Clarke, occupational therapist within the memory impairment advice team, said: "For many people, getting a diagnosis can be daunting but we believe it's better to know.
PICTURED: Occupational therapist Joanna Clarke and mental health nurse for the memory impairment advice team Loren Evans.
"There are a few misconceptions regarding dementia. The biggest barrier stopping people seeking a diagnosis is thinking memory loss is a normal sign of ageing.
"Dementia can affect a wide range of people, not just the elderly as there are various types if dementia. So it's very much getting ill and not old.
"Getting diagnosed early means you can get practical advice from health care professionals and plan for the future with a sense of relief knowing your next steps.
"It also avoids the patient reaching crisis point."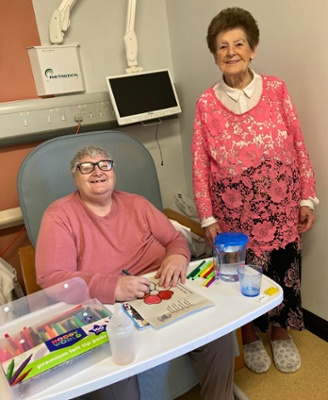 To further promote the importance of the awareness week, information stands are on display in both Neath Port Talbot and Singleton hospitals, which explain the different types of dementia – Alzheimer's, vascular, frontotemporal, Lewy body and Wernicke-Korsakoff syndrome.
While highlighting the importance of early diagnosis is the main target of the awareness week, patients have also benefited from the activities put on in their wards.
By studying their interests and experiences in life, the team has created a bespoke treatment plan which includes which activities they are selected for.
Loren Evans, mental health nurse for the memory impairment advice team, said: "We gather all of their social history and that helps us develop a care plan through meaningful activity to decrease agitation and develop distraction techniques.
PICTURED: Sheila Heard (left) and her mother Joyce.
"As I work with Joanna on this, it means the plan benefits from a mental health nurse and occupational therapy perspective.
"We have recorded an increase in the wellbeing of patients while levels of aggression have decreased on the wards. Morale has also improved among staff as they can take a look at the patient's care plan and enjoy getting them involved in the activities."
Sheila Heard is among the patients who have been enjoying the activities in Neath Port Talbot Hospital.
Her mum Julie said: "Sheila has really enjoyed colouring in the forget me nots. She will do them for hours.
"The team have been fantastic with her, and she's got a smile on her face when she's colouring in and completing jigsaws. It keeps her busy."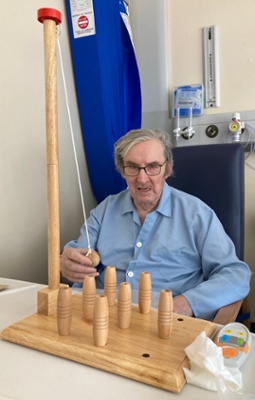 Merilyn Walters is another patient who is taking part in the activities.
She said: "I've got problems with my legs, so I can't really move around much, but it's important to keep the brain sharp.
"Completing crosswords and word searches are a good way to do that, and I've enjoyed doing them because it's constantly making you think."
PICTURED: Daniel Skidd enjoyed playing skittles.
For dementia patients, their strengths and abilities will vary depending on what stage of dementia they are at.
Activities can give them meaning and engagement, which has been proved by studying the outcomes of past events.
Joanna added: "We have done things such as a fun fair in the past, which includes games like hook a duck, ring toss and tin can alley – old-fashioned games which triggered memories for some and broke up the day for others to give them a different focus.
"Dementia can cause people to withdraw from activities and enjoyable interaction with family, so it is important to try and maintain those interests and relationships to support people living with dementia to lead a better and more enjoyable quality of life.
"Activities also gives them a sense of purpose and routine, along with maintaining their skills, independence and opportunity to make decisions."