Patients combine fun and fitness during Active August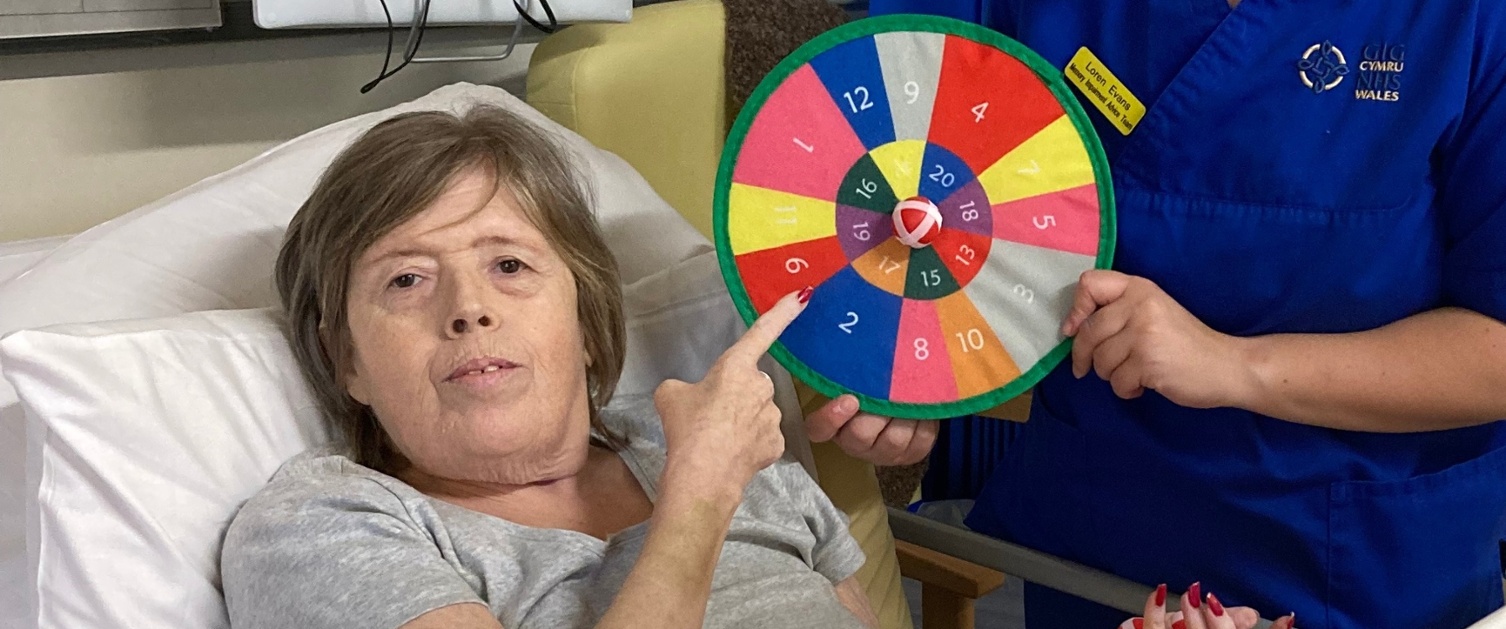 Patients have combined fun and fitness on their wards as part of a health board drive to promote the importance of physical activity.
Throwing velcro darts and playing with bean bags and skittles have proven to be important ways to support patients' overall wellbeing and bring smiles to their faces.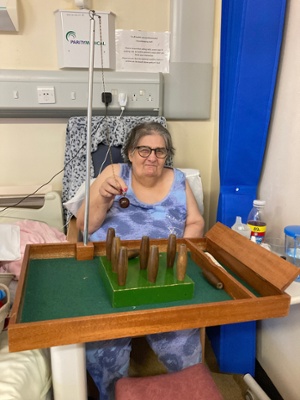 Swansea Bay's Active August campaign has encouraged patients and staff alike to embrace an active lifestyle and take small steps towards a healthier and more vibrant future.
Physical activity is crucial for maintaining health and well-being, and it becomes even more vital during a hospital stay.
PICTURED: Patient Beryl James enjoyed playing table skittles.
Research shows a patient's ability to carry out daily activities can decline rapidly, with inactivity potentially leading to deconditioning, leaving them at a higher risk of losing their independence and becoming more frail.
The effects of prolonged inactivity, such as staying in bed for extended periods, can be severe; patients become at higher risk of infection, cardiac issues, incontinence, falls, pressure damage, reduced mobility and malnutrition.
But whether in a hospital or at home, movement is the key to keeping muscles and minds strong and bodies resilient.
Patients in wards across Singleton and Neath Port Talbot hospitals have been doing just that.
They have been taking part in individual and group activities such as Velcro darts, four in a row, bean bag throwing and table skittles to keep active this August.
Hosted by the memory impairment advice team, patients with conditions such as dementia, cognitive impairments and low mood and anxiety were invited to take part if they were able to do so.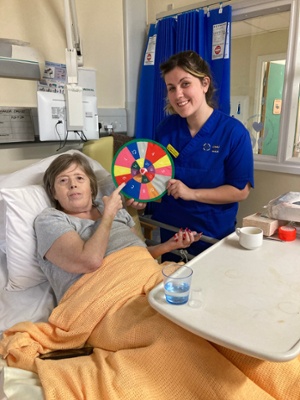 Amanda Davies was among the patients to get involved in the activities.
She said: "I've loved playing the different games that have been brought around to my ward.
PICTURED: Amanda Davies with Loren Evans, mental health nurse for the memory impairment advice team.
"I used to play darts so I was delighted to be able to do that again. It brought back some lovely memories.
"It's raised my mood and it's helped break up the day a bit, as sitting on a ward all day and night can be quite tiring.
"But the games have kept my body and mind busy."
Joanna Clarke, occupational therapist and Loren Evans, mental health nurse for the memory impairment advice team, set up the activities.
Joanna said: "With the health board promoting activity throughout this month for staff and patients, we felt this was a great opportunity to get involved in the initiative and help patients at the same time.
"Encouraging patients to remain active throughout their stay is vitally important, so we put on games that would suit those who aren't able to leave their bed as well as games for those who are mobile.
"It was a big success and the patients and staff had a lovely time playing the various games.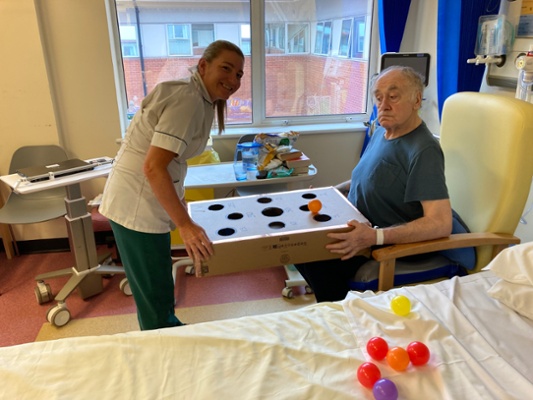 Loren added: "It was great to see patients getting involved in the activities we set up on the wards and in the hospital's atrium.
"There was a big physical benefit to that, but it also helped them mentally as well.
PICTURED: Occupational therapist Joanna Clarke and patient Keith Mason take part in the Active August activities.
"It changed their mindset and focus despite being in a hospital setting, and that can boost their mood and wellbeing.
"As staff, we loved interacting with the patients and seeing them enjoying the games.
"It also saw a number of different services working together to deliver this. Our memory impairment advice team were heavily assisted by all the physiotherapy teams in Neath Port Talbot Hospital, and the occupational therapy teams in Singleton and Neath Port Talbot supported. So it's been a combined effort."