Patient's boost for breast reconstruction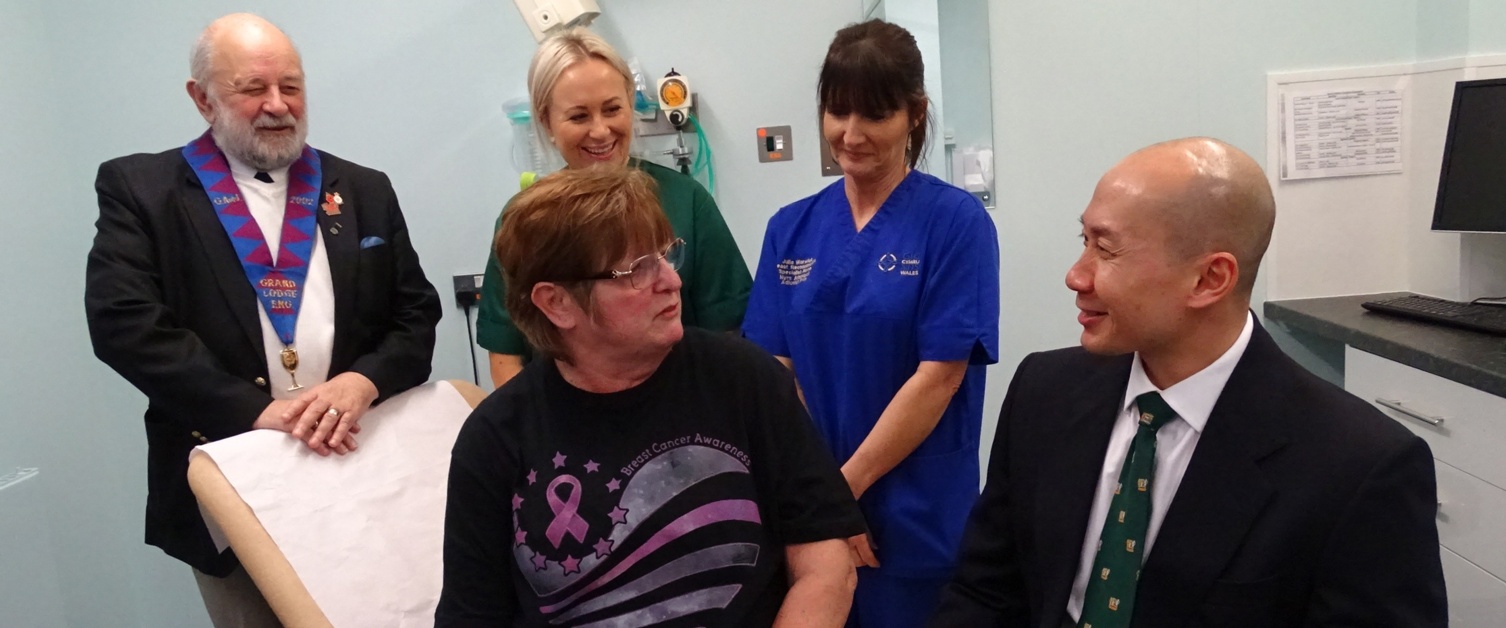 Main picture: Patient Jenny Young, 66, seated, with Mr Leong Hiew, a consultant in the Welsh Centre for Burns and Plastic Surgery. Standing, left to right – Colin Young, Health Care Support Worker Charlotte Barratt and Breast Reconstruction Nurse Specialist Julia Warwick
Jenny Young is on a mission to improve the lives of women who have had mastectomies.
A breast cancer sufferer herself, the 66-year-old opted for reconstruction surgery at Morriston Hospital in Swansea after losing her right breast.
And she's been so pleased with her treatment at the Welsh Centre for Burns and Plastic Surgery that she and her husband Colin presented staff with a cheque for £500.
The money was raised by the City of Cardiff lodge of the Royal Antediluvian Order of Buffaloes, of which Colin is a member. The Buffs, as they are known, support charitable organisations.
The money will go into the Breast Endowment Fund, which provides extra support for women following reconstruction.
Jenny has also volunteered to speak at future events for fellow patients who are at the start of their recovery journey.
"They have been fantastic here," said Jenny, from Machen near Caerphilly, who handed over the cheque with husband Colin.
"A lot of women my age think why bother (with reconstruction), but it's awful how defeminised you feel.
"I certainly feel more feminine now."
Surgeon Leong Hiew praised Jenny and Colin for highlighting and supporting the important work of reconstruction, which he believes can be regarded as an "after thought".
"Breast cancer charities get a lot of funds and that's great for supporting women through their cancer treatment, but once they have gone through that they can be left in limbo as there is very little support around the breast reconstruction journey," he said.
The unit's endowment fund helps clinicians by supporting their training and research, as well as patients.
It has already paid for Breast Reconstruction Nurse Specialist Julia Warwick to undertake a 3D nipple tattooing course, helping her provide even more realistic scar-covering work for women post reconstruction.
And it helps fund refreshments for events such as the BRA (Breast Reconstruction Awareness) evening, Moving Forward and Risk Reducing events that are pivotal for patients that are in the breast reconstruction pathway.
Monies can be used for breast reconstruction patients throughout the unit, which very much focuses on a team approach.
"The fund supports all of the extra work that helps to improve patient experience," said Julia.
"We do moving forward days for women after they have had mastectomies and also risk reducing events for ladies who carry a higher genetic risk of breast cancer."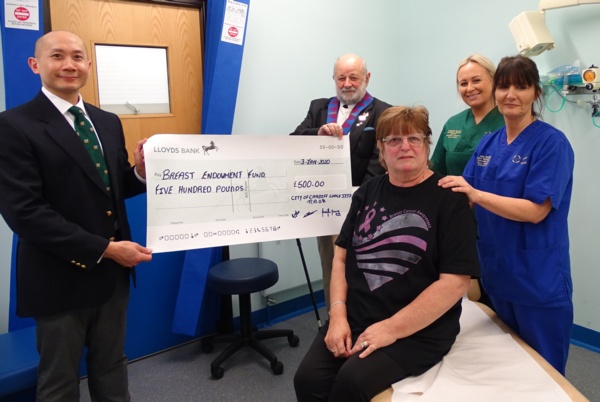 Left, surgeon Mr Leong Hiew, a consultant in the Welsh Centre for Burns and Plastic Surgery, receives a cheque from Colin Young for the Breast Endowment Fund. Patient Jenny Young is seated. Julia Warwick, Breast Reconstruction Nurse Specialist, and Health Care Support Worker Charlotte Barratt stand behind. Abby Bolter
Jenny had her breast reconstructed last summer by Mr Hiew, who took muscle, skin and fat from her back.
While her recovery has been slower than normal because she is a type one diabetic, she is thrilled she has been able to dump her prosthetic boob and wants to encourage other women to do the same.
"People don't realise how heavy that false boob can be. It weighs a kilo," she said.
"It was pulling on me and hurting my right shoulder.
"It's very important to talk about it because I don't think many people consider reconstruction.
"But going forward, if I was a little old woman in my 70s and 80s trying to strap a false boob on I would struggle."
The Breast Endowment Fund is one of the 285 funds which make up the Swansea Bay Health Charity, the official charity of Swansea Bay University Health Board.
The charity does not replace NHS funding but uses the generous donations received from patients, their families, staff and local communities to provide above and beyond what the NHS can provide.