Patient is back on his bike fundraising for cancer centre - all thanks to his dog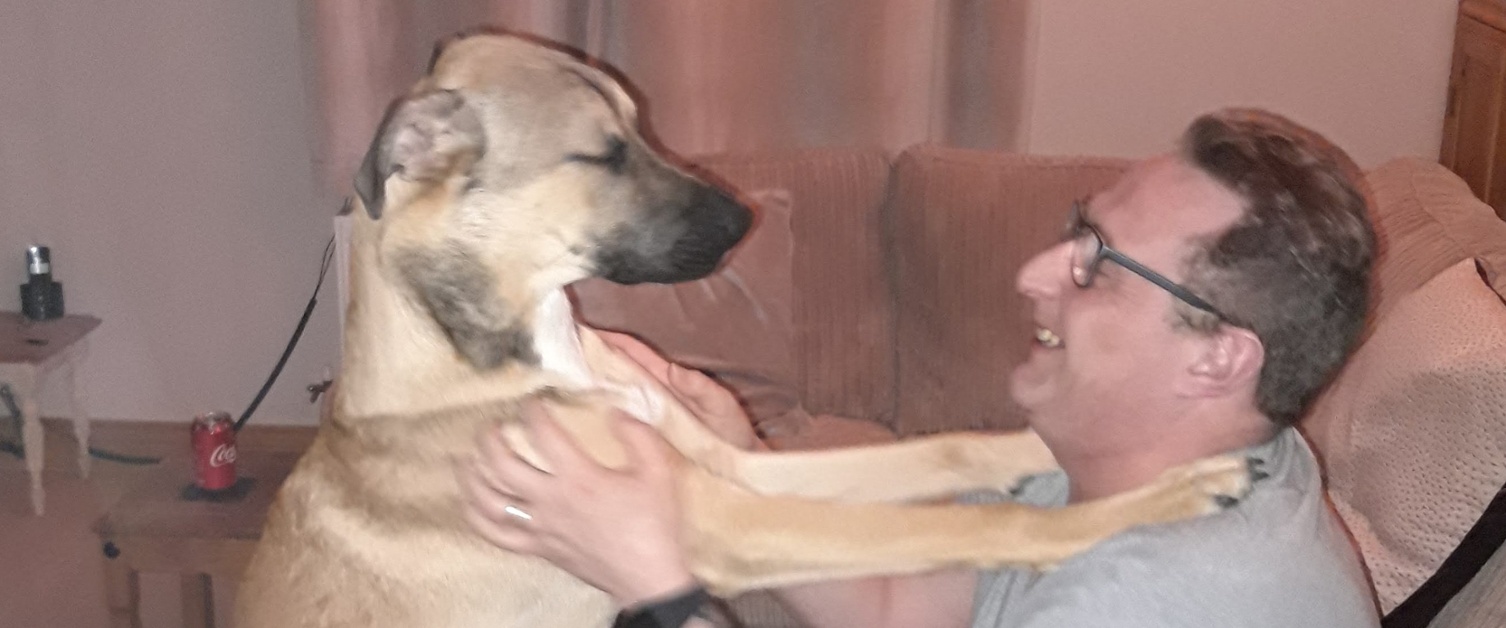 When his dog started sniffing around his mouth, little did Tom Sweeney realise the massive significance it would have on his life.
In December last year, a month after a bad cold and sore throat affected his voice, Tom's five-year-old lurcher bull mastiff cross, Dug, planted a seed that something wasn't quite right.
The dog kept sniffing and worrying at Tom's mouth for weeks on end, and Tom began to get worried that something might be wrong.
So he went to his local surgery and was urgently referred for a biopsy in Morriston's Ears, Nose and Throat department.
Tom, aged 55, from Blaengwynfi, said: "The biopsy results confirmed I had throat cancer.
PICTURED: Tom Sweeney and his dog Dug.
"A Consultant Otolaryngologist explained it was a smoking-related cancer. I had given up smoking five years ago, but as the cancer was caught early we were in a good position."
Tom added: "If it wasn't for Dug then I may not have gone on to make an appointment at that time.
"He was sniffing my mouth a lot over the course of two months – he does it with other family members too – but he just wouldn't stop with me. He must have known something wasn't right."
Within six weeks of visiting his GP, Tom was receiving radiotherapy treatment at the South West Wales Cancer Centre (SWWCC) in Singleton Hospital.
His treatment has now finished, although he still has check-ups every two months.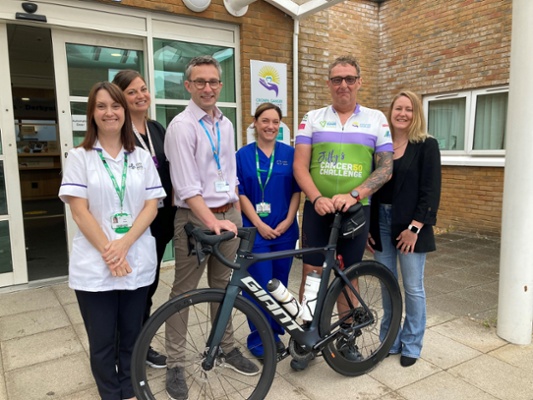 Tom is adamant the support and care he received from all staff involved in his treatment proved vital.
Now keen cyclist Tom is back on the saddle, preparing for a big charity to fundraise for the cancer centre.
PICTURED: Tom and his wife Sharon (far right) with Eva Glass, Macmillan Head and Neck Dietitian; Natalie Moore, Lead Head and Neck Radiographer; Russell Banner, Consultant Head and Neck Clinical Oncologist and SWWCC Clinical Lead; Llynos Webster, Macmillan Nutrition Clinical Nurse Specialist.
Tom said: "The staff at the South West Wales Cancer Centre are all angels – they are truly incredible humans.
"Nothing is too big or small. They go out of their way to help you with anything you need.
"They are always there for you with a smile on their face and you feel you are their only concern."
Tom is competing in the Jiffy's Cancer 50 Challenge on 20th August – a 50-mile charity cycle ride that raises money for cancer services at Velindre and Singleton hospitals.
Organised by former rugby union and league star Jonathan Davies – known as Jiffy – the event is now in its third year.
It is not the first time Tom will compete, having taken part last year.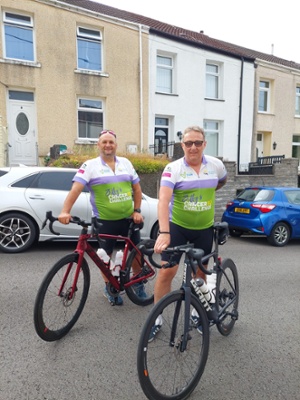 He explained: "I think everyone experiences someone they love having cancer, or they get it themselves. I lost my mum to throat cancer 23 years ago.
"Having experienced treatment at the South West Wales Cancer Centre, it is my mission to raise as much money as possible for this amazing centre.
PICTURED: Tom and his friend Ryan Smith, who he will be riding alongside again this year.
"I've been able to get back to the fitness levels I'd been at before my diagnosis, so I'm looking forward to the cycle challenge.
"I am still experiencing a couple of side effects linked to radiotherapy, but they will clear with time. I'll have appointments for the next five years before I hopefully get the all clear.
"Otherwise I am feeling very good and extremely thankful to the cancer centre - it is because of them I am able to do this ride again this year."
Tom is also indebted to the help and support of those around him.
Tom said: "I would not have been able to have got through this so positively without the support of my wife Sharon and mate Ryan Smith. They both played their roles in keeping me positive as well as the staff.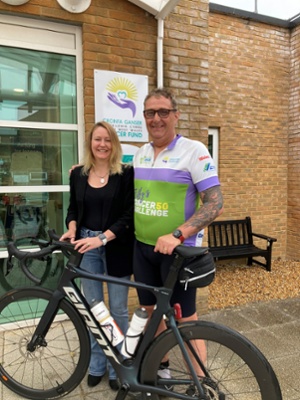 "My wife ensured I kept my weight up. She also recorded when I took pain relief, completed my mouthwash routines and applied the cream to my neck. "She was my guardian angel throughout.
"Ryan was there when I needed him but didn't realise that I did. He kept my spirits up.
PICTURED: Tom and his wife Sharon at the South West Wales Cancer Centre in Singleton Hospital.
"I've been lucky my employers Renishaw have given me a lot of support during my treatment too.
"It was so important to have this level of support around me.
"Now it's time that I gave back by raising as much money as possible for the SWWCC."
Want to challenge yourself? Why not sign up and join in on the fun! Visit: https://cancer50challenge.co.uk/ to sign up now!
You can donate to Jiffy's Cancer 50 Challenge 2023 JustGiving Page by clicking on this link.
For the first time, three distances will be available at this year's event to cater for cyclists of all ages and abilities.
The 50-mile route starts from The Cardiff City Stadium and finishes in Bracelet Bay restaurant The Lighthouse, but two other distances have been added.
A 32-mile ride will begin in The Star Inn in Wick, which takes out the main climb of the longer event.
A 10-mile course will start at Port Talbot cafe Remo's and head along the National Cycle Network. This route is aimed at younger family members who want to join relatives who may have started the longer distances.
All courses will look lead to a "mass finish" from The Secret – opposite St Helen's rugby ground – into Mumbles and on to Bracelet Bay.
---

Swansea Bay Health Charity
Are you interested in raising money to support NHS services in Swansea and Neath Port Talbot? Did you know that Swansea Bay University Health Board has its own fundraising charity?
Swansea Bay Health Charity supports patients, staff and services within Swansea Bay University Health Board. Visit its webpage here to find out more.