Paper drug charts binned in Neath Port Talbot and Singleton hospitals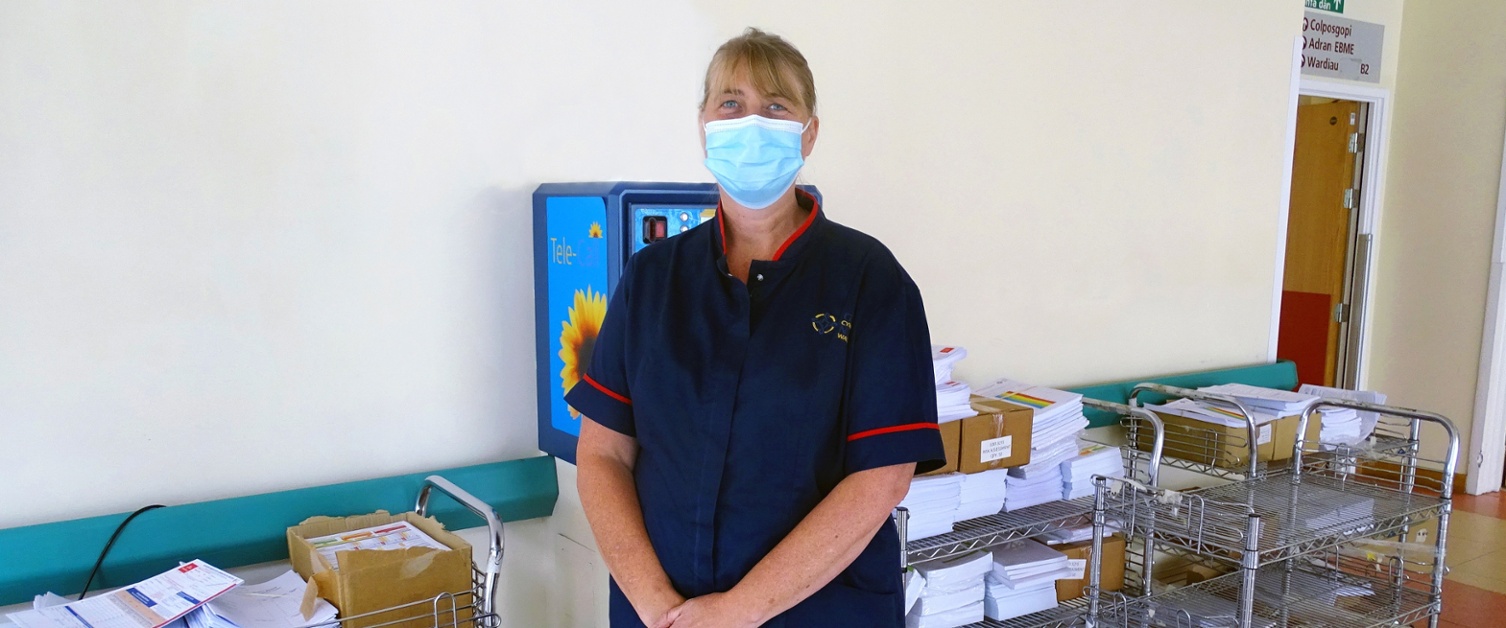 Digital technology is transforming the way medicines are prescribed and given to hospital patients – making it safer for them and freeing up nurses to provide more bedside care.
Above: Sharron Price, Head of Nursing for Adult Services at Neath Port Talbot and Singleton hospitals, with some of the paperwork that no longer needs to be filled in
Swansea Bay University Health Board is leading the way in Wales, with paper drug charts now almost entirely eradicated in 15 medical wards across Neath Port Talbot and Singleton hospitals.
These have been replaced with HEPMA, or Hospital e-Prescribing and Medicines Administration, which automates the entire process.
Gone are delays caused by illegible handwriting or by lost or damaged paper charts.
Doctors and other prescribers now complete the prescription digitally, with nurses using computers to see at a glance full details of the medication, dose, frequency and length of use.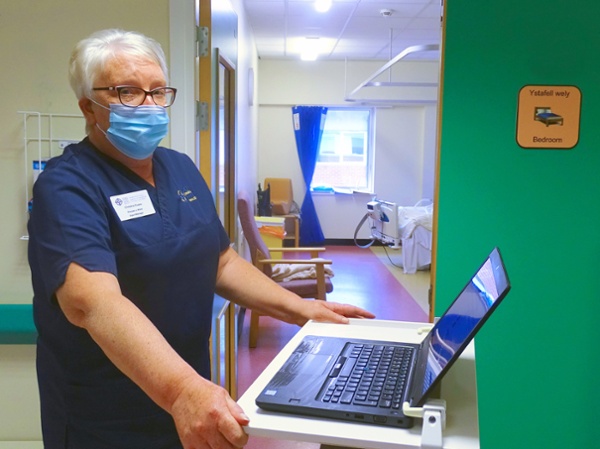 The new system automatically flags up if the patient is allergic to a new drug being prescribed, or if the drug is not suitable for use with other medication they are already taking.
Left: Christine Evans, manager of Neath Port Talbot Hospital's Ward C. It's one of four medical wards there to benefit from HEPMA
Between February and May this year, it reduced the time nurses spent on medication rounds in the four Neath Port Talbot wards by 125 hours.
In 2017, Abertawe Bro Morgannwg University Health Board – the predecessor to Swansea Bay – took its proposal for HEPMA to the Welsh Government, which then approved it as national pathfinder for Wales.
Since then the health board has been working with the system supplier, WellSky, and NHS Wales Informatics Service (now Digital Health and Care Wales) to ensure the solution is integrated with other key national solutions, such as the Welsh Clinical Portal.
The health board has also engaged with other Welsh health boards and trusts to share the learning from Swansea Bay.
Years of planning reached fruition on 11th February 2020 when HEPMA was introduced for the first time in Wales, on the neuro-rehabilitation ward at Neath Port Talbot.
Following a successful pilot, plans were in hand to switch to HEPMA on four medical wards, with Singleton due to follow in June and July 2020.
Then the pandemic struck and those plans were put on hold.
Sharron Price, Head of Nursing for Adult Services at Neath Port Talbot and Singleton hospitals, remembers vividly what nurses went through during that very difficult time – and says HEPMA has made a huge difference.
"The experience of the nurses doing medication rounds during the pandemic was extremely worrying," she said.
"They were in full PPE and they were really anxious. There was this new virus and we didn't know what we were dealing with.
"We were trying to protect ourselves and our colleagues and our patients."
Paper drug charts were traditionally left by the patient's bed. However, to reduce the footfall into medical areas with Covid-positive patients, the charts were instead left outside the rooms.
A nurse outside the room would hold the chart up to the window and the nurse inside, administering medication, would read it.
With staff fully stretched dealing with so many sick patients, using the drug chart in this way only added to already high levels of stress.
"We asked the Swansea Bay digital team if they could help us when we came to the end of the first wave," Sharon said.
"They agreed straight away and within three weeks we started to implement HEPMA in the medical wards."
Extra training and precautions were taken during this time to protect the digital team working on the expansion.
Sharron praised the team's response as immense, and said the new system had brought significant benefits.
"It transformed the pandemic response. We're now able to have nurses in PPE administering to patients with Covid without the need to hold up paper charts.
"You just go in with the computer, and you can clean that down immediately afterwards.
"Just being able to do that has had a profound impact on the nursing team's ability to deliver safe care. Stress levels have reduced.
"Also, previously you couldn't always get the medication charts. A lot of nurses' time was spent looking for them.
"Now the charts are always where you need them. You can see what patients need medication, and when.
"Potential errors have reduced significantly and we are releasing nurses to provide bedside care because of the time saved."
Swansea Bay has a dedicated Digital HEPMA team, which works closely with the nursing, medical and pharmacy teams.
It has been a huge organisation-wide effort to implement and maintain the new system, but the hard work has already brought numerous benefits.
When someone arrives in the hospital, the ward pharmacist checks their patient record to see what medication they are already on, and whether they have any known allergies.
The doctor then writes a prescription to ensure they continue receiving not just that medication but any additional drugs for whatever condition required their hospital admission.
Doing that by hand was time-consuming and mistakes could be made.
Now, as the patient's paper records are now accessible digitally on HEPMA, the pharmacist can look up their medical history immediately.
Some 330 drugs have been configured within the system for specific conditions such as pneumonia, to give just one example.
So when the hospital clinician writes up the prescription, they not only access the appropriate drugs, the computer displays the recommended dose, how many times a day it should be given and for how many days.
If a patient is allergic to that specific drug, or it should not be taken with other medication they are on, this is also displayed. Previously, doctors and other prescribers would have had to check all this manually.
When nurses administer the medication, that is also recorded on the system, avoiding the risk of doses being missed.
Pharmacists too have the opportunity to discuss any medication queries with the prescriber before it is dispensed. HEPMA is also used to monitor medicine usage and stock levels on the ward.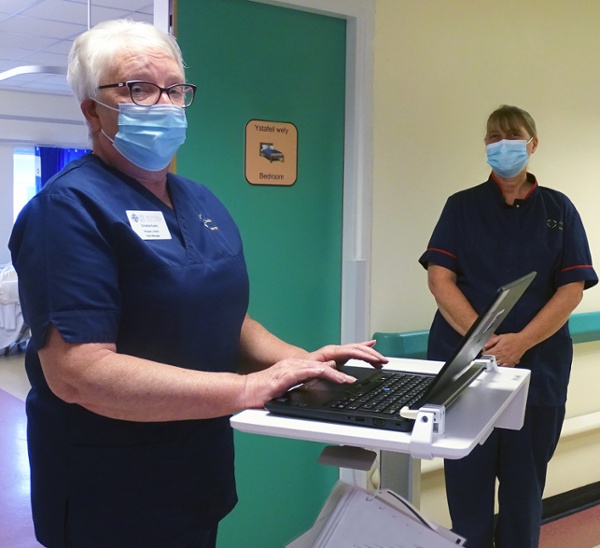 Another benefit is that details of the patient's medication, including any new drugs given during their hospital stay, are automatically added to the discharge letter sent to their GP when they leave.
Pre-HEPMA this had to be compiled by a pharmacy technician.
Feedback from staff in the medical wards at Neath Port Talbot and Singleton - where HEPMA went live this March - has been extremely positive. One junior doctor said it had become second nature in less than a day.
There are financial benefits too, as the health board's spending on drugs and stationery is expected to reduce.
Once additional funds are available the health board will extend HEPMA into Morriston and Gorseinon hospitals
In the longer term it will become commonplace in hospitals and other clinical areas across Wales.
Matt John, Swansea Bay's Director of Digital, said: "It is an amazing example of the difference digital working can make.
"It isn't just replicating the paper process, there are so many safety checks too.
"I would like to thank health board colleagues, WellSky and Digital Health and Care Wales for their commitment and desire to make this a success, and the Welsh Government for its support.
"This has been an intense piece of work for a number of years and a great collaboration nationally.
"We have already achieved so much and we still have a lot more we can do."