Nurse recognised after developing one stop clinic for potential cancer patients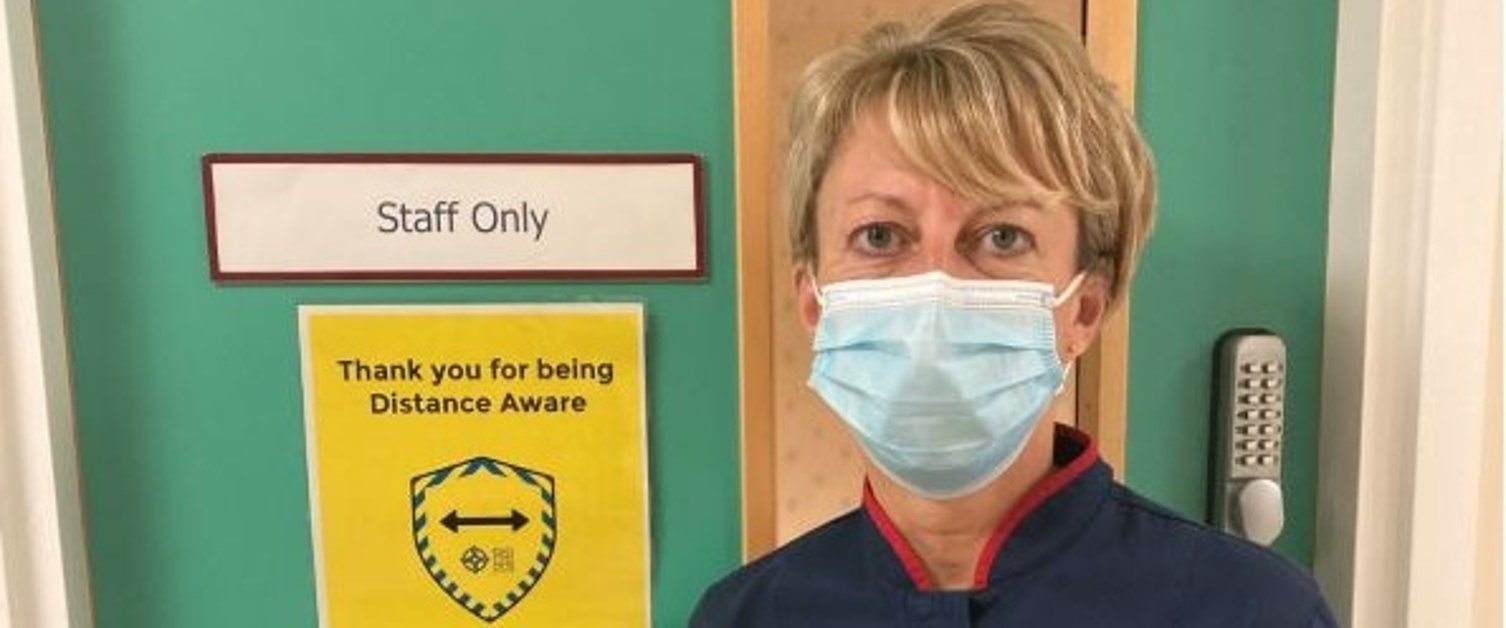 A specialist nurse has been recognised for helping women receive a quicker diagnosis and short-term treatment for cancer until surgery can be performed.
Paula Bidder, an advanced nurse hysteroscopist based at Neath Port Talbot Hospital, leads the post-menopausal bleed (PMB) service.
This helps reduce the number of clinic appointments and visits for patients with potential endometrial cancer, which affects the womb.
The one-stop clinic service provides women with an ultrasound scan and a consultation before they either undergo a hysteroscopy, a procedure used to examine the inside of the womb, or are discharged on the same day.
Post-menopausal bleeding makes up five per cent of referrals to the gynaecology clinic, with the purpose of the PMB service to rule out endometrial cancer in patients.
The previous process involved patients having to make several visits for an ultrasound scan, followed by a consultation and a biopsy from the lining of the womb, before potentially having to return at a later date to undergo a hysteroscopy under general anaesthetic.
Paula, who previously worked as a junior ward sister in gynaecology, said: "I set up the original PMB clinic with a colleague in Singleton Hospital in 2007.
"Four years later, the clinic was moved to Neath Port Talbot Hospital to centralise the service.
"Since 2018, with the help of the gynae-oncology team, the clinic has taken a one stop approach where an ultrasound scan, consultation, hysteroscopy and biopsies are carried out in the one appointment.
"It means patients can be made aware in their appointment of a potential diagnosis of endometrial cancer and further investigations are arranged.
"Patients with a confirmed diagnosis of endometrial cancer are reviewed within a week by the gynae-oncology team with clinical nurse specialist support. Those whose hysteroscopies appear normal can be given reassurance.
"As the clinic is nurse-led it also frees up consulting clinics so other urgent suspected cancer patients can be seen by colleagues."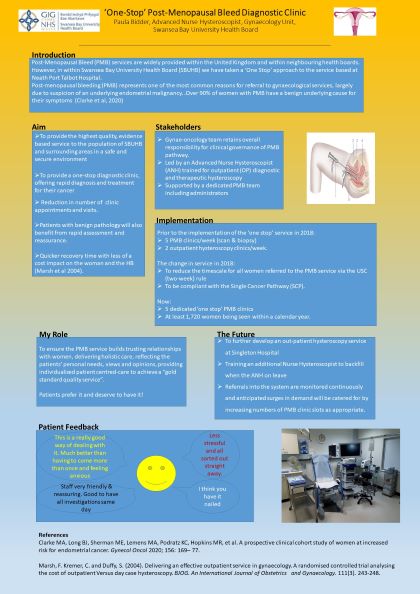 While the PMB service continued without any delay during the pandemic, its standard procedure was adapted in a way that benefited patients with endometrial cancer who were referred for surgery.
Pictured: One of the posters Paula created
Paula, who is one of only four advanced nurse hysteroscopists in Wales after qualifying in 2015, added: "Due to the pandemic there was a delay in women with endometrial cancer having surgery.
"Together with the gynae-oncology team we opted to insert a Mirena Intra Uterine System (IUS), which works against the endometrial cancer by releasing progestogen, a hormone that stops the lining of the womb thickening.
"It allows us to safely mitigate the delay in surgery for the women that have either been diagnosed with endometrial cancer or endometrial hyperplasia, which are changes that can lead to a cancer."
Paula added: "Between March 1st and November 27th 2020, I carried out a small audit, identifying the women who I had performed a hysteroscopy on and whose endometrium appeared suspicious for a cancer.
"During this time 34 endometrial cancers were identified and 24 women had a Mirena IUS inserted."
Paula created two posters to highlight the services available at the clinic.
As a result she has been recognised at the Swansea Bay University Health Board's Quality Improvement Awards, as well as at the Advanced Nurse Practitioner (ANP) Conference, where her work was put on display.
She added: "I was very surprised to have won the award but also very proud because I am very passionate about my work.
"I work with a dynamic team that is passionate about women's health and embraces innovative ways of working.
"We deliver evidence based individualised holistic care and we reflect each woman's personal needs, views and opinions.
"I feel we have a gold star service and I feel the patients deserve to have that.
"Feedback from a patient satisfaction survey highlighted they prefer coming to a one stop service as there is reduced stress and worry."
Paula said many women found the service more convenient as they did not have to take extra time off work or ask a relative to take them to appointments.
Those who potentially had endometrial cancer were also grateful they were made aware on the same day as their appointment.
Sharron Price, Head of Nursing for Adult Services, added: "I am delighted to see the excellent work Paula has implemented be recognised at the ANP Conference.
"Not only to share the value and benefits the one stop clinics make to the patients who need to access it, but also to showcase and celebrate the contribution Paula has made to nursing and as a role model for advance practice as an advanced nurse hysteroscopist."