Nurse and team in line for national recognition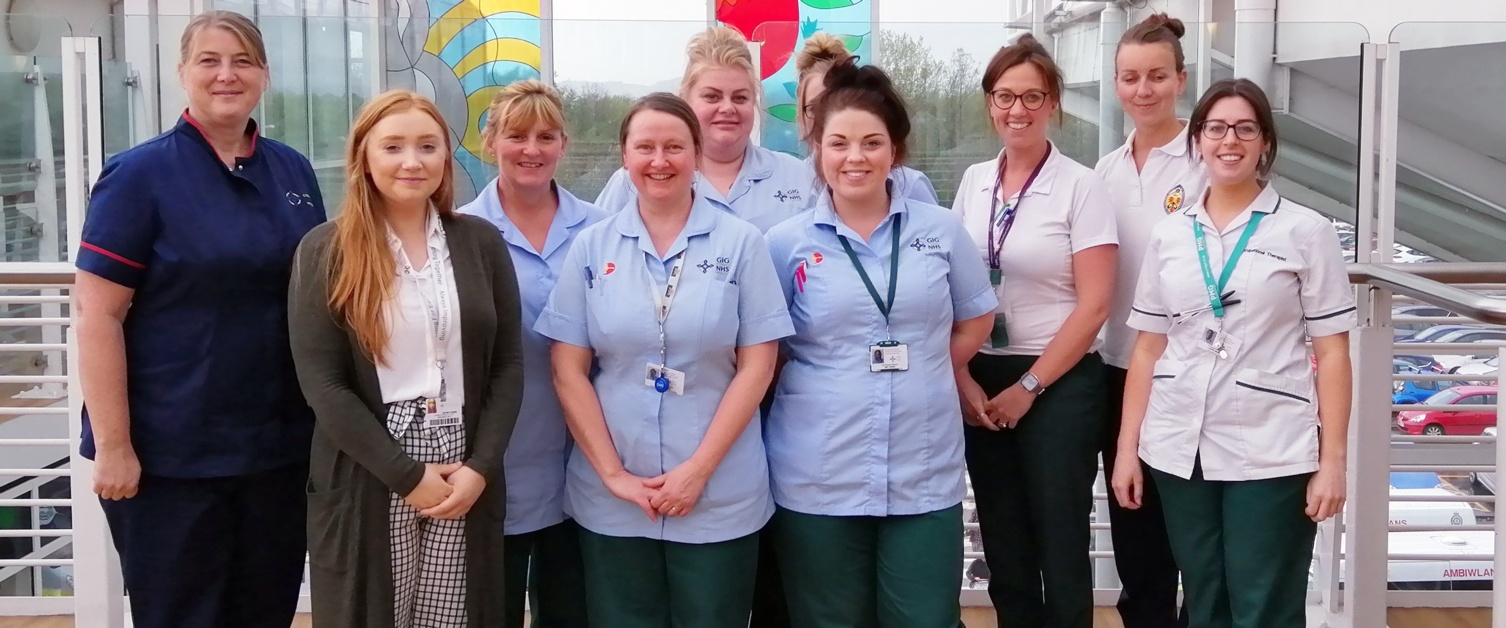 A nurse and a specialist team at Neath Port Talbot Hospital have both been shortlisted in this year's RCNi Nurse Awards.
Macmillan clinical nurse specialist Catherine Lloyd-Bennett, based in the Rapid Diagnosis Centre, is in the running for the Cancer Nursing Award.
Meanwhile, the Early Supported Discharge for the Frail Older Person team is up for the Team of the Year Award.
Main pic above shows Senior Matron Sharron Price with Early Supported Discharge team members Sophie Thomas, Vanessa Morgan, Susan Jones, Samantha Alozie, Cerys Thomas, Amy Jones, Eleri D'Arcy, Sheree Breckon and Laura Moreton
The Rapid Diagnosis Centre sees people with vague symptoms – but whose GPs think might have cancer – within five days.
Catherine Lloyd-Bennett leads and develops the service, liaising with GPs throughout the health board area.
She is the patients' main worker before and during their episode of care, supporting those with a significant diagnosis until they are transferred to the appropriate specialty.
In its first 20 months, the centre accepted 501 referrals. Of these, 11 per cent had a cancer diagnosis and 40 per cent a non-cancer diagnosis, with 92 per cent diagnosed on clinic day. Patient feedback has been positive.
Catherine said: "I have a specialist interest in improving the cancer diagnostic pathway for patients and their families.
"As soon as I heard about the RDC pilot and the Macmillan CNS secondment opportunity, I knew that this was an area I wanted to be part of.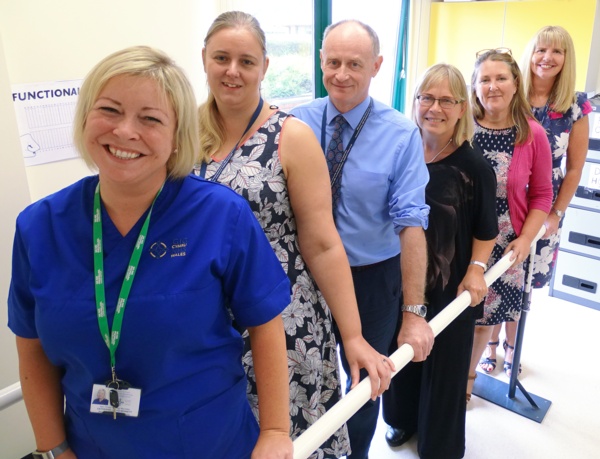 Catherine (front) with her colleagues in the Rapid Diagnosis Centre: Helen Gray, RDC Coordination Manager; Dr Martin Bevan, Consultant Rheumatologist; Dr Derrian Markham, Consultant Radiologist; Dr Heather Wilkes, GP Clinical Lead; Kim Beddow, Senior Service Manager.
"It is a flagship role and I wanted to use my 18-month secondment to improve communication and support for patients, develop robust referral pathways and engage with primary care.
"For the RDC's work to be recognised with this nomination is a huge honour. This is an exciting opportunity to promote our work and share best practice."
The Early Supported Discharge for the Frail Older Person service sees nursing and therapy colleagues working together to reduce prolonged and unnecessary hospital stays.
This in turn reduces the risk of functional and psychosocial decline associated with such stays.
Health care support workers were given additional training to implement rehabilitation care plans agreed by the therapists.
The team sets realistic rehabilitative goals, including mobility, activities of daily living, psychosocial factors, cognition, continence, relationships, pain, and returning to work or driving.
Patients' families and carers are asked for their input, ensuring that their needs are considered.
In the first three months of the initiative, 48 patients were discharged within 24 hours following completion of rehabilitation.
The team saved 546 hospital bed days, and a satisfaction questionnaire provided very positive feedback.
Senior Matron Sharron Price said: "There was excellent inter-professional collaboration to enable patients to return home as quickly as possible.
"They received their short-term rehabilitation at home with the same intensity and expertise they would receive in hospital.
"I am extremely proud of the dedication and passion the team has shown."
The winners will be announced during the awards ceremony at London's Park Plaza Westminster Bridge on Wednesday 3rd July.