Nostalgic items bring back cherished memories for dementia patients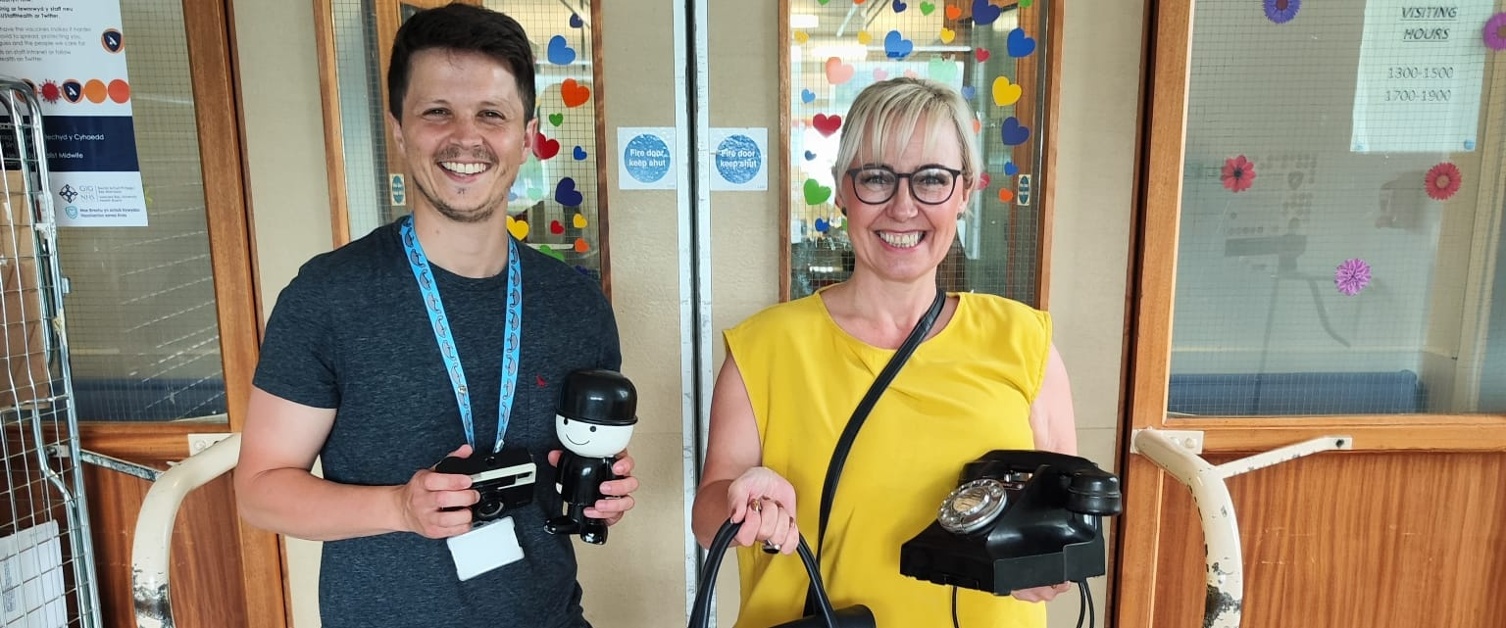 PICTURED: Gareth Rees and Sharon Ford from Amgueddfa Cymru – Museum Wales with some of the nostalgic items.
A call has gone out for donations of everyday items from the past to help patients with dementia recall happy memories.
It follows a special 'reminiscence day' when iconic objects from rotary telephones to Green Shield stamps brought smiles to the faces of older patients in Singleton and Neath Port Talbot hospitals.
The sessions were set up for patients to see and discuss a range of old items to generate memories from their younger years.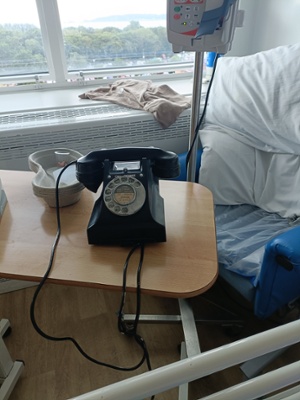 The reminiscence therapy proved hugely popular, with items including rotary telephones, old coins, Green Shield stamps, fashion from the 1960s, a Homepride flour shaker, radios and newspapers.
It was the rotary telephone (pictured) that proved the most popular.
Loren Evans, practice development nurse within the memory impairment advice team, said: "The reminiscence day was really successful. It was heart-warming to see how happy the patients were when they looked at items which they haven't seen for many, many years.
"The rotary telephone, in particular, was one item which sparked a lot of memories among our patients. One patient picked up the phone and instantly dialled the number of his sister – it clearly ignited something in his memory. The joy on his face was priceless.
"That's what the sessions were about, and we were really happy with the response we had from patients."
The pieces on show were provided by Amgueddfa Cymru – Museum Wales, a family of seven national museums who are hosting Museums Inspiring Memories. This is a partnership project between Amgueddfa Cymru and Alzheimer's Society Cymru which looks at how their museums, collections and resources can be used to benefit people affected by dementia.
Gareth Rees, Dementia Voice Lead at Amgueddfa Cymru – Museum Wales, said: "Whilst we've done this at countless groups and care settings over the past year, this was the first time we'd held one in a health setting, which was really useful in informing the development of our work.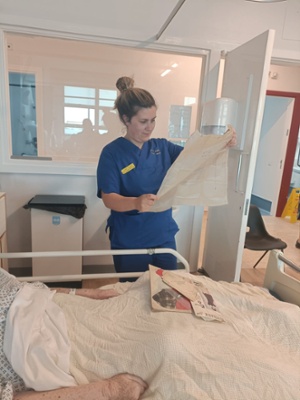 "We had some really wonderful conversations with patients. Whether it was about their experiences of the specific item or if the item provoked a completely separate memory, the conversations we had were extremely positive.
"During our visit patients were visibly lifted by the activity, which was lovely see and was a vivid demonstration of the role that heritage and culture can play in everyday care."
PICTURED: Loren Evans, practice development nurse, reading an old newspaper.
The sessions have proved so successful that the memory impairment advice team is now looking for help from the public in providing more events.
Joanna Clarke, occupational therapist within the memory impairment advice team, said: "The patients engaged very well with the items, which showed us how successful the sessions proved.
"They talked with Gareth and his colleagues in depth about the items and also their memories. One patient in particular was engaged so much that it made a difference in their mood and was more engaging with other patients in conversation.
"That showed us that we need to do this more often, but we need help from the public to make that happen.
"We'd love to receive donations of items from the 1930s to the 1990s to help us stage more sessions in Singleton and Neath Port Talbot hospitals. Whether that's fashion items, magazines, coins, ornaments or wartime memorabilia – all of these items unlock priceless memories for our dementia patients."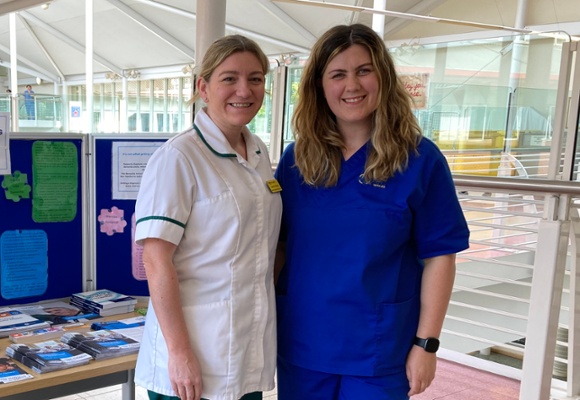 If you have any nostalgic items which you'd like to donate, please deliver them to:
The Occupational Therapy department at Neath Port Talbot Hospital. This can be found in the therapy corridor of the hospital, which is just past the lift on the ground floor.
The Occupational Therapy department at Singleton Hospital, which is based on your first left after the volunteers' desk next to the main entrance.
PICTURED: Memory impairment service's Joanna Clarke, occupational therapist, and Loren Evans.