NHS praise for Armed Forces' Covid help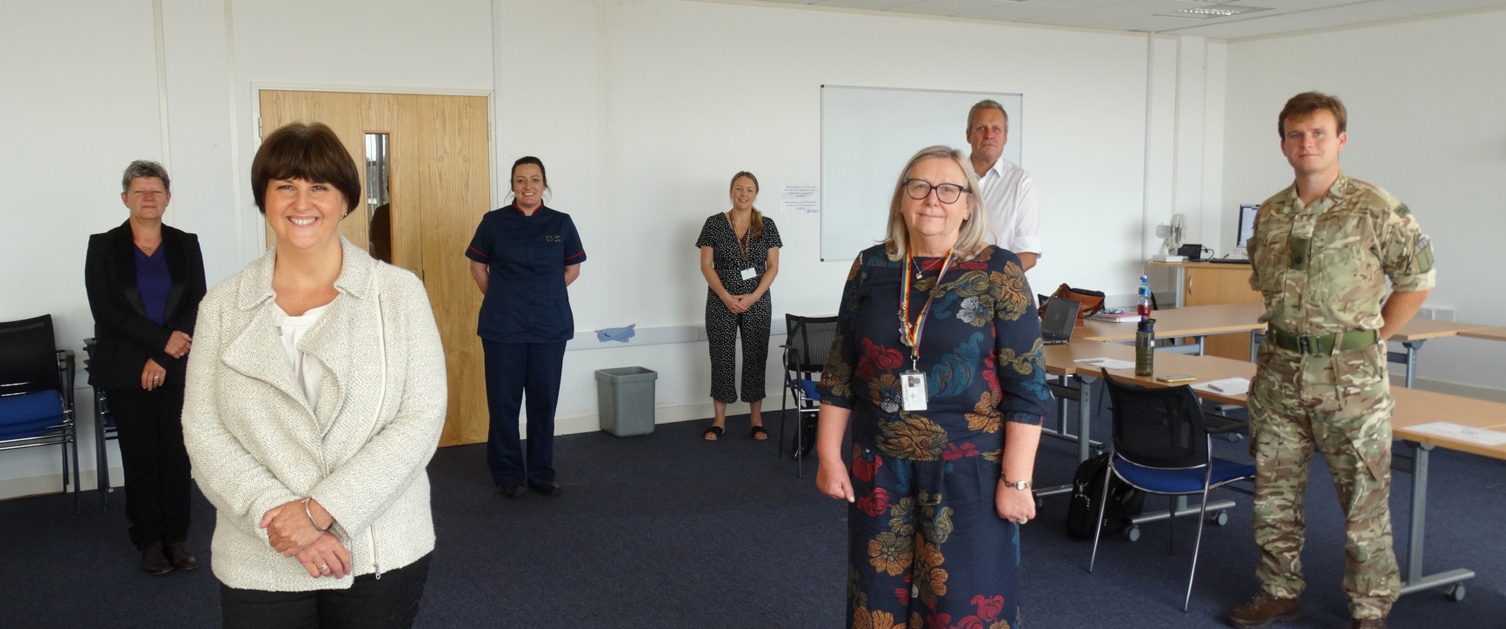 Main image: The Armed Forces Forum including (far left) Chief Executive Tracy Myhill, Chair Jackie Davies (front left), Armed Forces Executive Lead for Swansea Bay UHB Christine Morrell (third from right) and Major John Middleton of the Royal Marines (far right).
Millions of pieces of personal protective equipment (PPE) delivered to frontline NHS staff, 25,000 antigen tests administered to the public, more than 100 care homes visited, four ambulance decontamination units established and two field hospitals built.
Just some of the work in which Armed Forces personnel drafted in to support Swansea Bay NHS during the Covid-19 pandemic have played a crucial role.
But at a special event to celebrate the historic collaboration, it was stressed that despite the haste of their deployment, they very quickly became part of one team.
"To be able to work with the military during this journey has been absolutely fantastic," health board Chief Executive Tracy Myhill told a meeting of Swansea Bay Armed Forces Forum.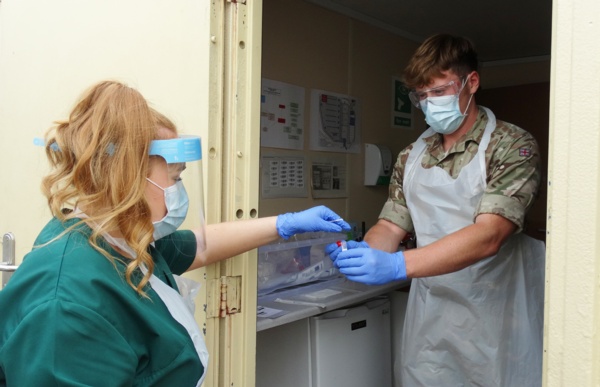 LCpl Frazer Hughes assists with the testing procedure
Credit: SBUHB
"Their can-do attitude is absolutely amazing and can do at pace and can do with focus which, as a health board, we really need to learn from and keep in our practice.
"We needed to cut to the chase and make decisions and that's where the positive role of the military came in."
Tracy, who is also Honorary Colonel of 203 Welsh Field Hospital, said that, presented with the enormous challenge of doubling bed bays and tripling critical care capacity at the start of the crisis, there was a danger the health board could become overwhelmed.
But the military's planning, logistical and decision-making skills were embraced by NHS colleagues.
This enabled Swansea Bay to set up the field hospitals in weeks, provide what is thought to be the highest level of antigen testing in Wales, cope with cases while maintaining patient flow and keep core services running.
"They gave us vital support which enabled our staff to concentrate on patients and use our skills where only we can," said Tracy.
"I genuinely, honestly believe we are richer as an organisation in having had the benefits of military input over those months they have worked with us.
"I want to thank every single member of the Armed Forces who has worked with us during this time.
"It's never ever felt like the military and the health service, it's felt like a team working together for the same aim and that's been fantastic to watch."
The Armed Forces Forum is a partnership group that includes the health board, primary care, local authorities, voluntary organisations in Swansea and Neath Port Talbot and serving members of the Armed Forces.
It meets regularly to discuss the needs and health care of veterans and the Armed Forces community and ensure these needs are designed into local NHS services as much as possible.
Under Operation Rescript, the UK's tri-service military response to Covid-19, more than 100 regular service personnel have worked with Swansea Bay UHB.
This included personnel from various Army regiments - 14th Signal Regiment (Electronic Warfare), Parachute Regiment, 216 (Parachute) Signal Squadron, The Rifles, REME (Royal Electrical and Mechanical Engineers), SPS (Staff and Personnel Support), the Intelligence and Royal Logistic corps.
A number of reservists and military specialists were also drafted in to the health board.
While some roles were behind the scenes, patients will have seen soldiers manning the Covid-19 testing units at the Liberty Stadium and Margam.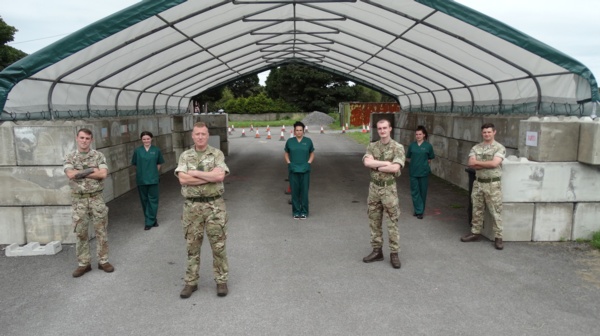 Soldiers from 14th Signal Regiment (Electronic Welfare) and health care workers at the Margam Testing Centre, which was the first to open in Wales.

Credit: SBUHB

They undertook a huge range of roles including security, stewarding of traffic, handing out the pre-packaged testing kits and buddying with health care workers to ensure the integrity of tests is maintained.

These testing centres will shortly be handed over to civilian contractors.

Military personnel also assisted with getting health care workers to more than 100 care homes across Swansea and Neath Port Talbot so they could carry out testing of the residents.

Military Liaison Officer to the health board, Major John Middleton of the Royal Marines, told the event he and his predecessors applied military planning tools to health board issues, which helped clinicians and managers meet the greatest challenge in NHS history.

And the one-team philosophy lead to "a sense of deep camaraderie between those in green and those in scrubs".

"Like myself, the rest of the military came from all across defence (and the country) and were pulled from their regular jobs. But in this crisis, cap badge and specialisation and previous operational experience fast became irrelevant," said Major Middleton.

"Their impact was in their flexibility of employability and this health board was particularly fast on the uptake on this point and used their military resource very wisely."

Major Middleton added: "It's been a very professionally rewarding experience and the strangers have become colleagues who have now become friends in a very short time period."

Dr Keith Reid, the health board's Director of Public Health and gold commander for the Covid response, said he'd had high expectations of the military support and those expectations had been surpassed.

"The legacy that our military colleagues leave now is an incredibly valuable one and I am quite proud and humble to have the opportunity to lead the response alongside the support that has been offered."