New theatres for Neath Port Talbot Hospital on their way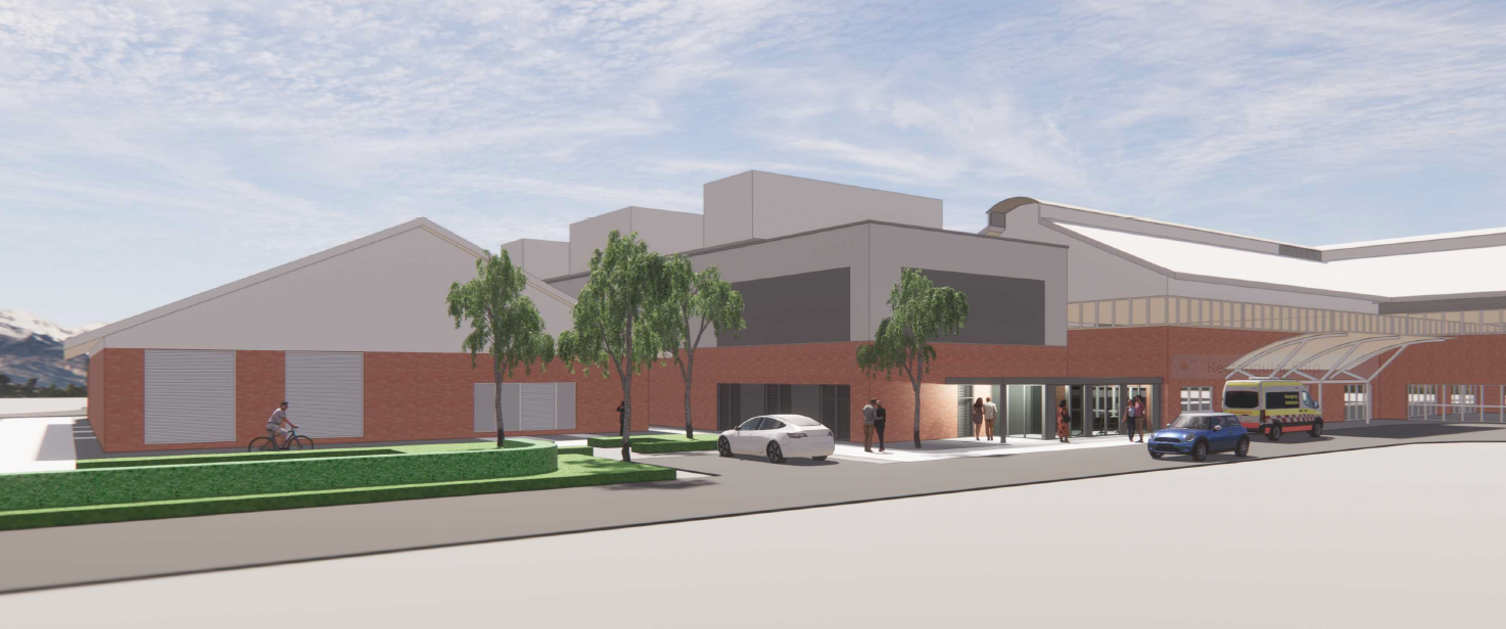 Caption: An artist's impression of the new theatres at Neath Port Talbot Hospital
4th October 2022
Groundworks are now well underway for the new operating theatres at Neath Port Talbot Hospital, which is set to become the health board's Centre of Excellence for Orthopaedic and Spinal Surgery.
This artist's illustration shows what the impressive entrance to the £6.1m new theatres will look like. They are being erected on land alongside the Minor Injury Unit.
Through the summer work was carried out re-routing underground cables and pipework, and engineering work is now underway preparing the foundations, which is expected to last into October. We apologise for the additional noise during this time, but difficult ground conditions have necessitated more complex foundation works.
The three theatres, which are modular in design, are being built off site and will be delivered before Christmas. They will be erected with the help of a crane over a period of five days. Final installation work will continue in the New Year and into the spring, with the theatres planned to be operational in June.
Meanwhile, a major staff recruitment campaign is also underway, following several months of workforce planning.
A similar new modular theatre is already up and running in the Day Surgery Unit at Singleton Hospital treating eye patients. Its high-tech specification and design has been warmly welcomed by clinicians, with one describing the facilities as 'space age.'
The centre of excellence at Neath Port Talbot Hospital is a key part of the health board's strategic Changing for the Future programme. Orthopaedic waiting lists, which were already very long before Covid-19, were worsened by the effects of the pandemic. Over half of our patients have now been waiting more than two years for orthopaedic surgery.
Neath Port Talbot Hospital plans to offer a ring-fenced elective service aimed at powering through the majority of patients on these lists.
Morriston Hospital will continue to be responsible for orthopaedic trauma patients and orthopaedic patients with more complex needs. The health board is actively looking at how best to serve this last group.
As well as orthopaedics, elective urology patients will also be treated in the new theatres, as Neath Port Talbot will also provide a centre of excellence for urology.
When the new Neath Port Talbot theatres open in June, day one will initially offer the same case mix as now, but with a larger volume of patients. Sessions are planned to increase over time to 150 a week.
The theatres are being supported by three new enhanced level care beds, which will enable more complex surgery to be performed, starting this autumn. The service offers patients a higher level of nursing care than a standard ward, but less than full-on critical care.
Group Director for Singleton and Neath Port Talbot hospitals, Jan Worthing, said:
"It's really exciting to see these plans progress and the work now well underway for the new theatres.
"Of course having the extra theatres is one part of the investment we are making in cutting waiting lists.
"We are also investing in many more new staff, ranging from more porters and cleaners to admin, pathology, pharmacy, radiology, therapy, nursing, medical and theatre staff.
"Being part of the new Centre of Excellence at Neath Port Talbot Hospital and working in dedicating and cutting edge new facilities is something which we hope will help to attract new staff to build our teams and services."