New support group helps people rebuild their lives after a stroke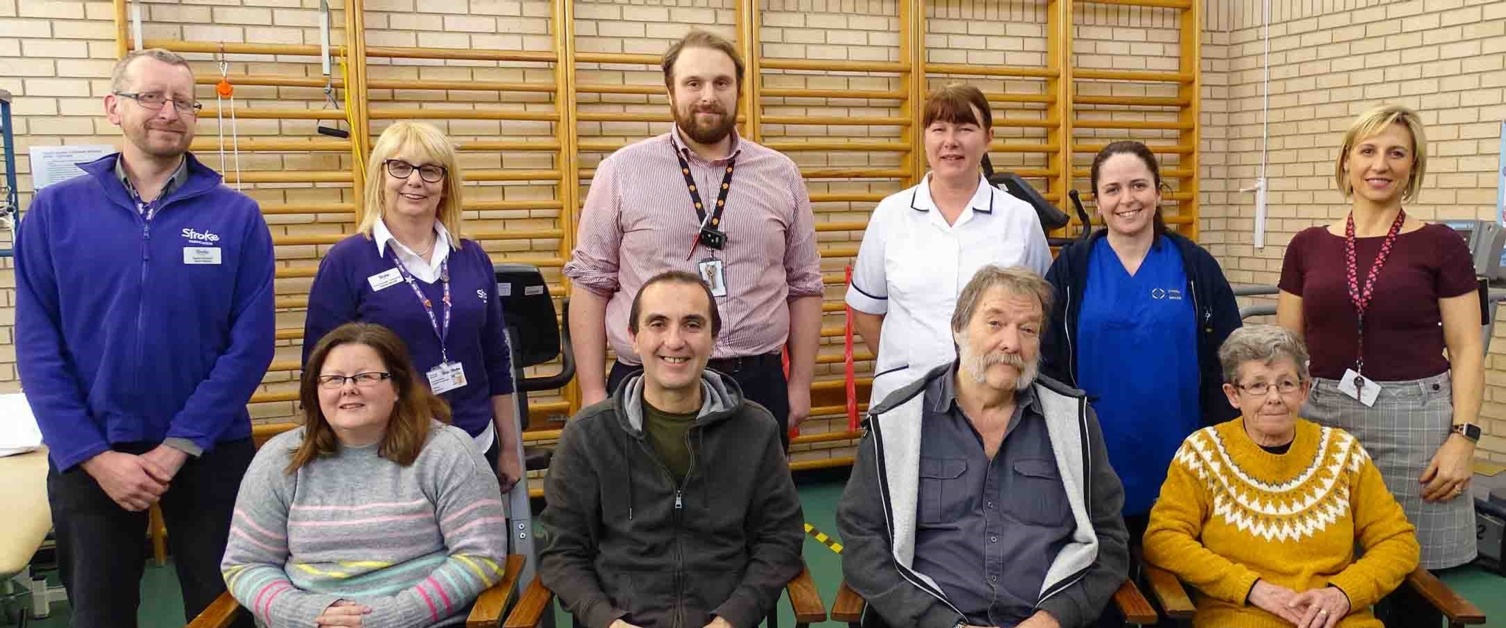 Tuesday, 12 February 2019
A problem shared is a problem halved for people in Swansea who are rebuilding their lives following a stroke.
They are coming together to share their experiences and learn new life skills after leaving hospital.
The Life After Stroke group has only been running since the start of this year and is already proving hugely popular.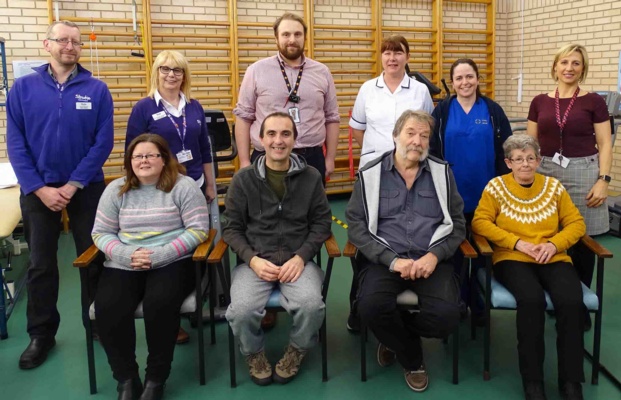 Back row l-r - Jason Haynes and Amanda Spendiff from the Stroke Association, with specialist stroke team Kieron Power, Judy Jones, Steph West and Claire Davies. Front row - Lynne Williams, who was supporting her mum Sandra Davies (far right), Andrew White and Nigel Clatworthy.
It was set up by the specialist stroke service at Singleton Hospital to offer peer support and practical advice to help people regain independence.
Stroke specialist care coordinator Steph West played a key part in setting up the group. She said: "We started it at the beginning of January.
"Traditionally, when patients are discharged from hospital following a stroke, we see them once on a one-to-one basis after four to six months.
"The aim of the group for us was to see the patients earlier and more regularly so that we can give them the additional support they may need moving forward with their lives.
"It also gives the patients the opportunity to speak to others who have gone through the same thing, which they may not have had the opportunity to do otherwise."
The group meets once a week for two hours over a six-week period at the outpatient physiotherapy gym in Singleton Hospital.
Patients who attend have been discharged from hospital between eight and 16 weeks previously.
Steph said: "I have 10 patients for this first group that regularly attend, but I can take up to 20.
"We started with a smaller group to pilot the sessions, and we are receiving really great feedback so far."
As well as peer support, patients are given advice on how they can best lead a healthy lifestyle and reduce their risk of having another stroke. There are also weekly guest speakers.
Steph said: "One week, for example, we were visited by representatives of the Stroke Association.
"They shared inspiring stories with our group about other people who have had a stroke and how they have transformed their lives for the better since.
"They also talked about what services and ongoing groups are available to them for support."
Patients are taught basic exercise techniques which can they can use at home. The exercises, led by senior physiotherapist Claire Davies and physiotherapy technical instructor Martin O'Reilly, include simple movements, which they can practice for self-management.
Relatives are welcome to come along with them, as providing education to the family can have wider benefits.
Steph said: "We have had such great feedback so far from the patients.
"It's been fantastic they have each other to talk to – which I know has helped as they no longer feel that they are going through this time alone.
"The exercise element of the group has also helped to boost their confidence, as they know how to exercise safely on their own without being scared it might cause another stroke.
"It's amazing seeing the patients' progress week in, week out.
"We've put a lot of work into setting up the group without any additional resources and I'm really proud of the team."