New outdoor spaces at Swansea Bay hospitals commemorate the pandemic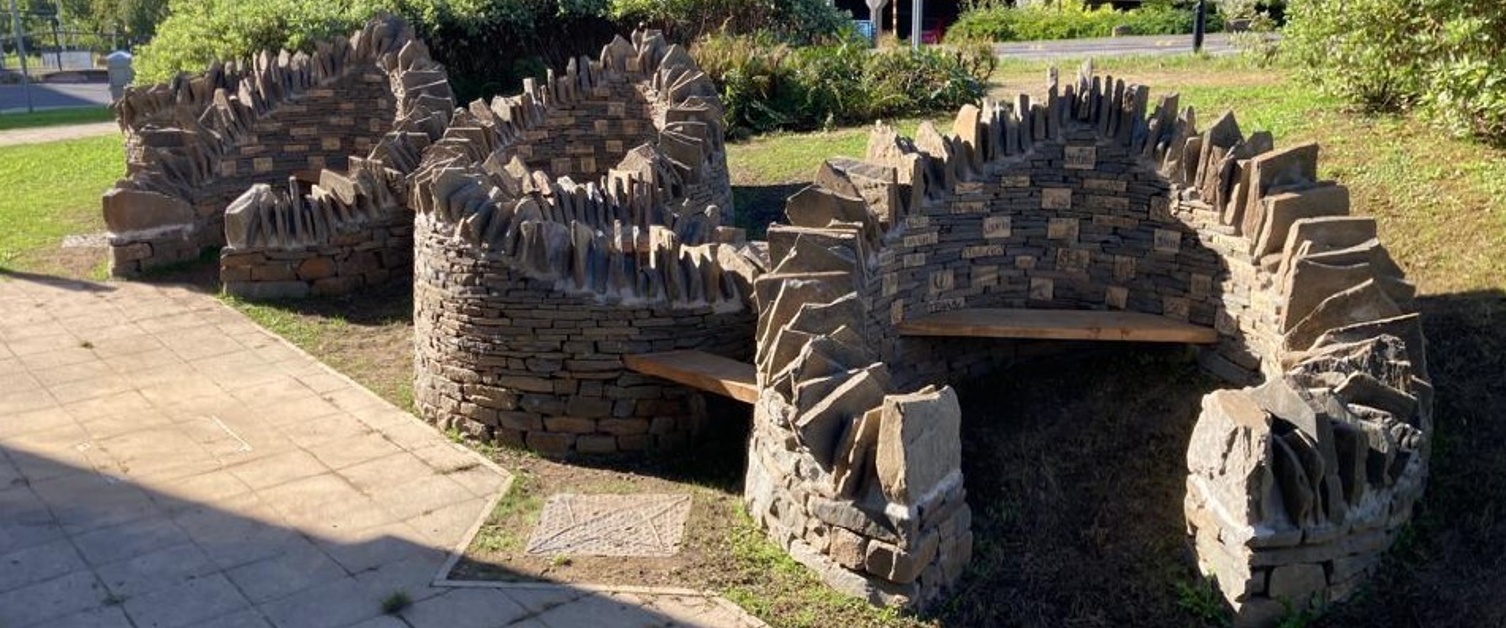 A poignant and lasting outdoor tribute to the impact of the Covid-19 pandemic in Swansea and Neath Port Talbot is being unveiled from this week, beginning with a special event in Morriston Hospital.
The £100,000 project – funded entirely from charitable funds – involves a series of bespoke dry-stone wall circular seating areas, inlaid with hand-made, personalised clay tiles, each reflecting the thoughts of NHS staff schoolchildren, and members of the public in the Swansea Bay area.
The stone seating pods, with timber benches, were designed and built following extensive engagement with health board staff. As well as serving as memorials for those who tragically lost their lives in the pandemic, they will also offer quiet outdoor spaces for staff, patients and visitors to reflect, rest and recharge – and help support their general wellbeing now and into the future.
The structures have been built at Morriston, Singleton, Neath Port Talbot and Cefn Coed hospitals, and each will be officially launched in a series of events over the summer, starting with Morriston today (Monday 26th June).
The project was led by health board heritage lead, Martin Thomas. He explained that not only were the spaces memorials for those who died, they also paid homage to the extraordinary efforts of NHS staff during the unprecedented time.
Strategically situated in prominent outdoor locations, the spaces ensure that staff, visitors and community members can find solace and have an area for quiet reflection.
Martin said: "The project honours and remembers those who lost their lives, while recognising frontline workers who put patients' lives first.
"These spaces also capture the social solidarity and support that our community gave to us. They are placed in busy hospital sites as we also wanted them to convey hope and resilience, and to be practical and offer usable outdoor spaces for everyone for now and in the future, supporting the wellbeing of the staff, patients and visitors who use them."
The project actively involved a wide range of health board staff, who participated in arts workshops to create clay tiles bearing their heartfelt messages. More than 350 of these tiles were laminated onto stones, which were incorporated into the commemorative walls.
Leading the art work was Welsh artist Nigel Talbot, who was chosen because of his previous impressive community involvement including working with schools and the public. Nigel built his vision with the help of award-winning dry stone waller Allan Jones.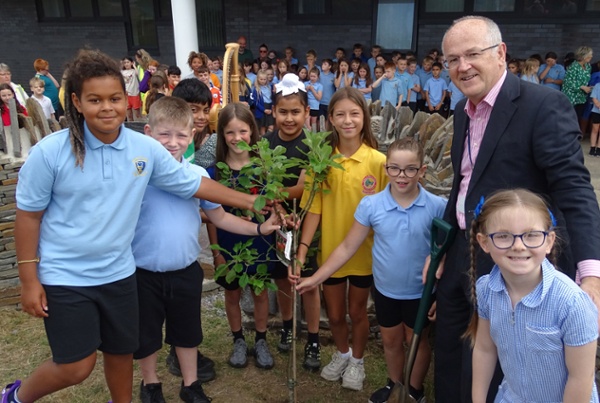 Picture: Dr Keith Reid and local schoolchildren plant a commemorative tree
Primary school children local to each hospital site also helped to create the clay tiles, and members of the University of the Third Age (U3A) were also engaged in the workshops, adding to the collaborative spirit of the project.
Children from nearby Ysgol Gynradd Glyncollen and Cwmrhydyceirw Primary School attended the launch event at Morriston Hospital. Musical entertainment was provided by harpist Marged Hall.
Each commemorative space is unique, as the tiles designed by the staff are specific to the site they are based at.
The project was funded through NHS Charities Together, whose Covid-19 appeal gained recognition through the legendary Captain Sir Tom Moore.
Swansea Bay's Director of Public Health, Dr Keith Reid, along with some of the schoolchildren, planted a commemorative tree behind the seating pods.
Dr Reid paid tribute to NHS staff for their hard work, dedication and team spirit during the pandemic. He also thanked the public for their support:
"It's very apparent this has been an important journey for staff as the consultation process and ceramic workshops have given our staff a moment to pause and reflect on what has been the most challenging of time for them, and for the NHS," he added.
"So I am very pleased we have marked this period and created these sensitive outdoor spaces to connect with our staff and our communities."
Health board Chair Emma Woollett, said: "I am delighted that we have these spaces and to hear about the collective effort to create such moving messages by our staff, local schools and U3A.
"It is very important that we mark the experience of Covid in a meaningful way."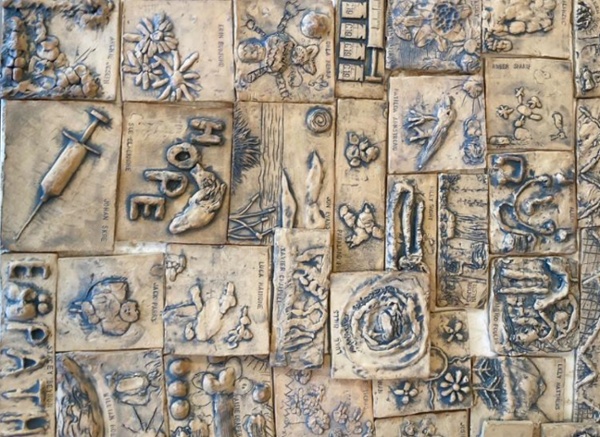 Picture: A close up of the handmade clay tiles